We recently replaced my daughters dresser with a storage unit for her toys. That meant we needed some drawers to house her clothes. We have always wanted to build a built-in dresser for her walk in closet and now it was go time. I decided to build a 5 drawer dresser with two smaller drawers at the top and three larger drawers below. This setup provides a ton of storage and while plywood is extremely high right now, I was still able to build this unit for a little over $400 which saved me thousands if we were to have it custom made. Read on to see exactly how we did it.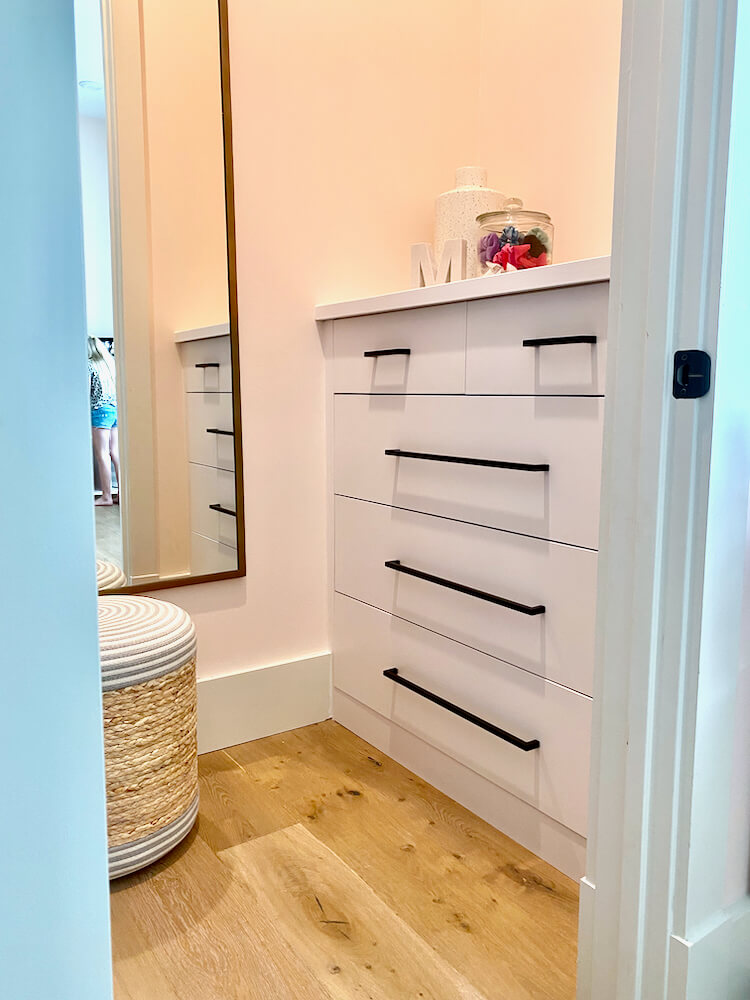 If you love this stuff as much as we do, you might want to consider following us on Instagram where we post sneak peeks and behind the scenes stuff in our stories. Also, did you know you can get tons of projects plans from all around the web when you follow us on Facebook and Pinterest!
Full Project Video
Wanna see how it all came together? Check out the full project video below and don't forget to subscribe on YouTube so you won't miss future videos!
Tools
Materials
(3) 3/4" x 4' x 8' Pre-Finished Plywood
3/4" x 4' x 8' Paint-Grade Plywood
(5) 18" Drawer Slides (pair)
Iron-on Edge Banding
(5) Drawer Pulls
1-1/4" Pocket Screws
3" Wood Screws
1-1/4" Brad Nails or Staples
1-1/4" Wood Screws

Disclosure: This post is sponsored by DAP Products. As well, the links provided in the "materials" and "required tools" sections are affiliate links. If you would like to support our site and help keep our content free come find out more about how we can make money with no extra cost to you.
Dimensions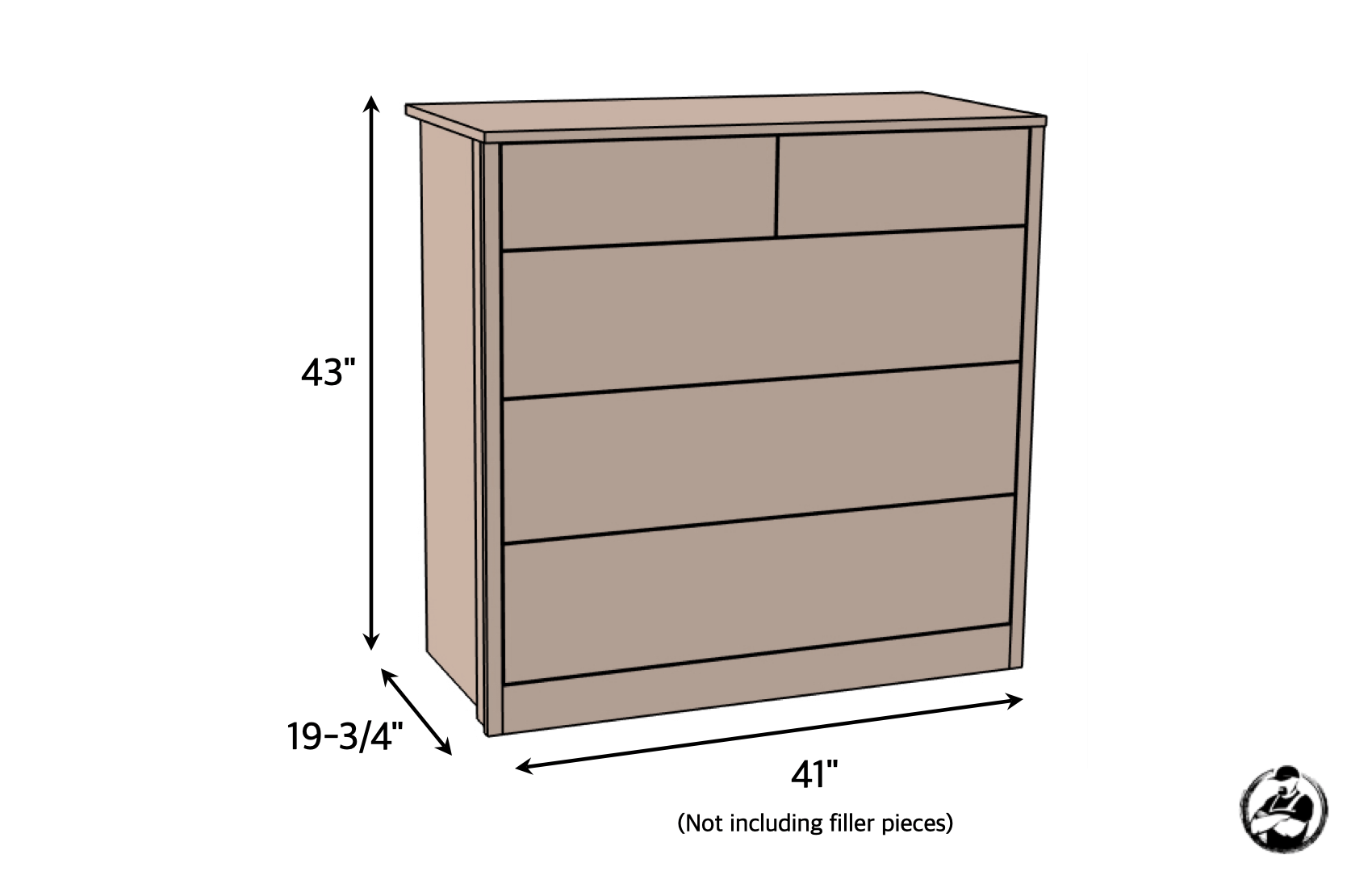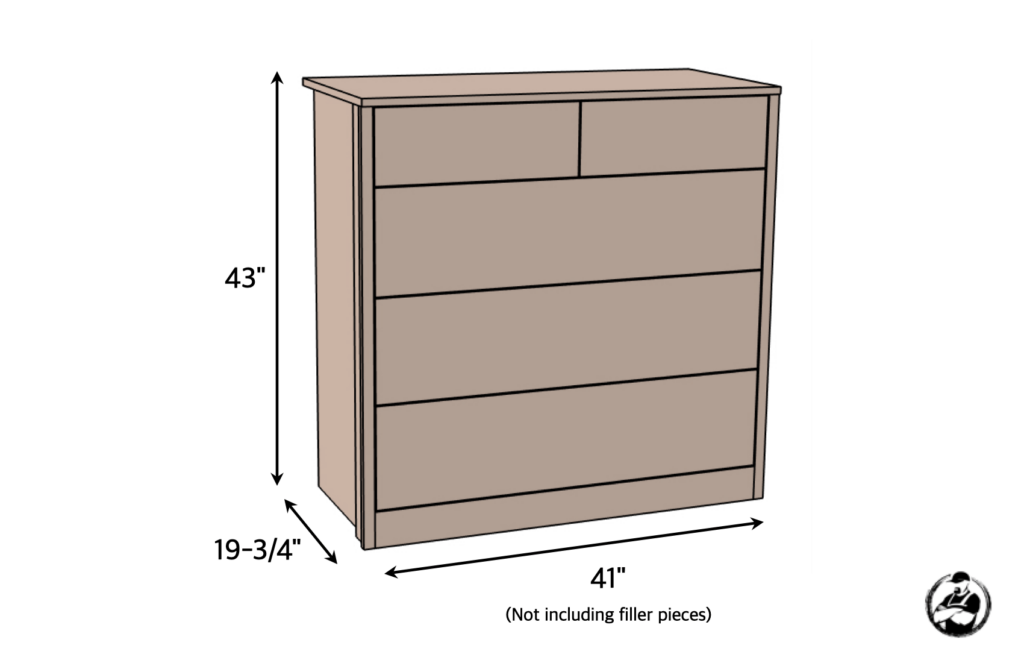 Cut List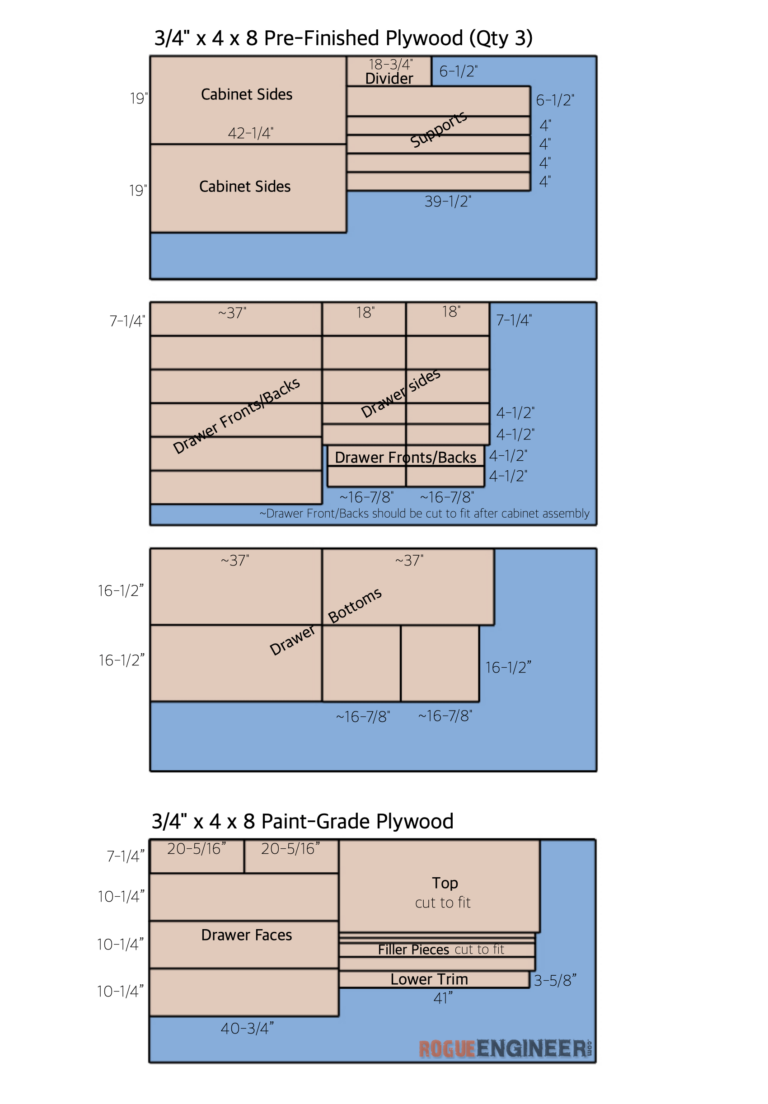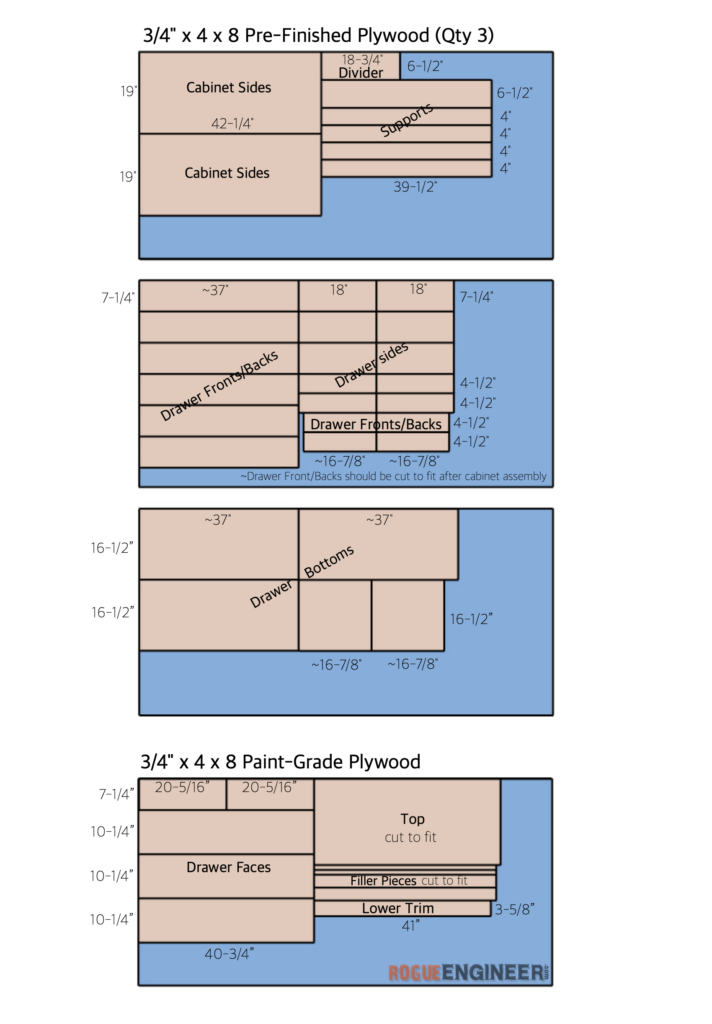 I would recommend breaking down the plywood as needed for this project. Some pieces will need to be cut to fit.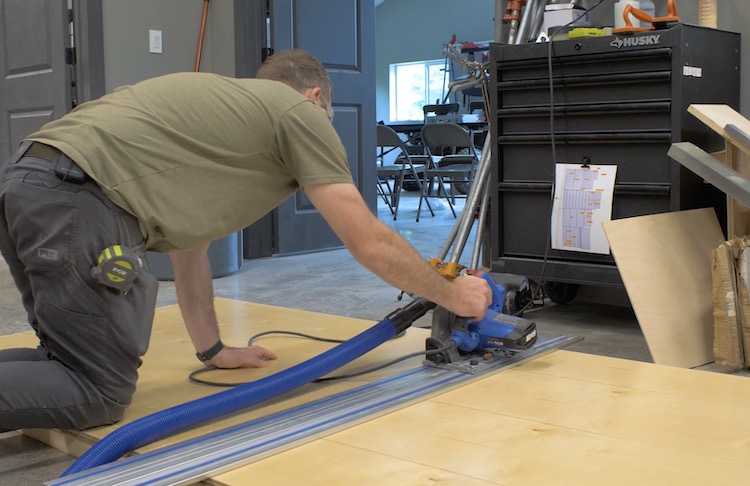 I also recommend breaking down plywood with a track saw or circular saw with straight edge guide into smaller pieces before moving to the table saw.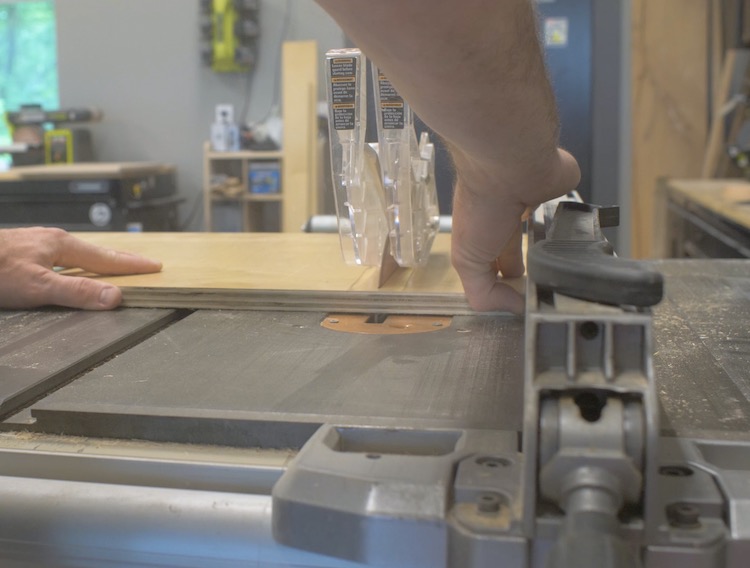 How to Build a Built-In Dresser for a Walk-In Closet
Assemble Base




Drawer Box Assembly




Drawer Box Assembly




Install Drawers





Installation and Trim






Cut and Install Top






Finishing


All of our drawer fronts were primed and painted before install.



Before primer and paint on the unit I filled and nail holes, joints or imperfections in the plywood with DAP Premium Wood Filler and sanded smooth. DAP recommends using a putty knife for wood filler application.



To give the unit a truly built-in look we needed to caulk it in place. We did so using DAP Alex Flex which is a crack-proof sealant formulated for trim. DAP recommends using a finishing tool for caulk application.



We applied this around the top and sides.



Then we applied primer and paint to the exposed wood.



Drawer Fronts and Hardware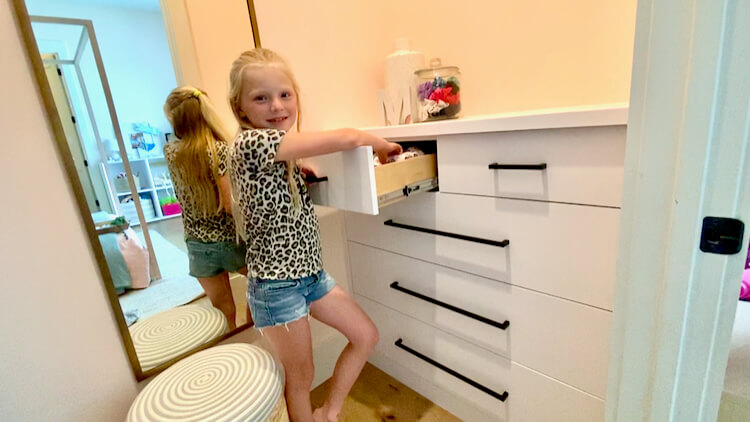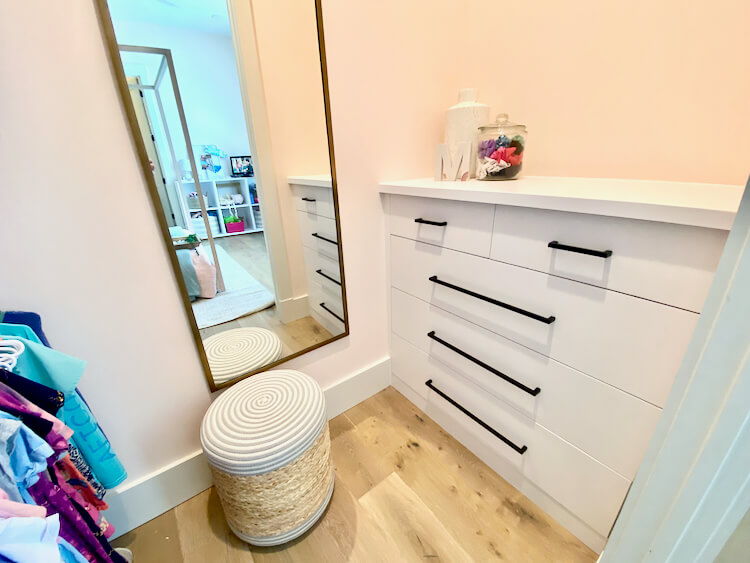 Questions? Comments?
As always, if you have any questions don't hesitate to comment below and especially don't forget to post pictures of your finished products in the comments!