This post is sponsored by The Home Depot, however, our opinions are 100% our own.
When it came to installing flooring in our theater room we knew we wanted a dark carpet to create that movie theater feel. That being said, it also needed to be durable and installed by someone who clearly knew what they were doing (since we didn't). So we went with LifeProof carpet from The Home Depot and the cool thing is that installation is free! So, if you're looking to update flooring in your home, now's the time as The Home Depot has the latest trends in flooring at great prices – check out other carpet flooring highlights here.
Before we could get the Home Depot estimator out to measure we need to build the theater riser so that the back row could see over the front row. To see how we did this check out our tutorial on how to build a theater riser.
If you love this stuff as much as we do, you might want to consider following us on Instagram where we post sneak peeks and behind the scenes stuff in our stories. Also, did you know you can get tons of projects plans from all around the web when you follow us on Facebook and Pinterest!
Making a Selection
First things first, we were off to the carpet section in The Home Depot to make a decision.  We knew we wanted a dark carpet and a pattern would give that movie theater vibe. Ultimately we found a winner and it was from Lifeproof, the pattern is called Latice, and the color is Chalkboard.
Measure & Quote
After making a selection, we were able to schedule our measure. We knew an approximate square footage so they did give us an estimate on the spot. But then, a few days later a representative came to our home, went over exactly what we wanted, and created a layout for the installer with all the details.
A couple days later we received a formal quote with a link to purchase and schedule install.
The Install
Leading up to the install, the contractor contacted us with a list of what to expect. Things like making sure the areas were clear, there was a clear path to the area and the installer had a bathroom to use.
Then, the day came and the installer was very courteous, letting us know when he was planning on being there and sticking to that time. We showed him the area and he got started.
First was the tack strip. This is what holds the carpet taught and in place. Since it was being installed to a concrete slab it needed to be anchored into the concrete with the appropriate fasteners.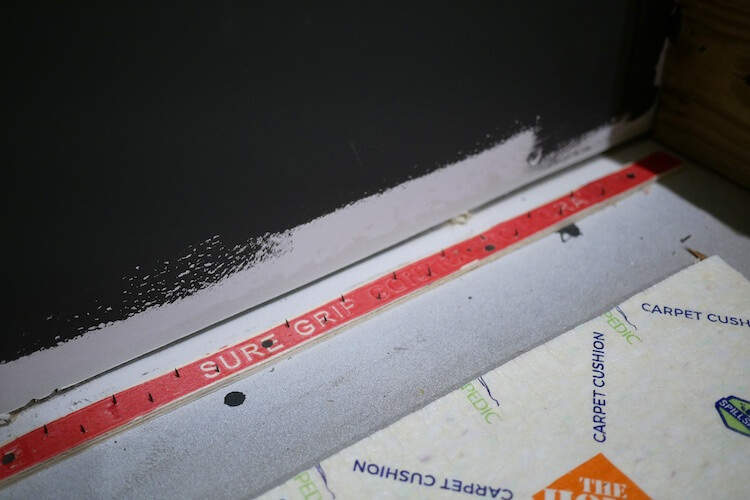 The carpet pad that we went with was the 8 lb Tempur material with moisture barrier and it is really soft.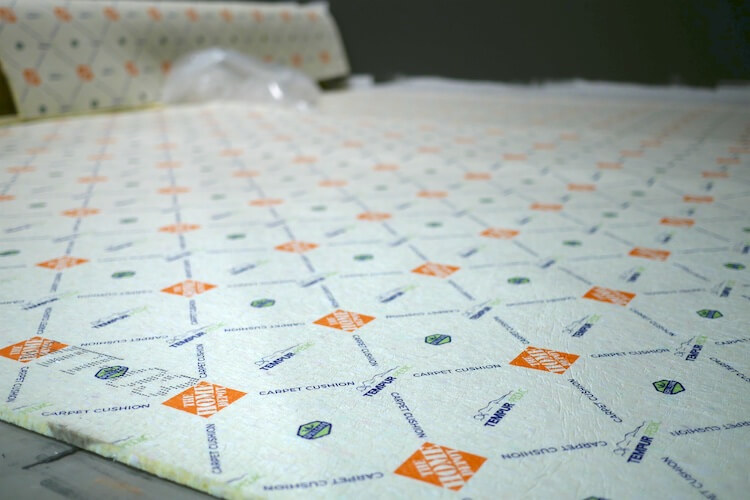 The pad gets installed on all of the surfaces expect for the risers.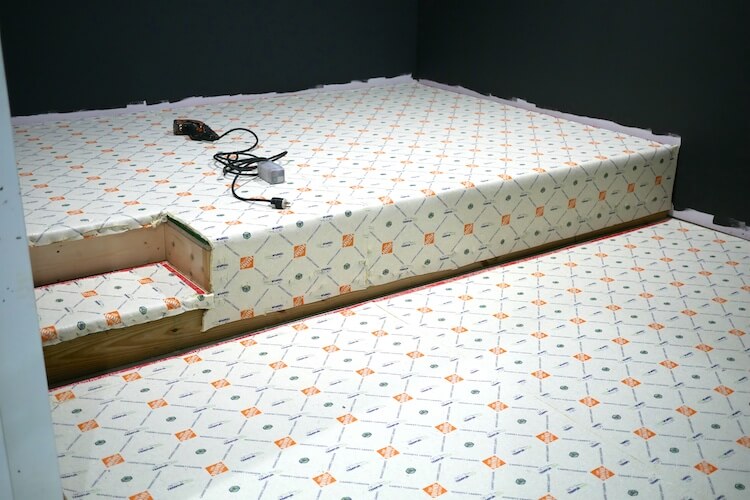 The installer then started measuring for the carpet and cut it to size.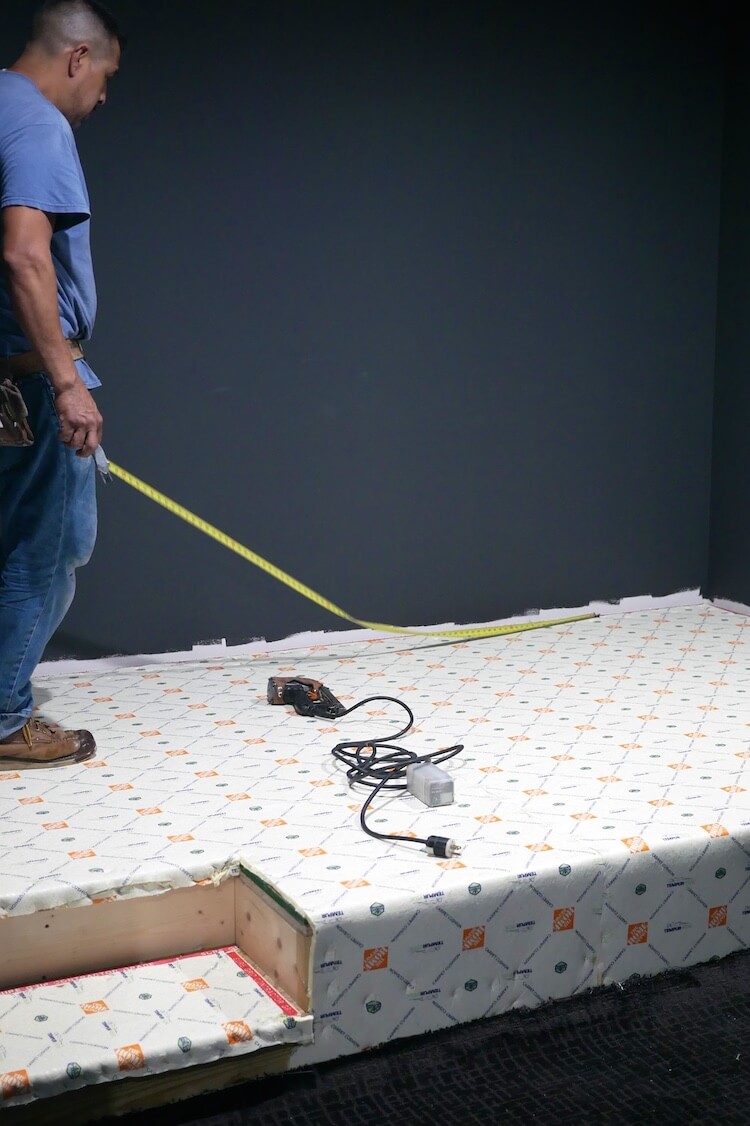 The steps were a big concern of mine. I couldn't figure it out in my head how he was going to do this without a weird seam in it. And with a patterned carpet, this might stand out.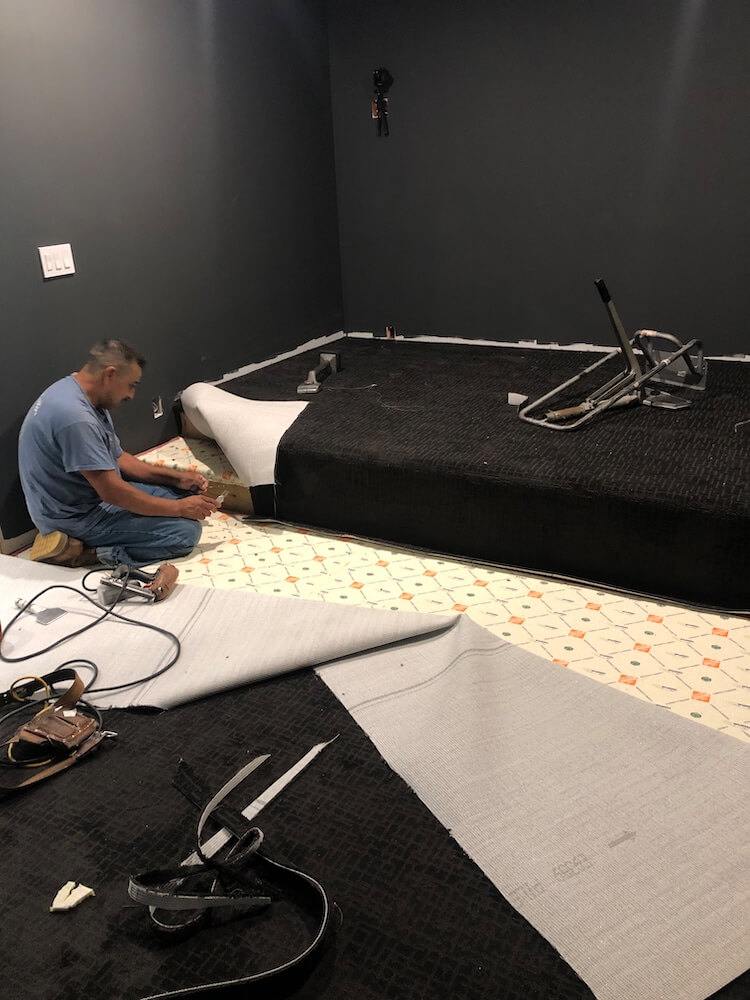 After studying it for a while he came up with a plan and I was amazed at how well it turned out. While it did require a seam, it was essentially invisible.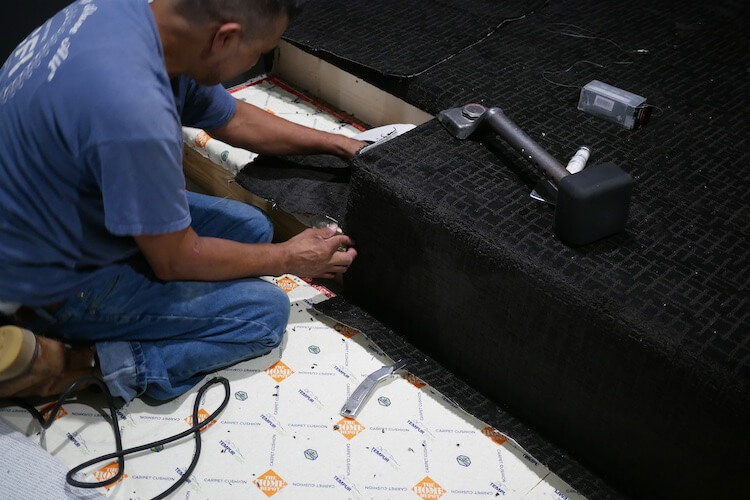 The Finished Product
Needless to say I was very happy with how this flooring install went from start to finish. From the in-store associate to the installer, everyone was a pleasure to work with and their goal was to get us what we wanted. And that, they did.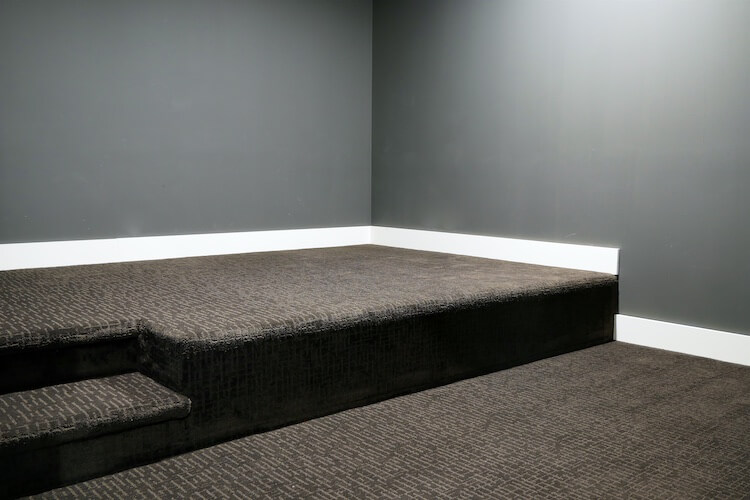 We love the way it turned out and can't wait to get the theater up and running. The black patterned carpet really reminds me of a modern version of a theater and the cracked pepper paint on the walls is going to keep the theater nice and dark.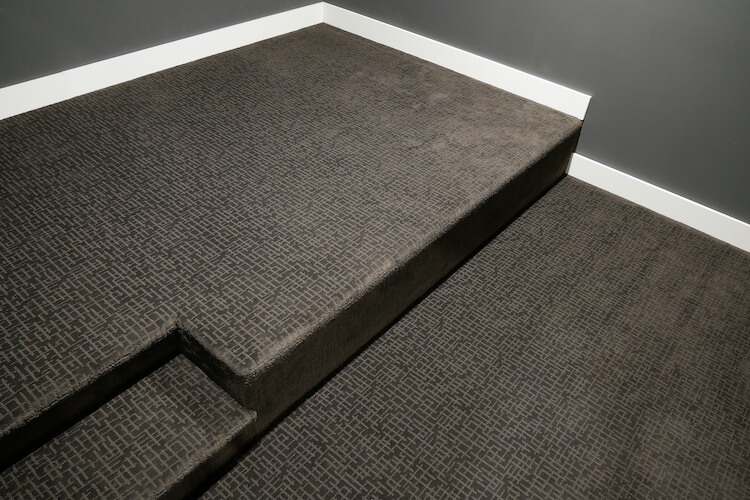 Next up is theater seating, projector and speakers! I can't wait.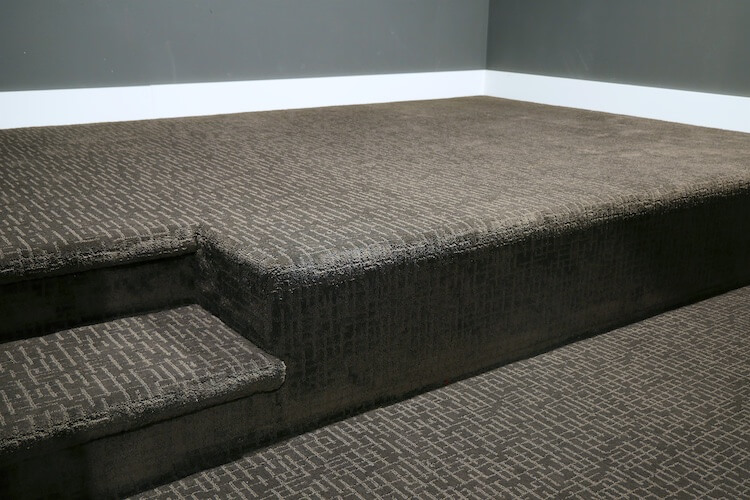 Home Depot carpet installation services is now offering free installation, including rip up and haul away as well furniture moving and flexible financing.