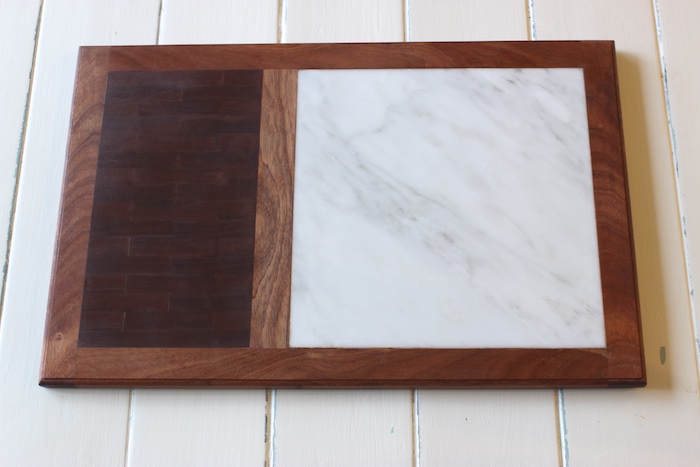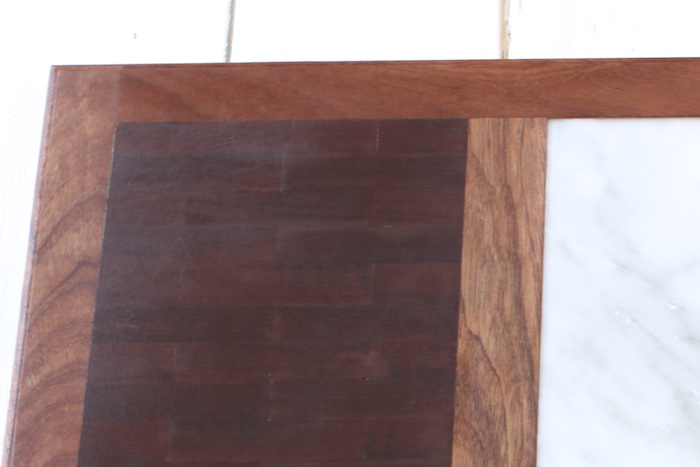 Cutting boards are all the rage now-a-days. I wanted to make a cutting board that wouldn't be the workhorse behind the scenes but the life of the party. I decided to take an $8 Carrara marble tile and incorporate it into the cutting board as a cheese plate. This works great as a party platter where the end grain cutting board is for cutting breads and meats and the marble tile is for serving an assortment of cheeses.
For sneak peeks of our upcoming projects be sure to follow me on Facebook and Instagram. Also, follow me on Pinterest to get tons of projects plans from all around the web!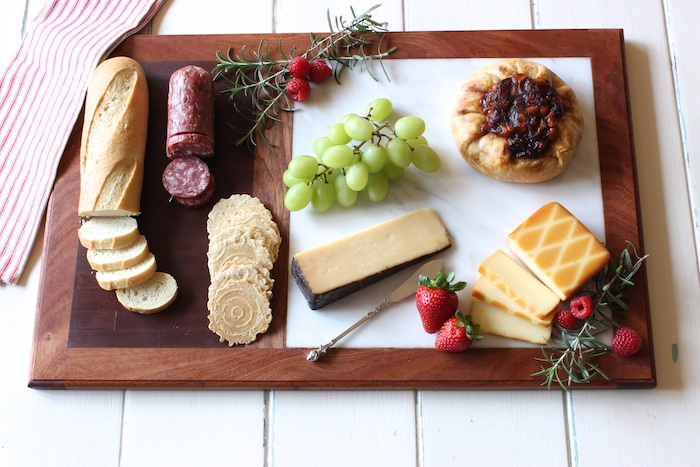 Required Tools
Disclosure: The links provided in the "materials" and "required tools" sections are affiliate links. If you would like to support our site and help keep our content free come find out more about how we can make money with no extra cost to you.
How to make an End Grain Cutting Board with Marble Cheese Plate
First, rip 3/8″ thick slats used to build up the bottom of the tile. The tile I purchased was 3/8″ thick so the additional 3/8″ slats create a total thickness of 3/4″ which allows for bonding to 3/4″ thick stock. The longer slats should be 12″ and the shorter slats should be 10-1/2″ or slightly shorter. It is crucial to make sure the edges of the slats are flush with the edges of the tile.
Adhere the slats to the tile as shown with JB Weld ClearWeld or equivalent.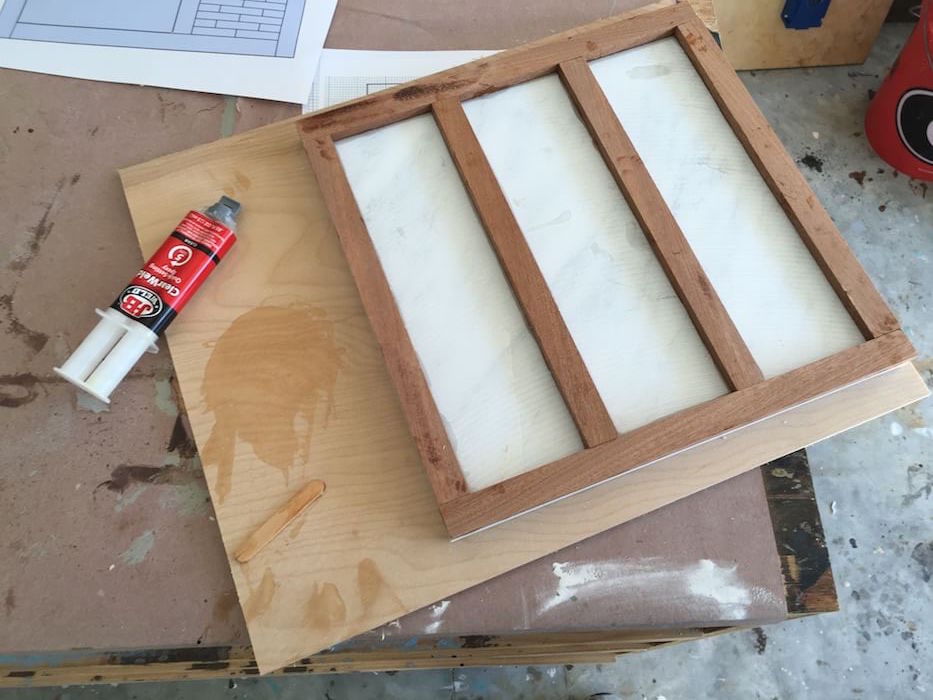 Now, cut 24 pieces at 3/4″ x 3/4″ x 3-1/2″ and 16 pieces at 3/4″ x 3/4″ x 1-3/4″ or greater. You can see that I cut mine slightly longer which is okay since this will get cut down later anyway.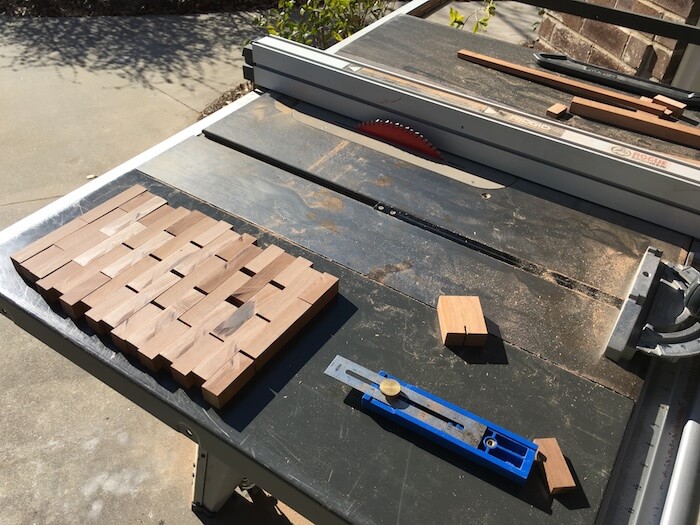 Glue these pieces up in a 3-2 alternating pattern. I drew three lines 1-3/4″ apart to show where the seams should be.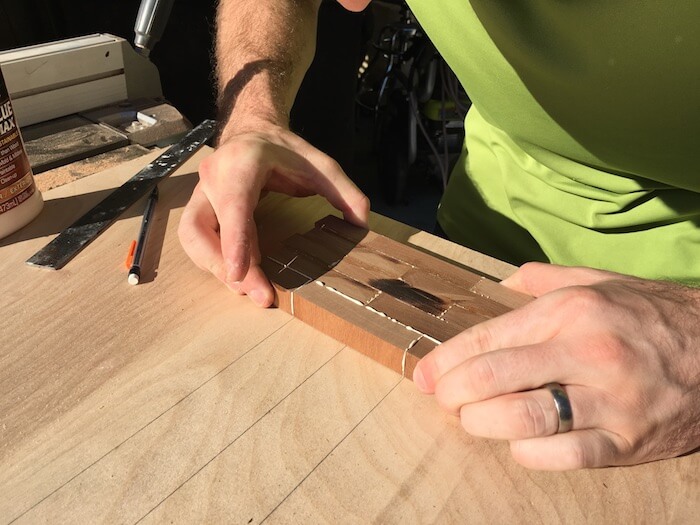 Clamp these with the end grain up and let it dry for 24 hours.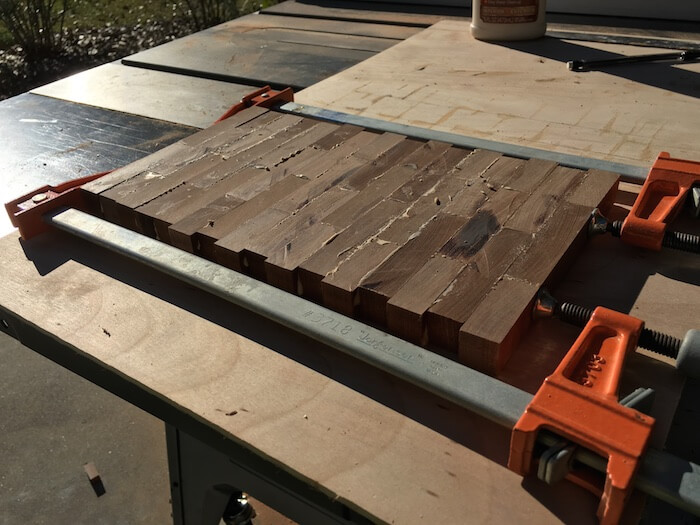 After the glue has dried, cut down to 12 long and whatever reasonable width you can get out of it and maintain an even pattern. Assure the edges are square.
This is when the 1-1/2″ frame should be cut. Rip 1-1/2″ boards for the frame. The cutting boards ends should be 15″, the middle board should be 12″ and the upper and lower boards should be 13-1/2″ plus the width of the end grain cutting board that was just cut down to square.
Then, apply JB Weld ClearWeld to all the boards that come into contact with the marble tile.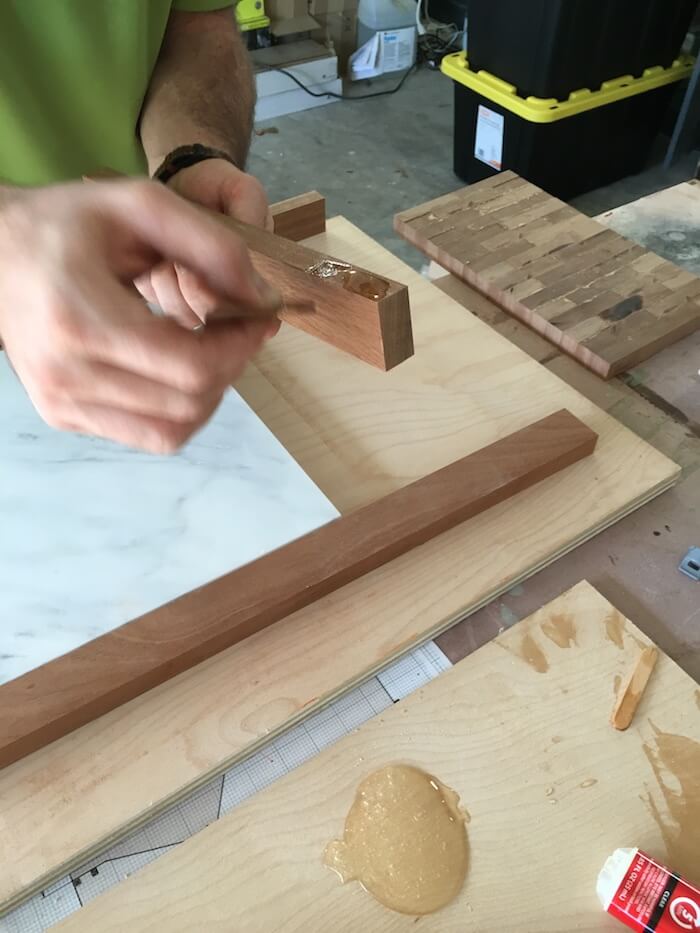 Finally, use wood glue to glue the rest of the cutting board up.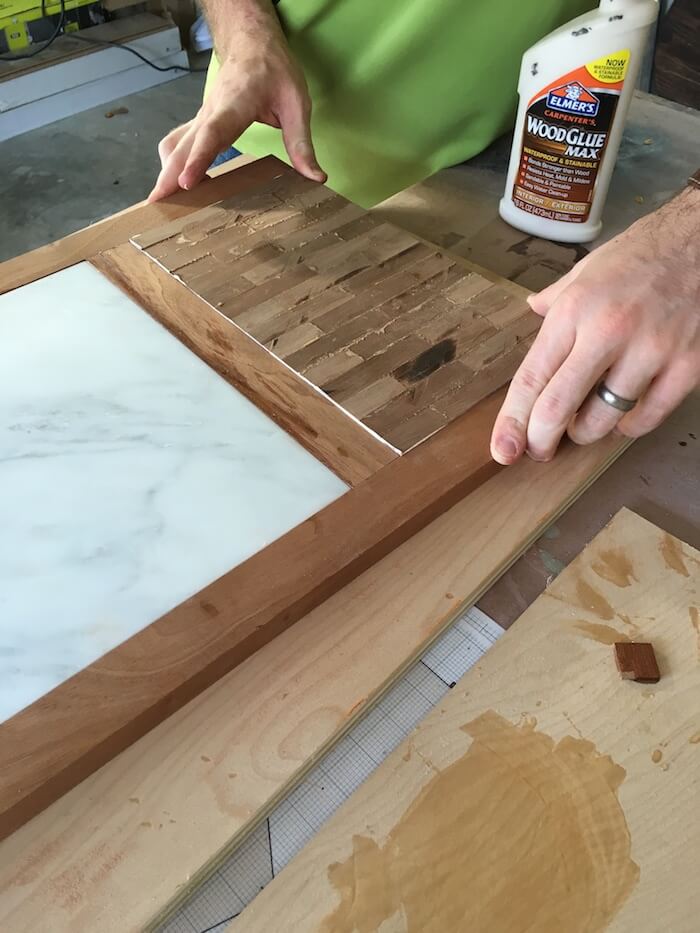 Clamp the entire board well and let sit for 24 hrs.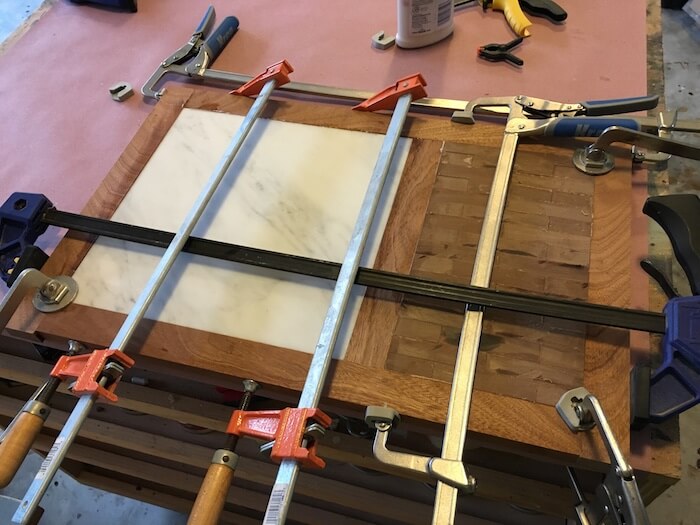 Unclamp, tape the marble tile to protect from scratching and sand smooth starting at 80 grit and ending with 180 grit.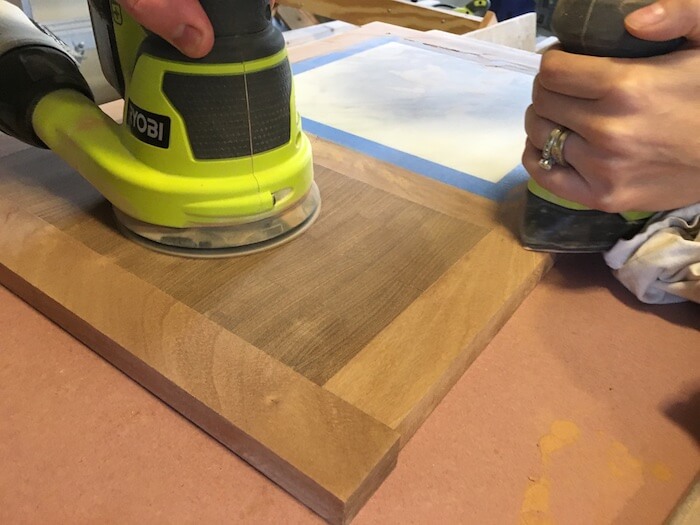 If you need to trim the board edges smooth do so now with a table saw.
Finally, add a routed edge to the cutting board. I used a 3/8″ roundover bit.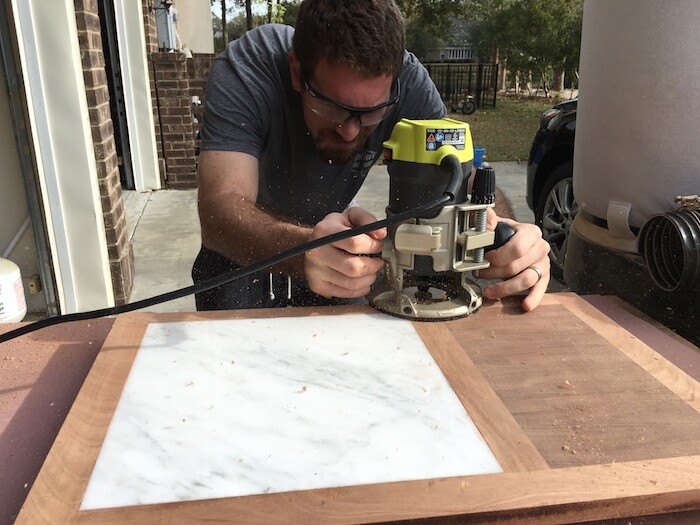 Finally, wipe clean and apply the butcher block oil liberally and let sit.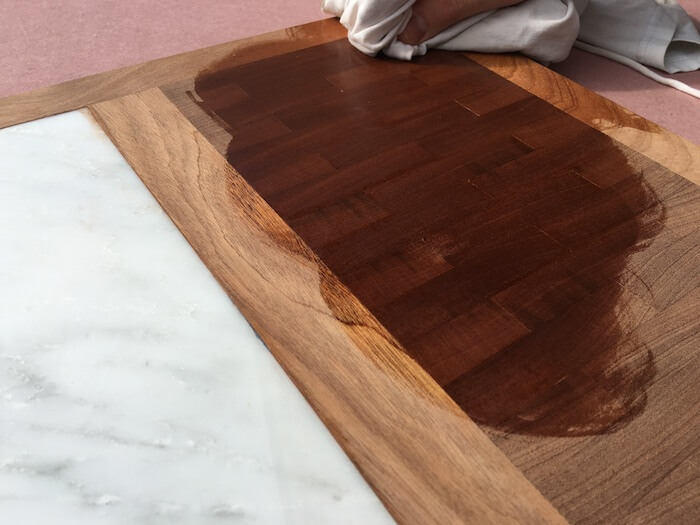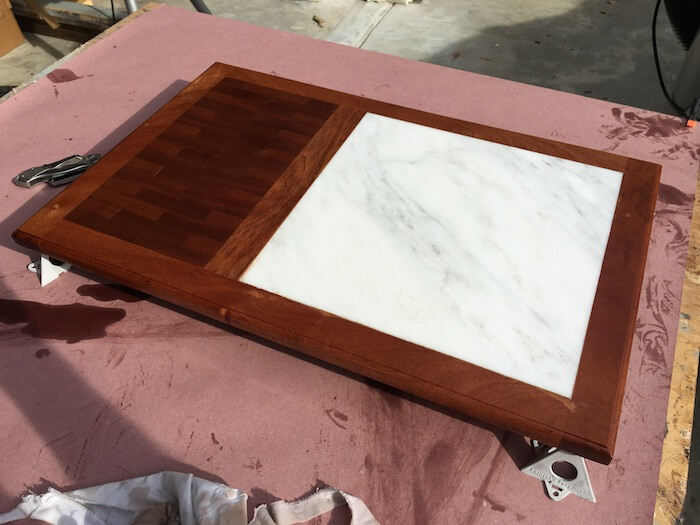 Now fill it with breads, meats and cheeses as you see fit. And most importantly ENJOY!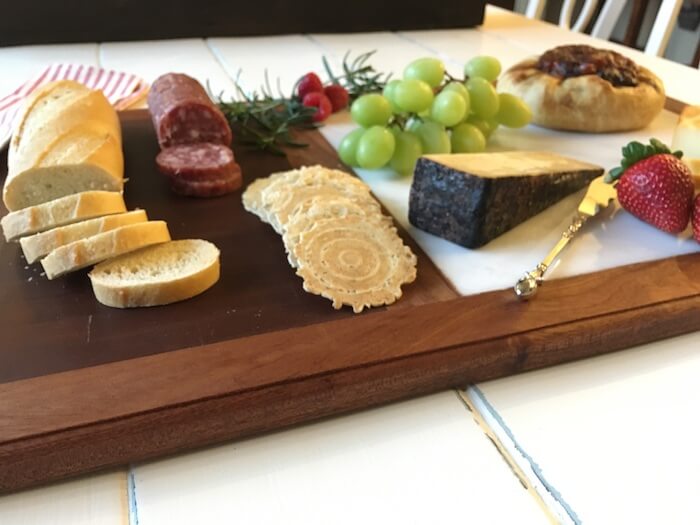 Questions? Comments?
As always, if you have any questions don't hesitate to comment below and especially don't forget to post pictures of your finished products in the comments! ENJOY!