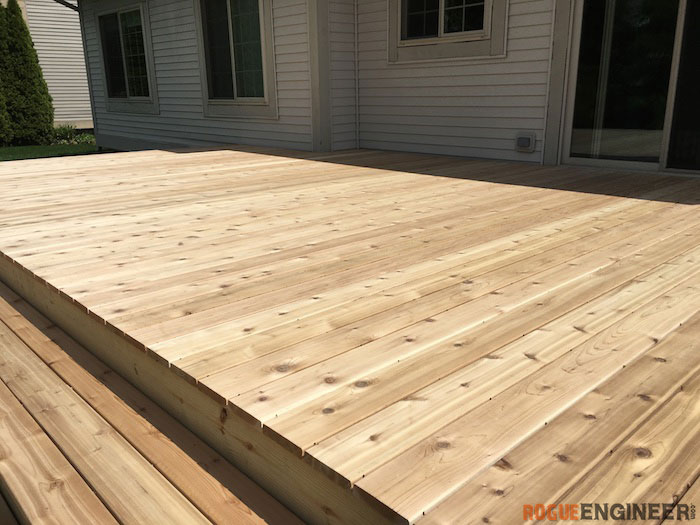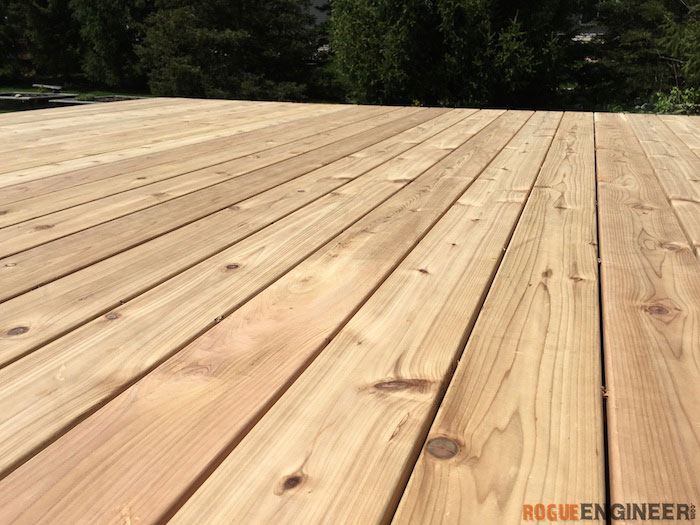 The main reason we moved to Michigan was to be closer to family. Which of course means more projects get added to the "to do" list. We love to build but even more we love to help out family, so when my brother-in-law asked me to help out on a deck build I jumped right in! We designed this deck to be a freestanding deck, we did this because in the county he lives in a deck attached to the building becomes taxable. To avoid this we decided a floating deck would be the best option. We wanted to keep the design simple and clean, so with the help of our friends over at Kreg Tool Company, we used the deck jig and let the wood do all the talking.
Note: The following post is by no means the only way to build a deck, or even the best way. It is the way that we choose based on our needs.
For sneak peeks of our upcoming projects be sure to follow me on Facebook and Instagram. Also, follow me on Pinterest to get tons of projects plans from all around the web!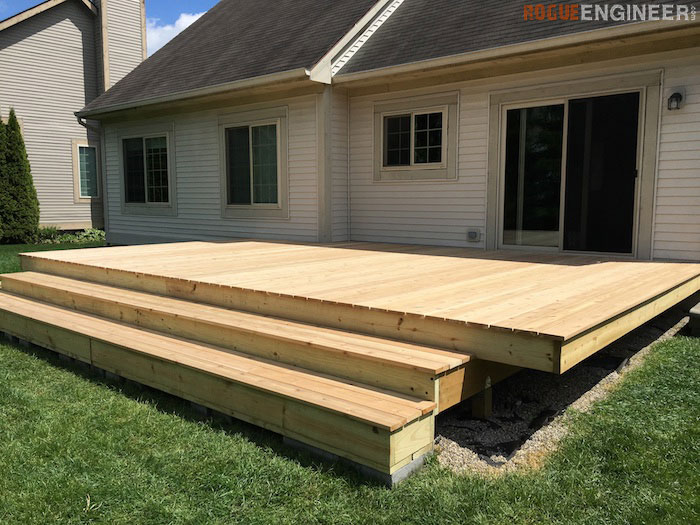 Required Tools
Disclosure: The links provided in the "materials" and "required tools" sections are affiliate links. If you would like to support our site and help keep our content free come find out more about how we can make money with no extra cost to you.
How to build a Floating Deck
First and foremost, always check your local codes and pull permits if required. Since this is a free standing deck and less than 36″ off the ground our local code did not require a permit. Pure coincidence, or maybe not. Since this is not connected to the house the deck blocks were sufficient for us and saved us a lot of time. If you are connecting the deck to the house you will more than likely need to pour concrete footings that will extend beyond the frost line to prevent the deck from heaving up with a frost. The required depth of your footing is determined by your local code. To do so, dig your holes with a rented auger or post hole digger and pour the cement into the hole to create a footing. With our deck being freestanding, the frost may heave it up slightly but once it thaws it will settle back into place.
Now that we got that out of the way. We started by marking where we wanted the deck blocks and dug down about 6″ and tamped it down to make sure we were placing our deck blocks on solid ground. We used 16′ beams so with a maximum span of 6′ and 2′ of overhang on both sides we only needed 3 posts per beam. Our deck was 20′ wide so the spacing between beams is 8′ with 2′ of overhang on both sides. This meant we would need three beams however, there was a bump out in the house that would require another small beam. Either way we needed 11 holes for the deck blocks.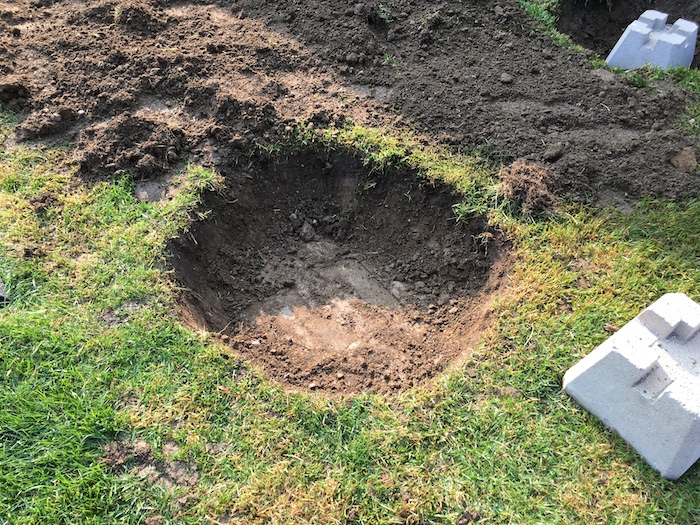 Next, we added about 6″ of stone dust (aka paver base or slag) and tamped it down.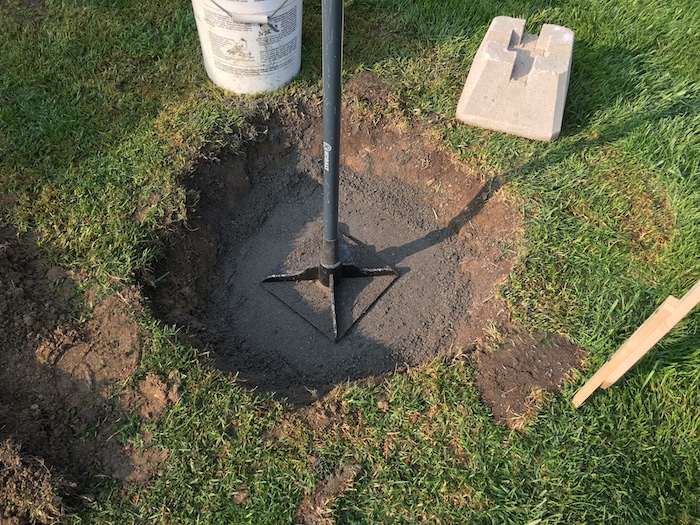 Next, we placed the deck blocks and assured they were where they needed to be. Then we made sure they were level and if not we added more stone dust to the low side, tamped it down and checked again. The overall height of the blocks was not crucial at this point as long as it was no higher than 18-20″ below the bottom of the door. We ideally wanted to be slightly lower than that.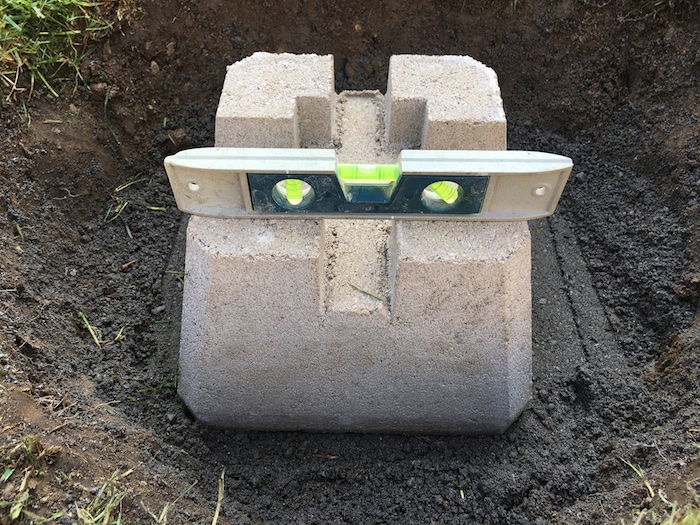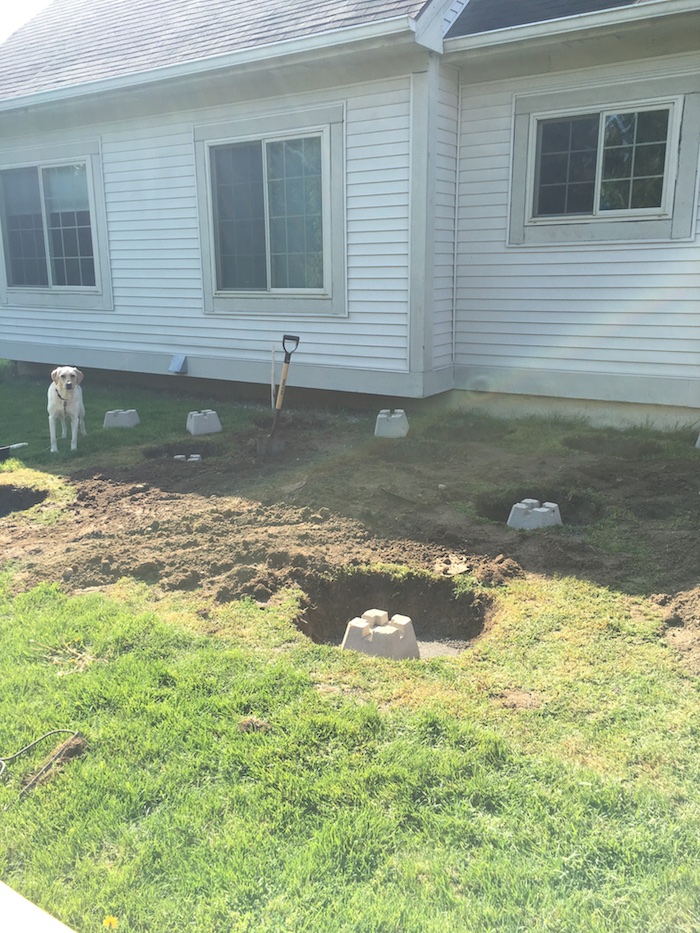 Now we placed our 4×4 posts in the deck blocks and marked them with a laser level 18″ (9-1/4″ for beams + 7-1/4″ for joists + 1″ for decking + 1/2″ for good luck) below where we wanted the top of our deck to be. Then, we headed over to the saw and cut them all down to size making sure to place them back in their correct block.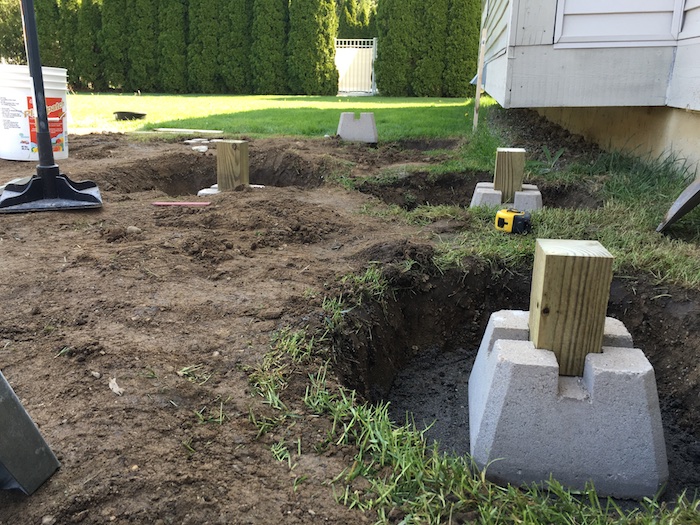 Now we attached the BSC post cap bracket to the post using 1-1/2″ connector screws. This allows us to connect the 4×4 post to the beam which will be two 2x10s screwed together.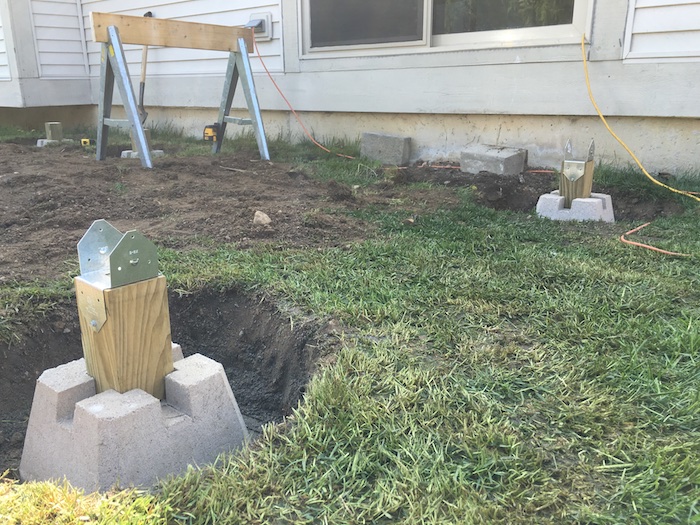 Now we screwed our two 2x10x16′ together using 2-7/8″ heavy-duty screws.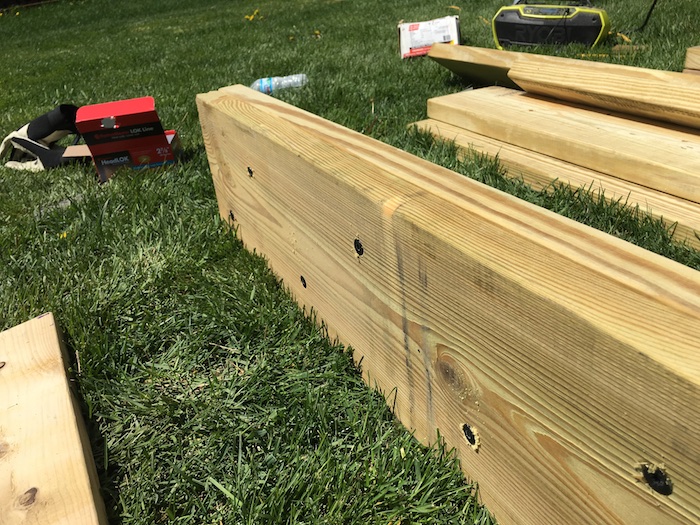 Placing the beams we double checked for level and made sure the beams were square to the house and spaced correctly apart.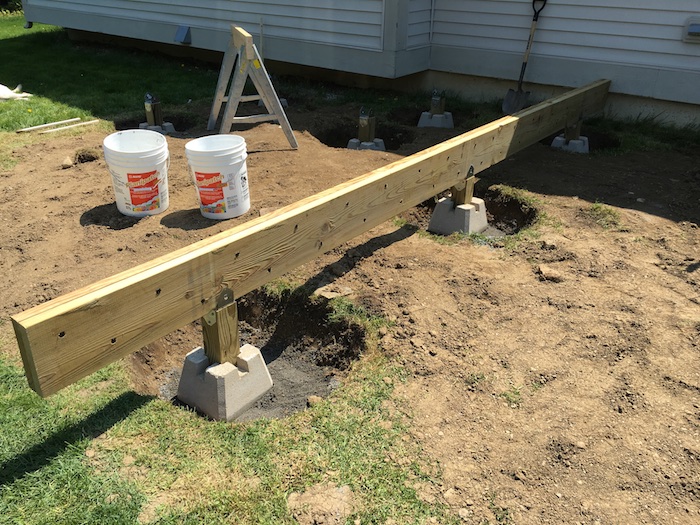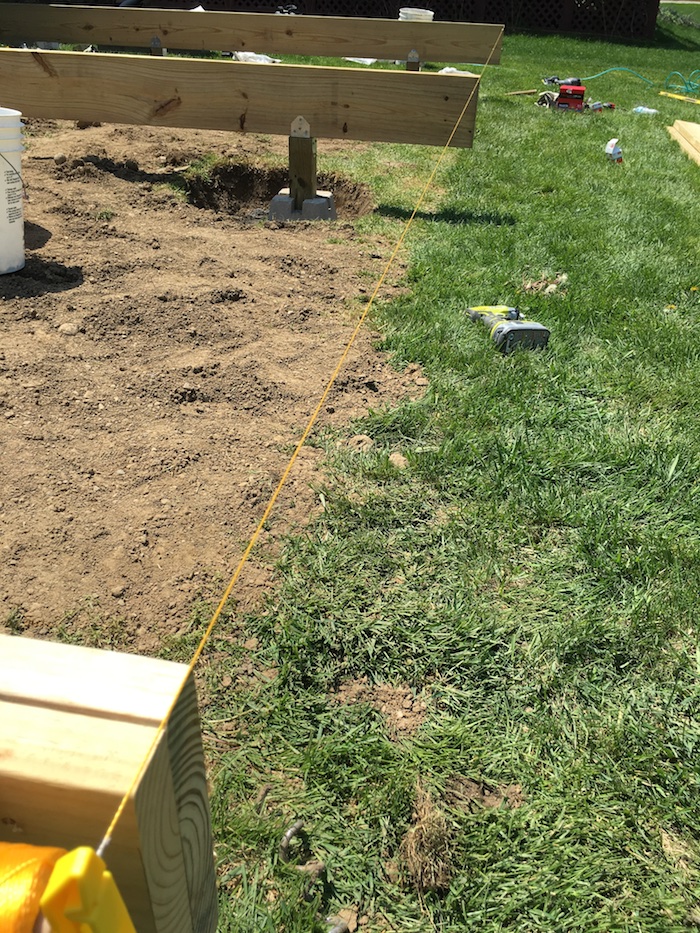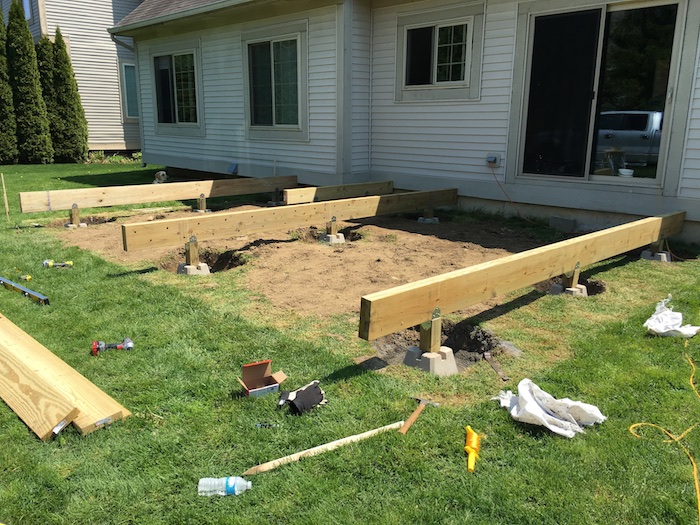 Then, we added the cap to our beams since we would be using the beams to create a step.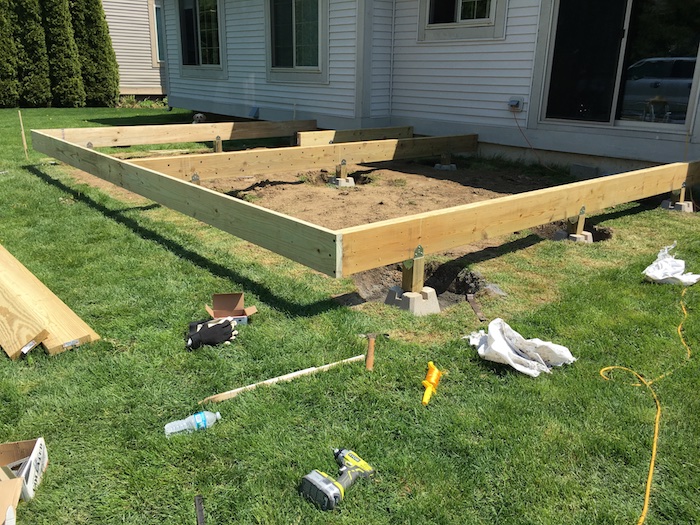 We decided to space our 2×8 joists 16″ apart to allow them to span a larger gap (8′ between beams). Leaving about 1/2″-1″ between the house and the deck for drainage, we marked where the edge of our joists should go.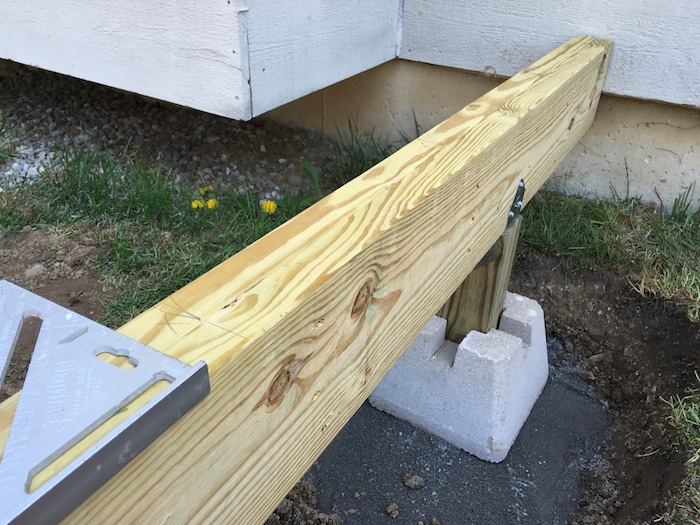 Then, we toe nailed the 2x8x12′ joists in place with an overhang of 2′ on both sides and added end caps to the sides. We stopped our joists 16″ short of the end of the beams to create the first step down. Then the freestanding box built from 2x8s spaced 20″ apart was built for the final step.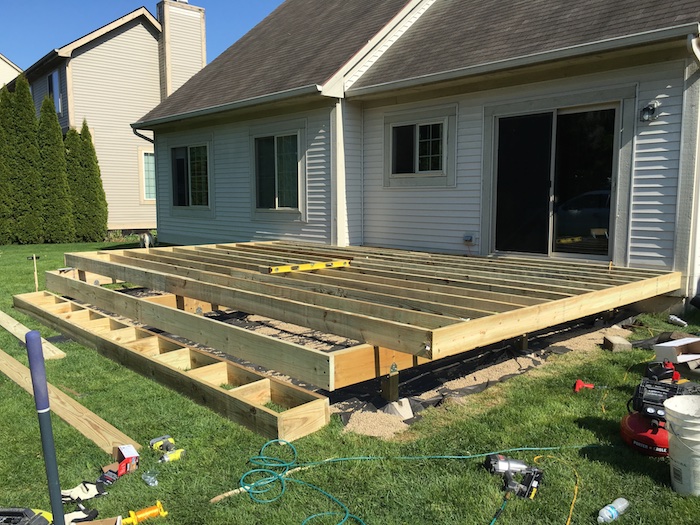 To create the first step down we installed joist hangers and a 2×8 within the beams and added 2×8 joists spaced 20″ apart.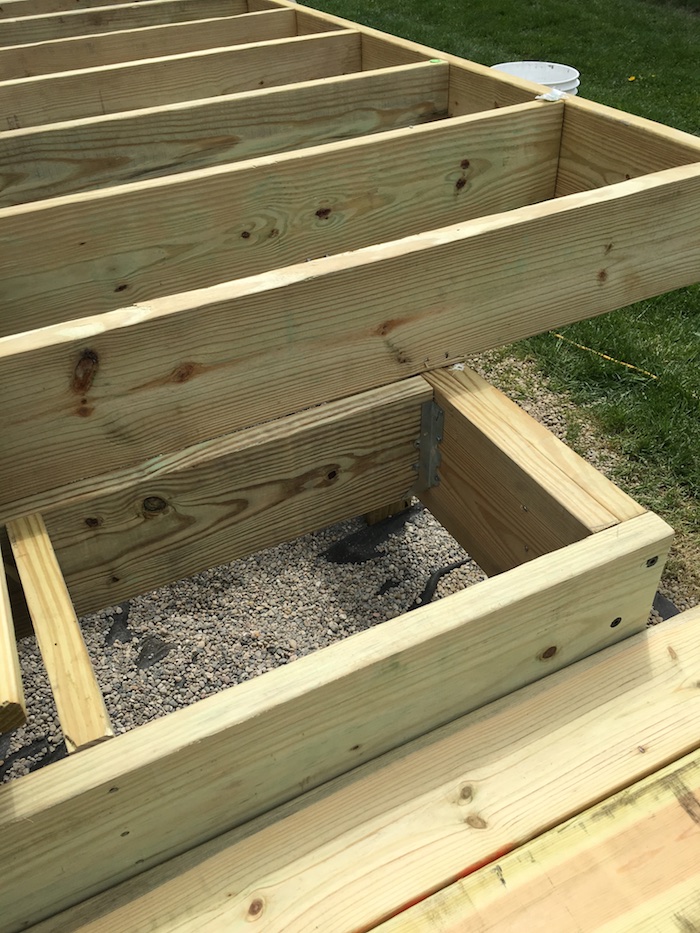 Then, we laid and leveled 4″ concrete blocks for the final step to rest on. It ended up being a little higher than I would have liked but I think we will eventually add a row of pavers or something if the last step proved to be too high.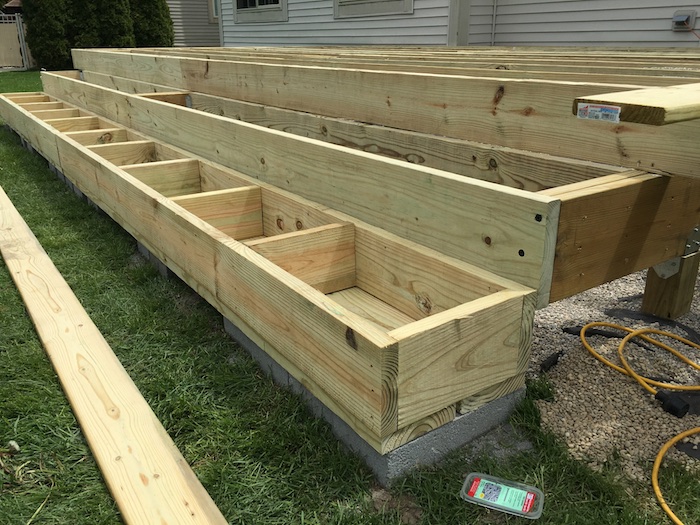 How to Install Decking with Concealed Fasteners

This was one of my favorite parts of the whole deck build. This screwless look is so cool! To conceal the fasteners we used the Kreg deck jig. It was more work but in the end we are so glad we did it. Kreg states that it will work with cedar or redwood decking as well as composite decking with a square edge (not with the groove in the side). Since we went with 5/4 cedar decking (actual thickness = 1″) we are good to go. Isn't she beautiful?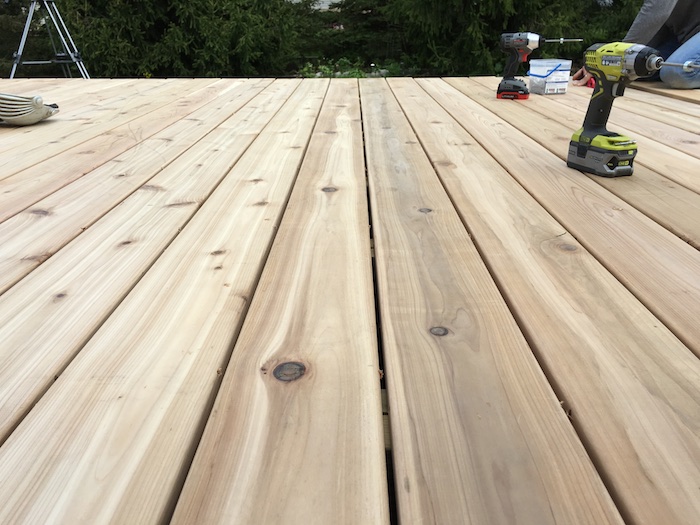 The Kreg deck jig comes with a Deck Jig, 100 Protec-Kote™ deck screws, 6″ Deck Jig™ drill bit, 6″ KTX square driver bit, (3) 5/16″ spacer rings, (3) 1/4″ spacer rings, (2) stop collars, (1) Allen wrench, instructional DVD, and complete Owner's Manual, all inside of a durable carrying case.
We got 2 jigs to help us get jiggy with it speed things up. We also discovered that with the 5/4 cedar deck boards, you really didn't need to pre-drill the holes except for the ends of the boards. This also helped speed thing up.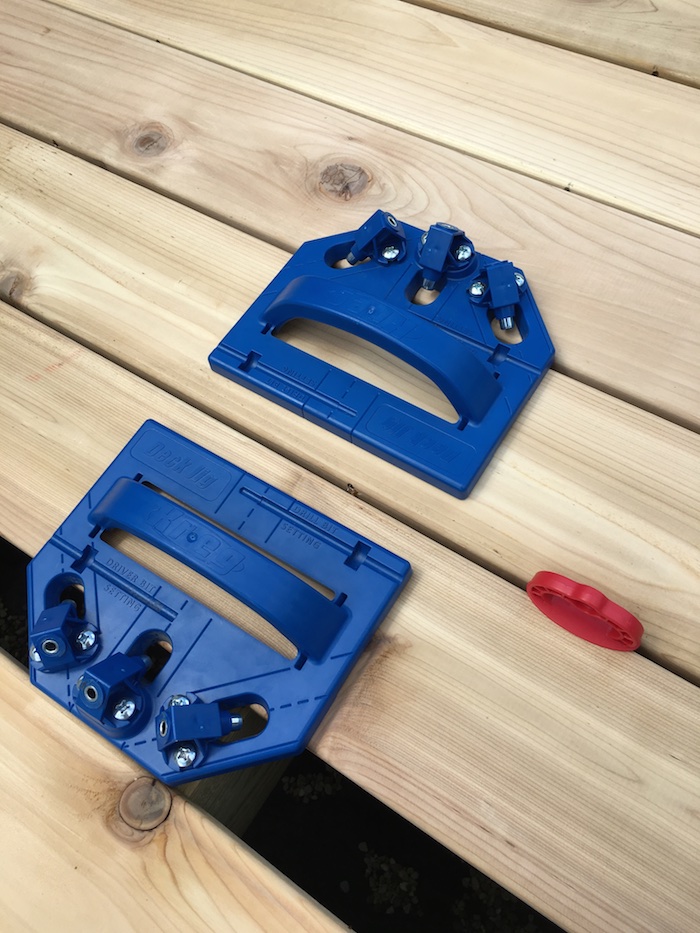 After all the deck boards are secured we dropped a chalk line and cut it with a circular saw.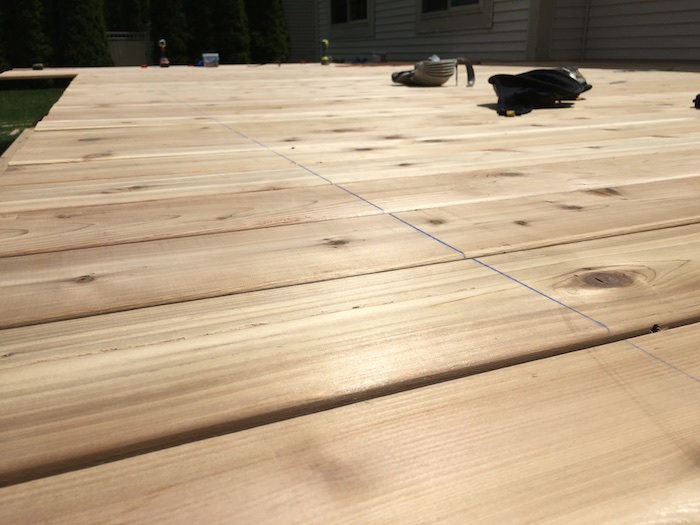 Then we repeated the same process for the steps and the deck was done!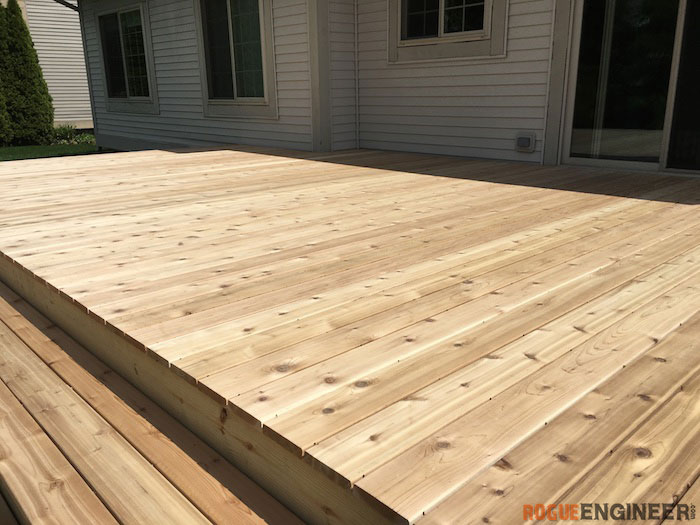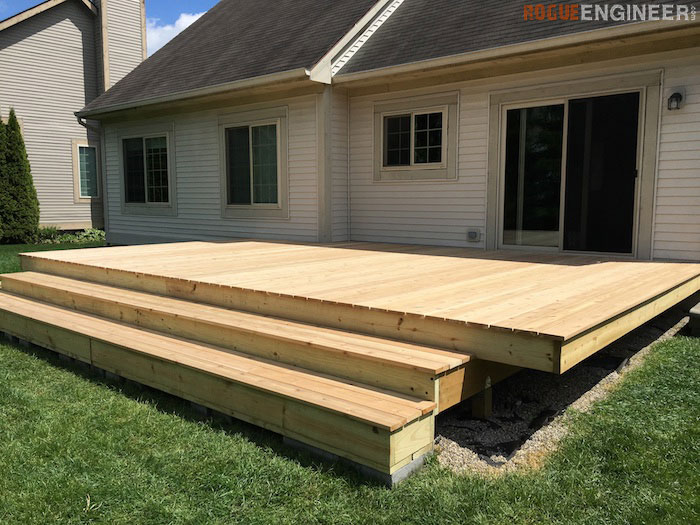 Or so we thought. Check out our deck staining post! The color turned out so fricken amazingly you are not going to want to miss it!
Questions? Comments?
As always, if you have any questions don't hesitate to comment below and especially don't forget to post pictures of your finished products in the comments! ENJOY!