Jamie and I are both active people and like to stay in shape. One dream of ours was to have a designated space for a home gym. So when we were framing out the basement we decided to make a small room that would be a dedicated home gym and now it is time to outfit that room with equipment.
If you love this stuff as much as we do, you might want to consider following us on Instagram where we post sneak peeks and behind the scenes stuff in our stories. Also, did you know you can get tons of projects plans from all around the web when you follow us on Facebook and Pinterest!
Disclosure: This episode was sponsored by LifeLine Fitness however the opinions are 100% my own. 
One of the more versatile pieces of equipment you can have in a gym is a power rack. We went with the C1 Pro from LifeLine Fitness.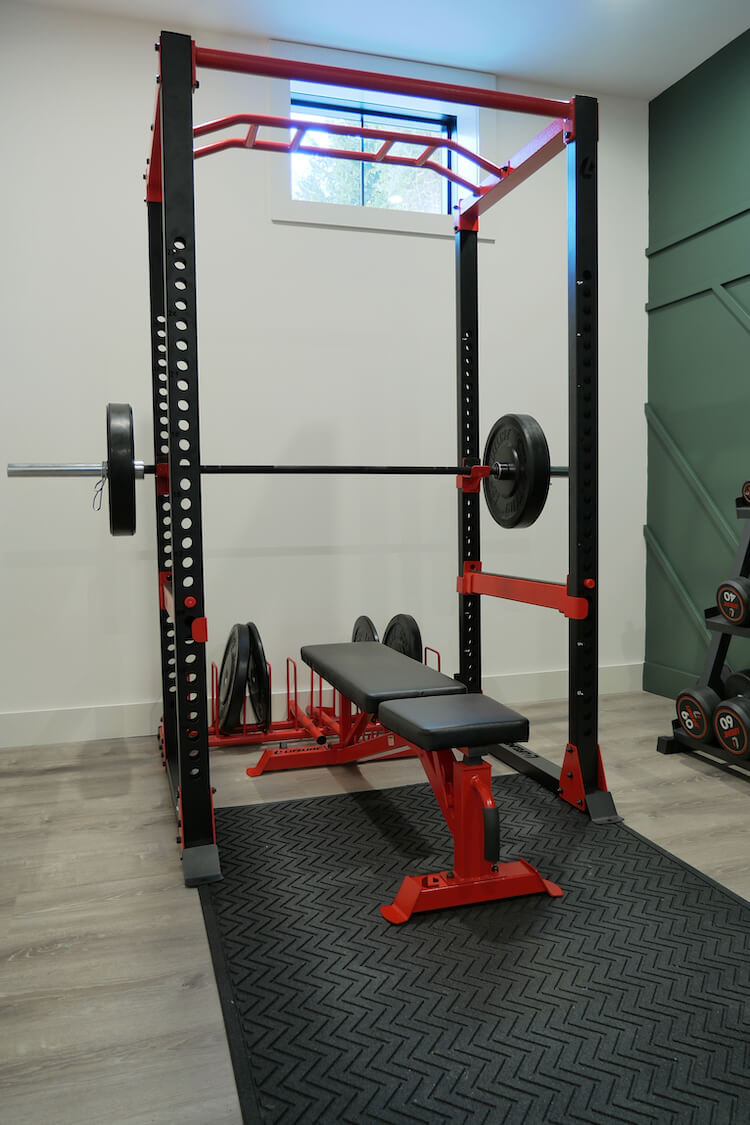 This is something that can be used for power lifting exercises such as squats, deadlifts, benchpress etc. However, it can also be used as a body weight training rack for exercises such as tricep dips, pull ups, and TRX style training.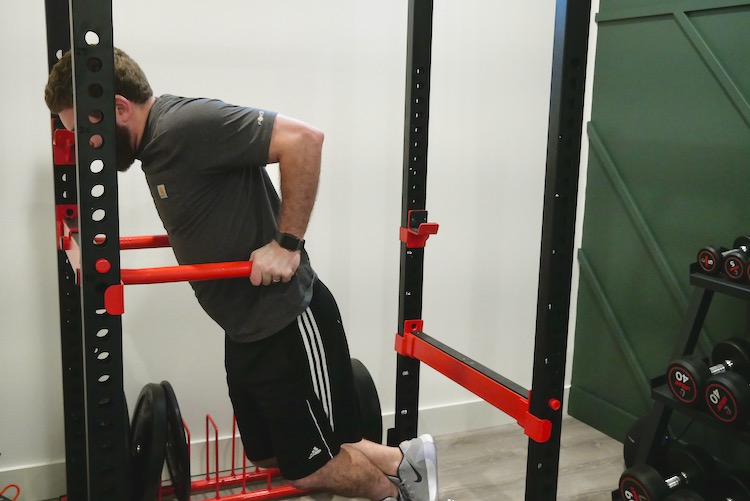 The adjustable bench is a big part of any gym. When used in combination with a power rack and Olympic bar with weight plates, you can do bench press and incline press. The adjustable bench can also be used with dumbbells for endless workouts, which is my personal favorite way to work out.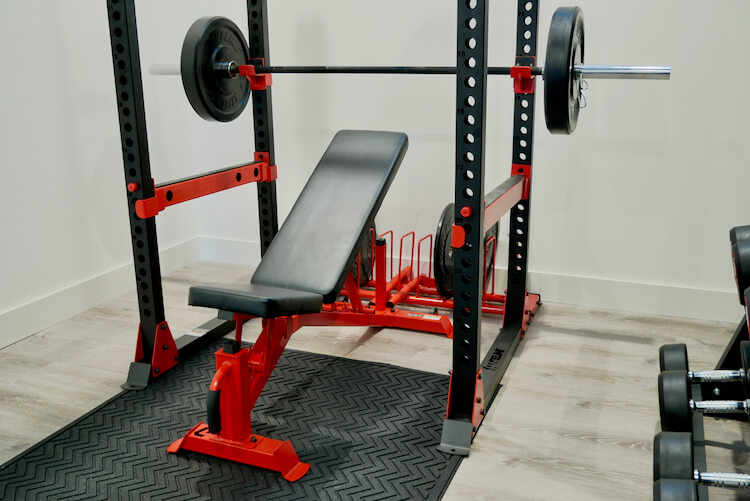 Free weights can be a significant investment. But, as I said before, dumbbells are my go to when it comes to working out. Nevertheless, I decided to go for the 1200lb set of Pro Round Rubber Dumbbells. This set includes weights from 5lbs up to 75lbs and is a top of the line commercial set. However, if you needed a less expensive option they offer a more affordable, Hex Rubber Dumbbell set.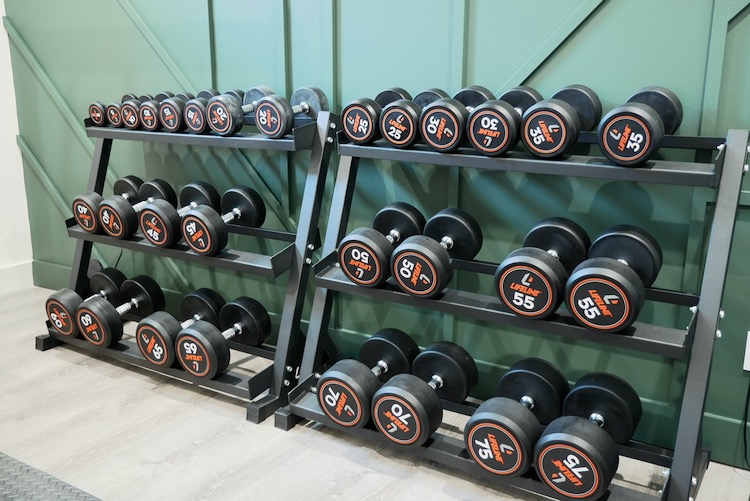 While I can do a pull up, I can't do many consecutively. Using the Pull Up Revolution you can essentially make yourself up to 100lbs lighter, allowing you to do a more controlled and overall higher quality pull up exercise.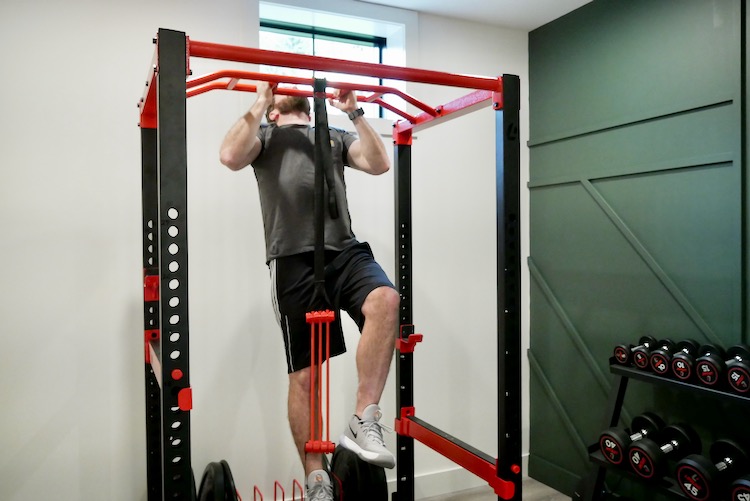 Strength training with weights is great but sometimes it's nice to mix it up. I was lucky enough to get my hands on the Jungle Gym V3 which is a 2 in 1 system that enables you to quickly go from body weight to resistance training. This opens up so many other exercises and the best part is that you can connect it to a rack or any doorway making this system totally portable.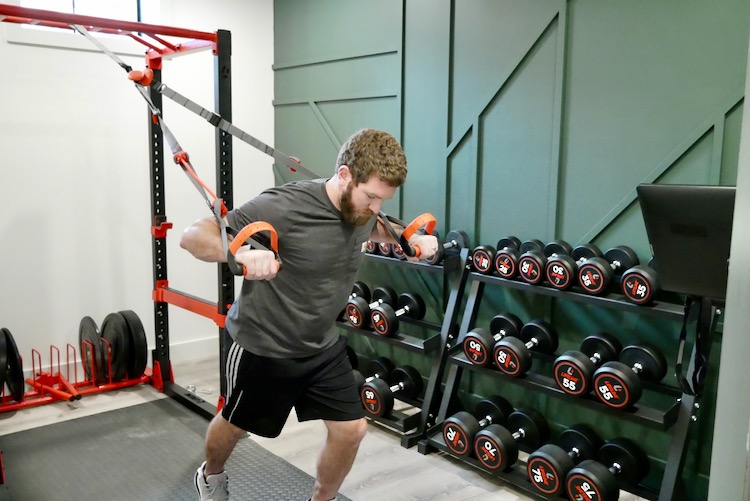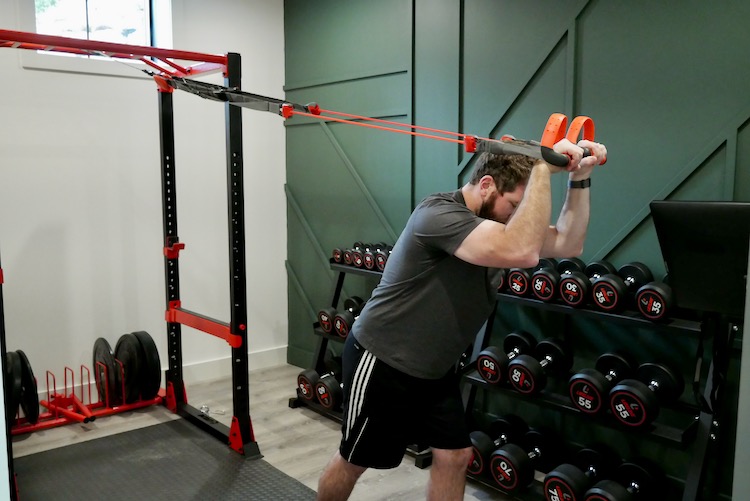 For core exercises we have the Power Wheel. This is similar to a traditional ab roller however it also adds the ability to secure your feet to the wheel which opens up a lot more core training exercises.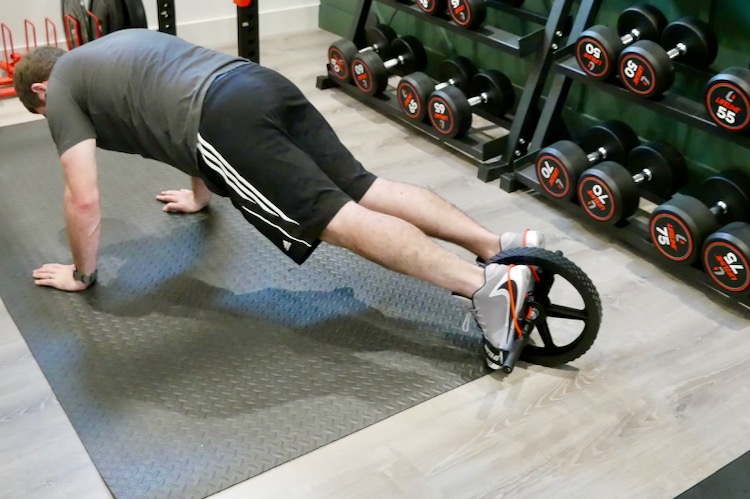 Spin Bike
Last year for Christmas I got Jamie the Peloton spin bike. She was an avid spin class goer and I knew she would love to have the convenience of having on demand spin classes in our own home. And I was right, she now rides almost every day so we needed to make sure we carved out a space for the bike to go in our gym. 
Want to look us up? My username is RogueEngineer and Jamie's is Jamie720. Send us a friend request and maybe we can link up on a ride.
If you are looking to purchase a Peloton and want to save $100 make sure to use our referral code: 9FVYY9. This will give you a $100 discount and also give us a $100 credit to buy more Peloton swag.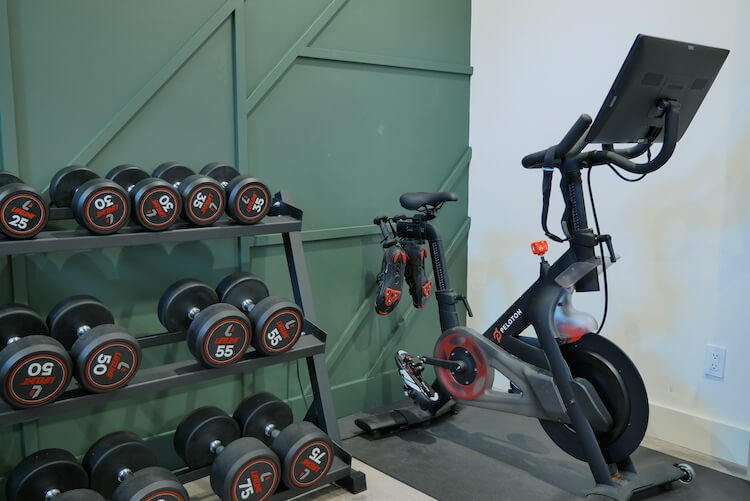 Lighting and Fan
To finish it off we went with four of the Horizon II downlights and the Ried 56″ fan in Anvil Iron, both from Kichler.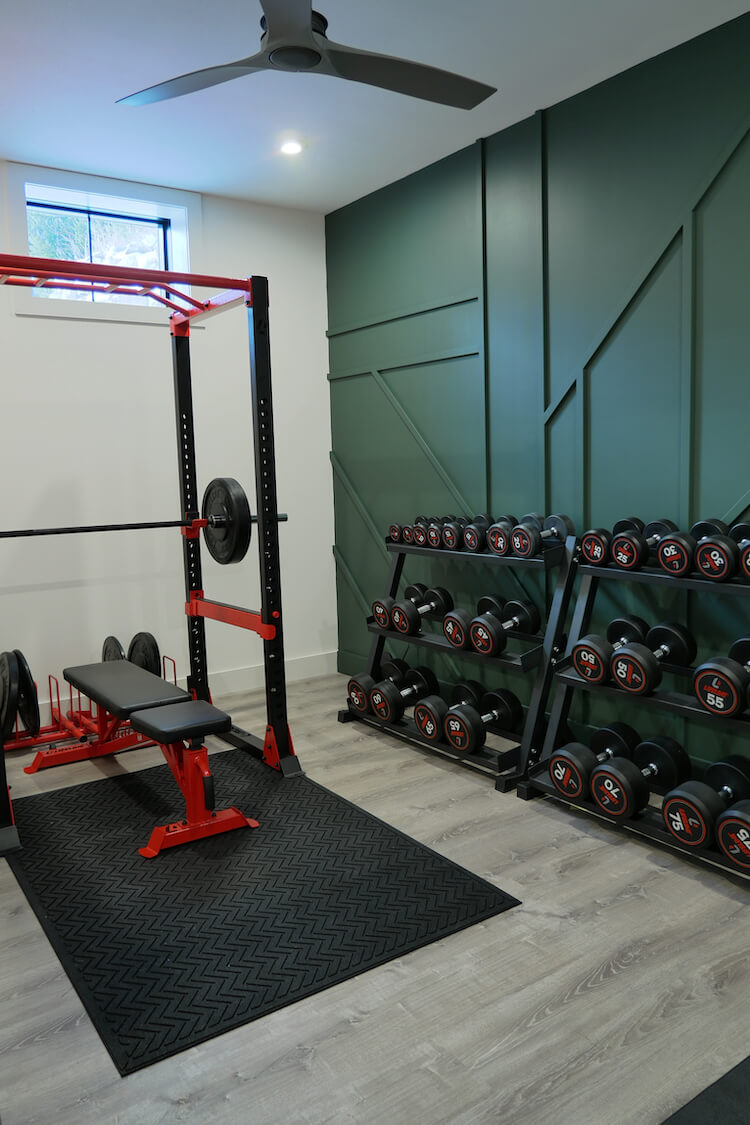 If you want to learn more about our geometric accent wall you can get all the details in this dedicated tutorial.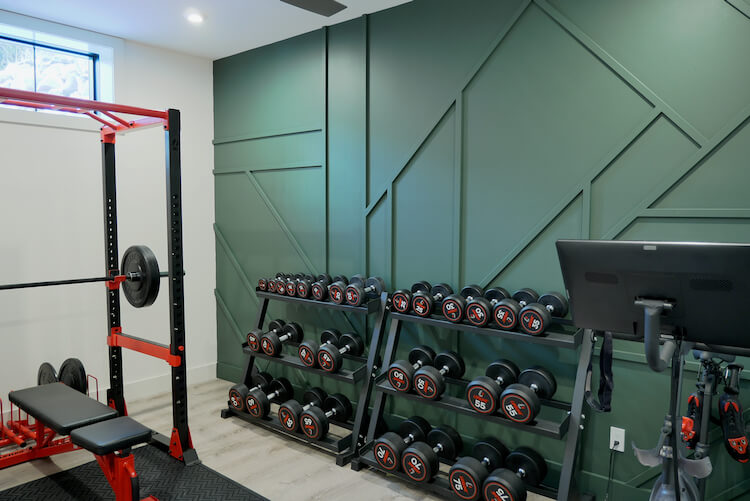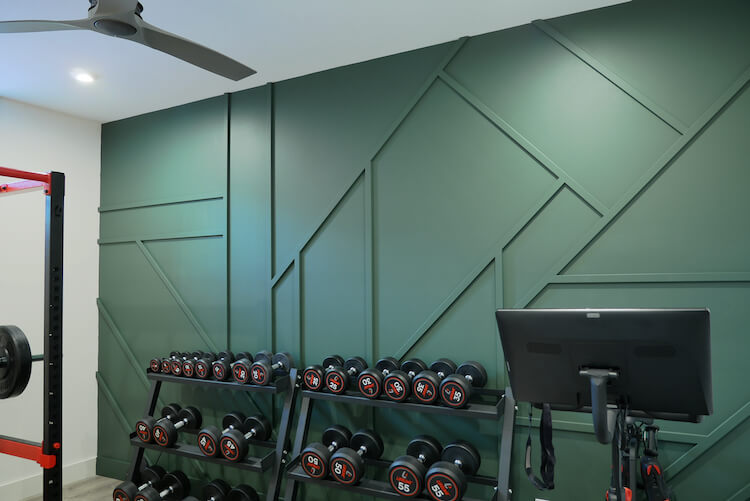 Questions? Comments?
As always, if you have any questions don't hesitate to comment below and especially don't forget to post pictures of your finished products in the comments! ENJOY!