This post is sponsored by The Home Depot.
Bosch has always been a great brand in my eyes and there is no arguing that they make high quality tools. That being said, I was pumped for this round of tool reviews as there are some awesome new additions to the workshop!
This is the saw I have been dreaming about for such a long time. This saw has tons of amazing features and most of them are due to the axial-glide system. This is the folding, articulating arm that provides a super smooth gliding arm with insane cut capacity, accuracy, and compact footprint.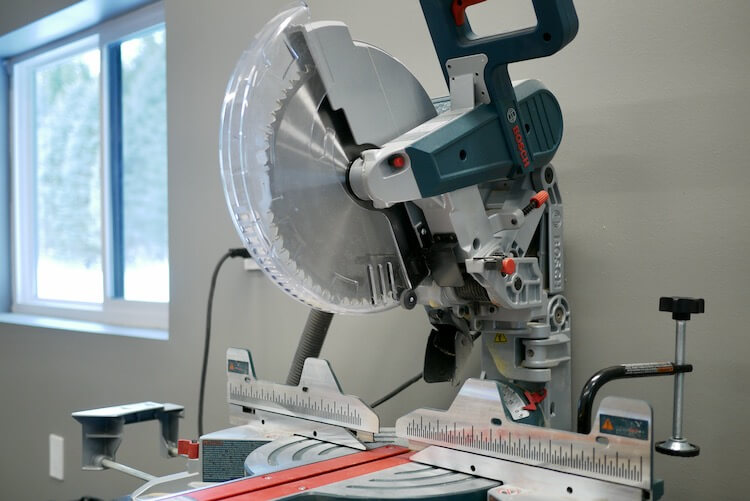 In our new workshop the miter saw will live against a wall so this feature has a huge impact in the layout of the shop. Being able sit against the wall versus having to allow space for the rails on a traditional sliding miter saw saves me about 14 inches of space. Meaning the fence on the traditional 12″ sliding miter saw would be an additional 14″ away from the wall!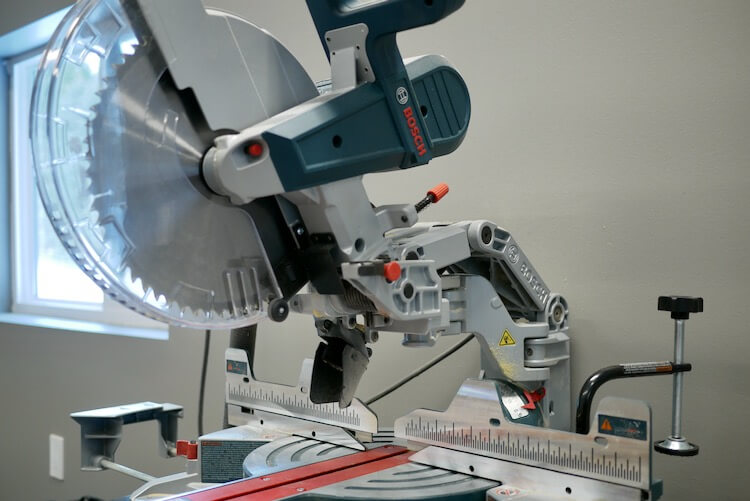 View this product on HomeDepot.com
These are now my go-to bits for drilling a quick hole. The treaded tip helps self-feed the bit into the wood and the design of the paddle ejects the wood chips with easy to keep the hole cleared while drilling. Plus, they are impact ready so you can pop them on the impact gun if that's what you have in hand at the time.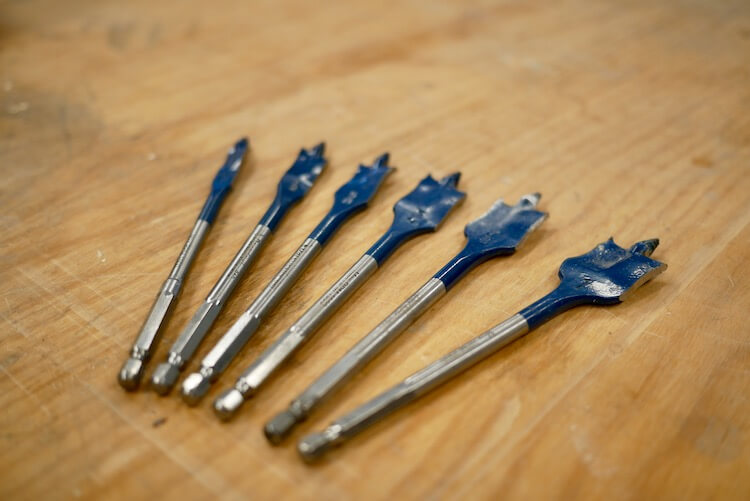 View this product on HomeDepot.com
With a 40ft range this little laser level is perfect from almost any indoor application. It can be used with a tripod or the included clamp which can clamp onto a stud or door. Anything from tiling, installing shelving, cabinets or even just hanging a photo, this laser is super handy to have around.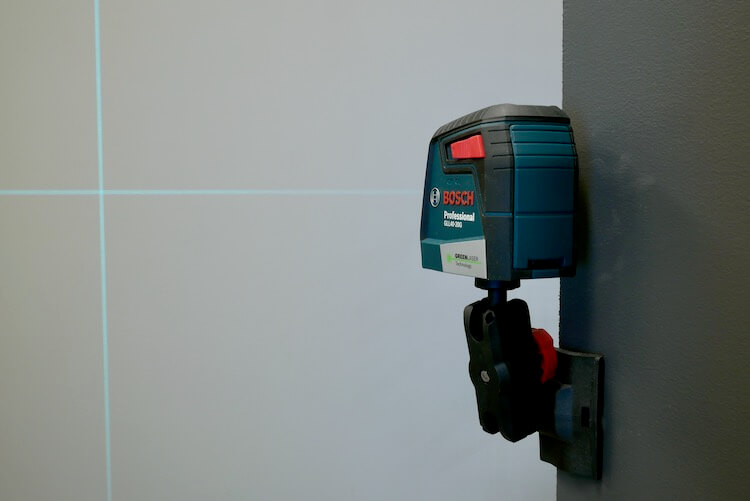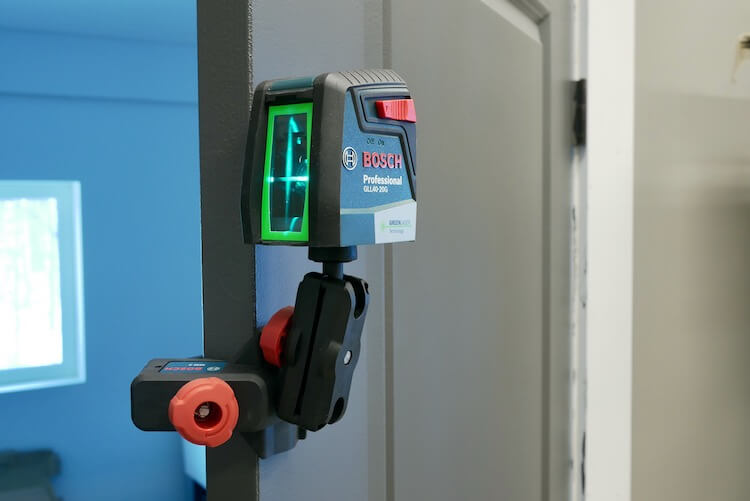 View this product on HomeDepot.com
A laser measure is a great tool for quick and easy measuring of longer distances. If you are measuring wall lengths, square footages, or even room volume, this will enable you to get it done quickly and precisely.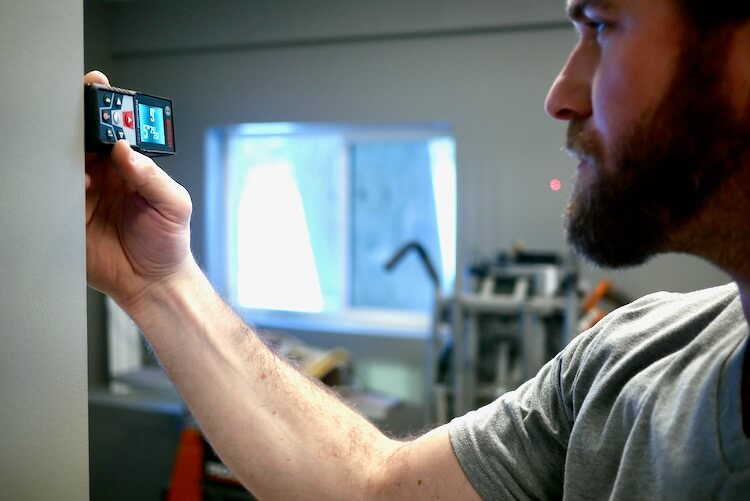 This is a really powerful tool that not only calculates a lot of those needed dimensions but it can connect to your phone via bluetooth, and when using the Bosch MeasureOn app, you can record measurements, take pictures and much more.
View this product on HomeDepot.com
I've been looking for a good masonry hammer drill and I am glad to be reviewing this one. With 3 modes (rotation, rotary hammer, and hammer only) and 8 amps motor this hammer drill can blow through just about anything. Coming in at 7.7lbs, this drill can deliver 4000 BPM (blows per min) at 2.7 ft. lbs. of impact energy.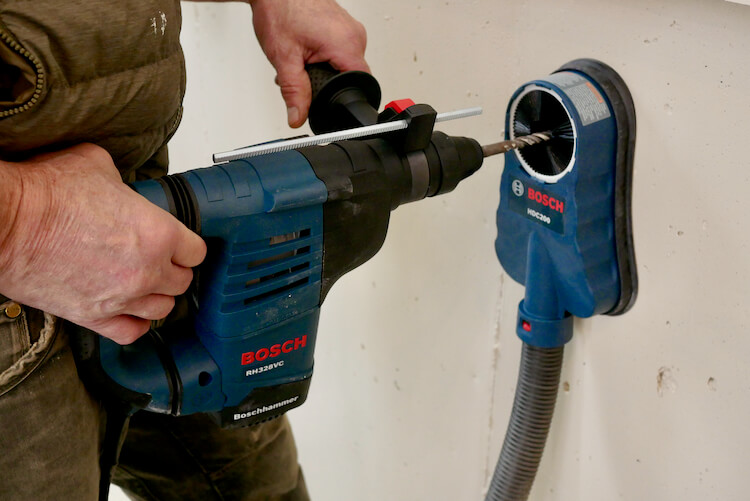 This is a heavy-duty concrete drill that is nicely balanced and the anti-vibration handle is much appreciated. In my opinion this may be the best in it's class.
View this product on HomeDepot.com
When drilling concrete, dust extraction is a must. Silica dust can cause cancer and recently OSHA has imposed some regulations to assure a safe work environment for all. This 9 gallon wet/dry dust extractor with HEPA filter will not only make sure that you keep your air and lungs clean, it has an outlet onboard that will activate the dust extractor when the tool turn on, and auto filter cleaning feature.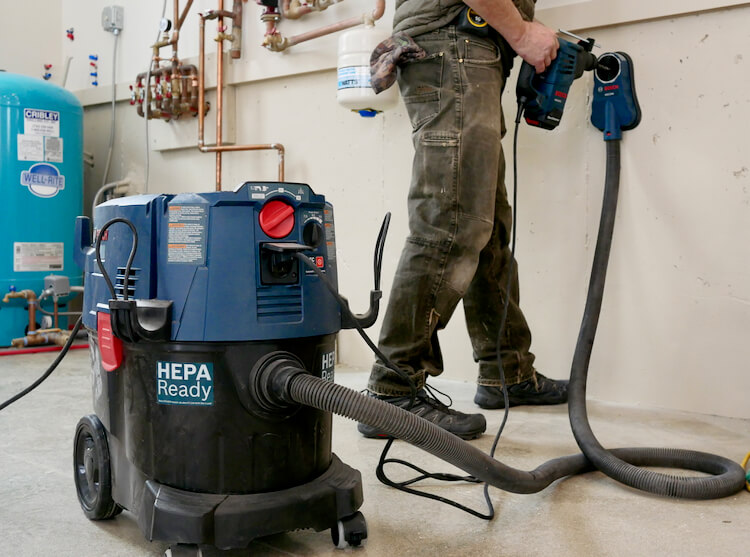 When buying this through Home Depot you get the bonus universal dust attachment. This is great because it utilizes the vacuum to suction the attachment to the wall, and provide hands-free dust extraction right where it needs to be.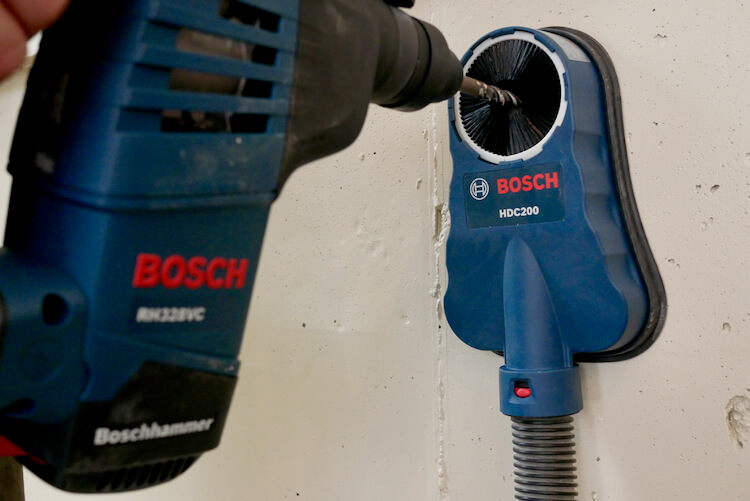 View this product on HomeDepot.com
When drilling anchor holes and adhering anchors in the concrete, the process goes something like this: Drill the hole, blow out the hole (with compressed air), brush the hole, blow it out again and then install the adhesive and anchor. Using the Speed Clean Dust extraction bit you eliminate those steps because virtually all of the dust is extracted, when drilling the hole, through the hollow center of the bit and out the dust port.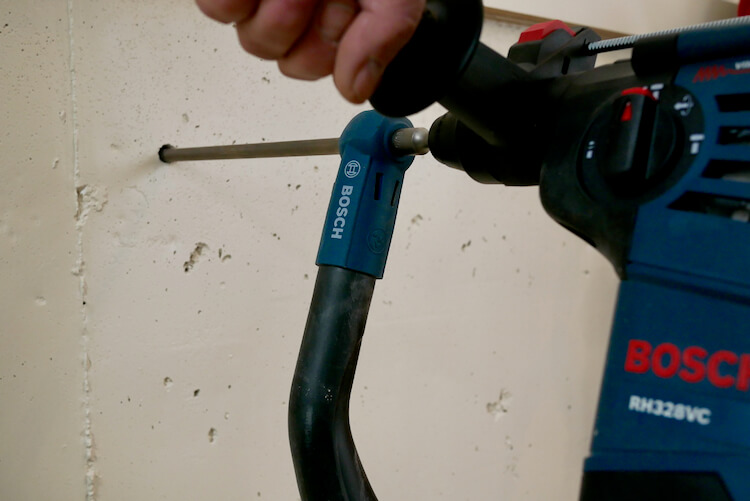 View this product on HomeDepot.com
I acknowledge that The Home Depot is partnering with me to participate in The Home Depot Tool Review Program. As a part of the Program, I am receiving compensation in the form of products and services, for the purpose of promoting The Home Depot. All expressed opinions and experiences are my own words. My post complies with the Word Of Mouth Marketing Association (WOMMA) Ethics Code and applicable Federal Trade Commission guidelines.