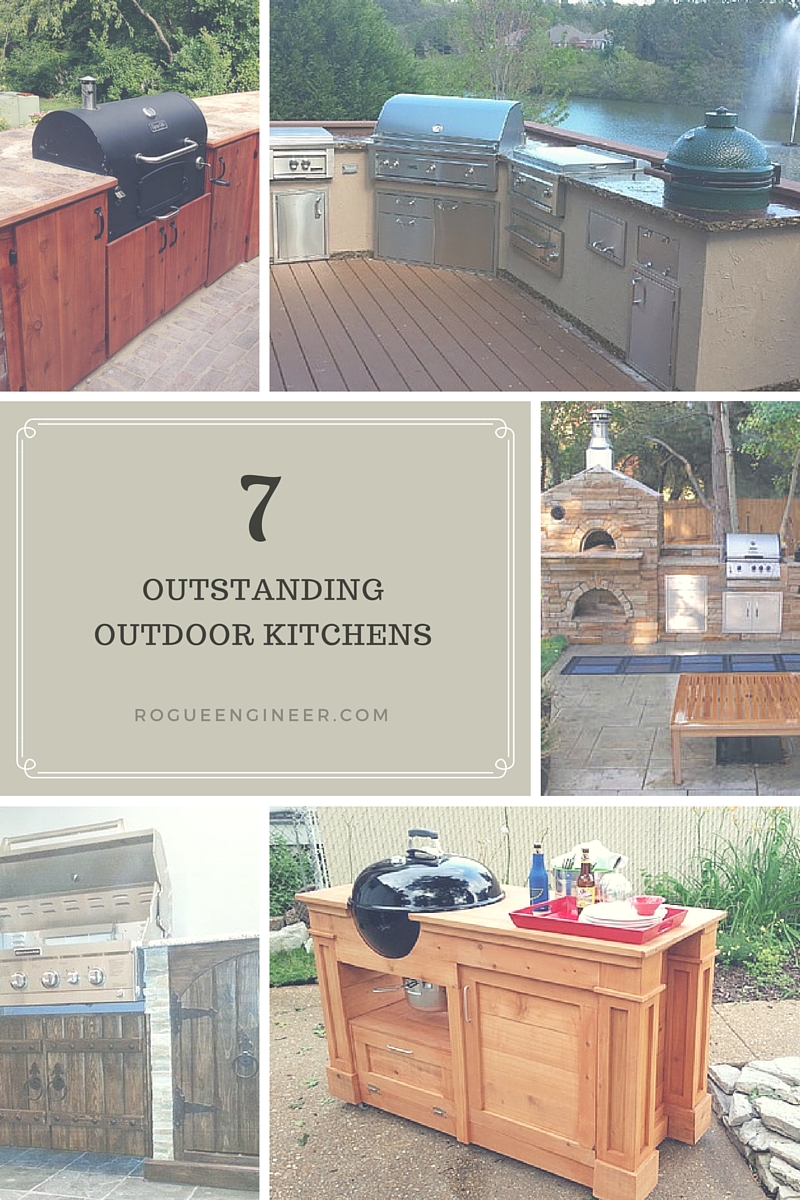 It's awesome being part of a building community, not only do I contribute to RYOBI Nation but I go there to get inspired. The members of RYOBI Nation share tons of awesome projects and new ideas. Being that it's the beginning of the grilling season, I had to check out what amazing outdoor kitchens were being contributed by the RYOBI Nation members.  So get ready for 7 outstanding outdoor kitchens! I'll share what I love about each space, and you can too in the comment's section.
Disclosure: This post was sponsored by Ryobi but all the opinions are 100% my own!
What can you not love about this outdoor kitchen?! What had me was the pizza oven. We are huge fans of homemade pizza nights, so this outdoor kitchen would be perfect for us. The grill, the smoker, the oven, the cooking possibilities are endless.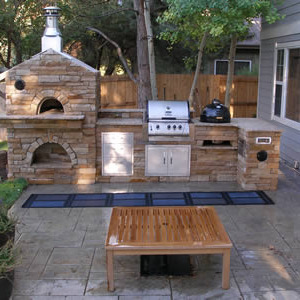 What I love about this outdoor kitchen, it that it's small and functional but yet looks amazing. This setup gives you tons of storage and a nice place to store your grilling utensils. It's an awesome grilling station for any party.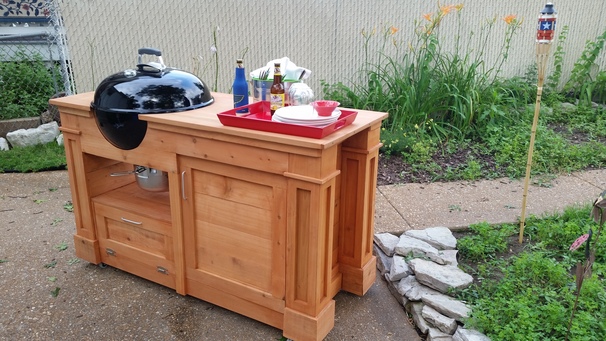 Another simple but functional outdoor kitchen space that caught my eye was this awesome beer keg grill! Whenever you can include beer into a build, it's probably going to make my list. This member really knocked it out of the part creating a charcoal grill from an old beer keg he had lying around. Great work and cheers to that!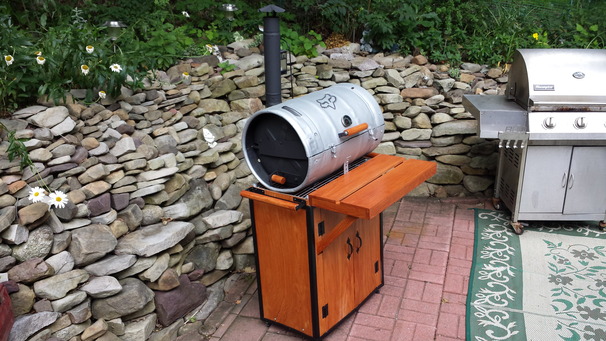 This is THE GRILL of all grills! I mean this thing would be the statement piece to any outdoor kitchen. This awesome grill was created for those game day watching parties, next time be sure to invite me!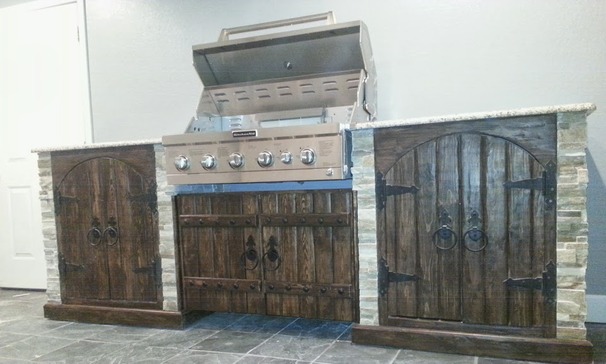 This outdoor kitchen has it all! A large green egg grill, medium green egg grill, sink, refrigerator, stove, yeti, and seating for 5! I'm also digging the rustic style of this one too.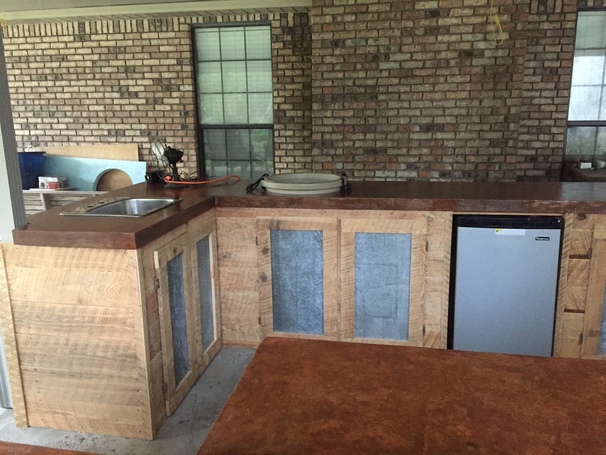 Wouldn't you love to grill with a view like that?! Seriously, it's not just the awesome views that make this outdoor kitchen amazing, just check out all it has to offer! I'd grill everyday if this was on my back deck.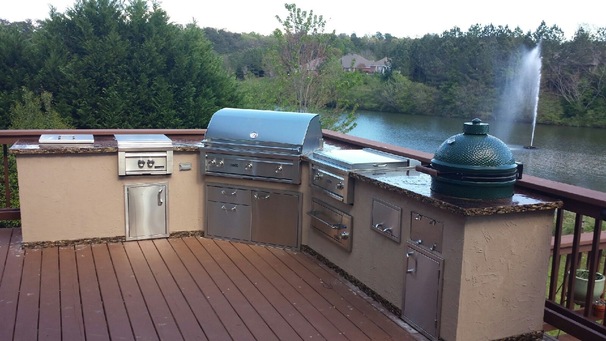 What I love most about this outdoor kitchen is the amount of counter top space you have to entertain! They always say the kitchen is the heart of a home, and I'm pretty sure it goes the same for your outdoor space. You could serve a crowd around that grill!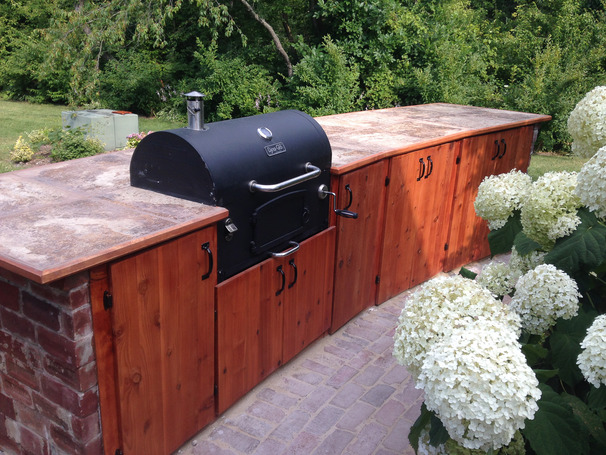 Quick ReCap
When it's time for me to design my outdoor kitchen I know a couple of key things I want to keep in mind. Make your outdoor kitchen functional but eye-catching. You want to create a space that you can really entertain guests with plenty of seating and counter space. If you have built or are planning on building your awesome outdoor kitchen this summer, be sure to share your project on RYOBI Nation. Not only will you get tons of love from fellow members, but they can also help you along the way with plenty of inspiration or problem solving!