…my true love gave to me!! Okay, okay, I'll stop.
But in all seriousness, we were honored to be asked to participate in the 12 Days of Christmas Tablescapes. Jen Woodhouse and her awesomeness decided to put together 12 of the best DIY bloggers I know to showcase what our Christmas tables will look like. Really though, check out this line up below!
[hotspotimage id="1917″]
Here is how the 12 Days of Chrismas Tablescapes is going to play out:
| Day | Blog |
| --- | --- |
| Monday, 12/8 | Rogue Engineer |
| Tuesday, 12/9 | Her Toolbelt |
| Wednesday, 12/10 | So Much Better With Age |
| Thursday, 12/11 | Pneumatic Addict |
| Friday, 12/12 | Pretty Handy Girl |
| Monday, 12/15 | All Things G&D |
| Tuesday, 12/16 | brittanyMAKES |
| Wednesday, 12/17 | House of Wood |
| Thursday, 12/18 | Sawdust Girl |
| Friday, 12/19 | My Altered State |
| Monday, 12/22 | That's My Letter |
| Tuesday, 12/23 | Ana-White.com |
---
Disclosure: The amazon links provided throughout are affiliate links. If you would like to support our site and help keep our content free come find out more about how we can make money with no extra cost to you.
---
So, as DIY bloggers of course most of what makes up our tablescape is handmade. In the photos you'll find info boxes that, if you hover over, will tell you more about that item and link to the tutorial or where you can buy it.
[hotspotimage id="1976″]
Southern Rustic
So as you can probably already tell, I definitely had to call in back-up on this one. Yup, I will admit when I'm out of my league and this was absolutely one of those times. But dang, she did a bang up job if I don't say so myself. After a long debate we call this style southern rustic.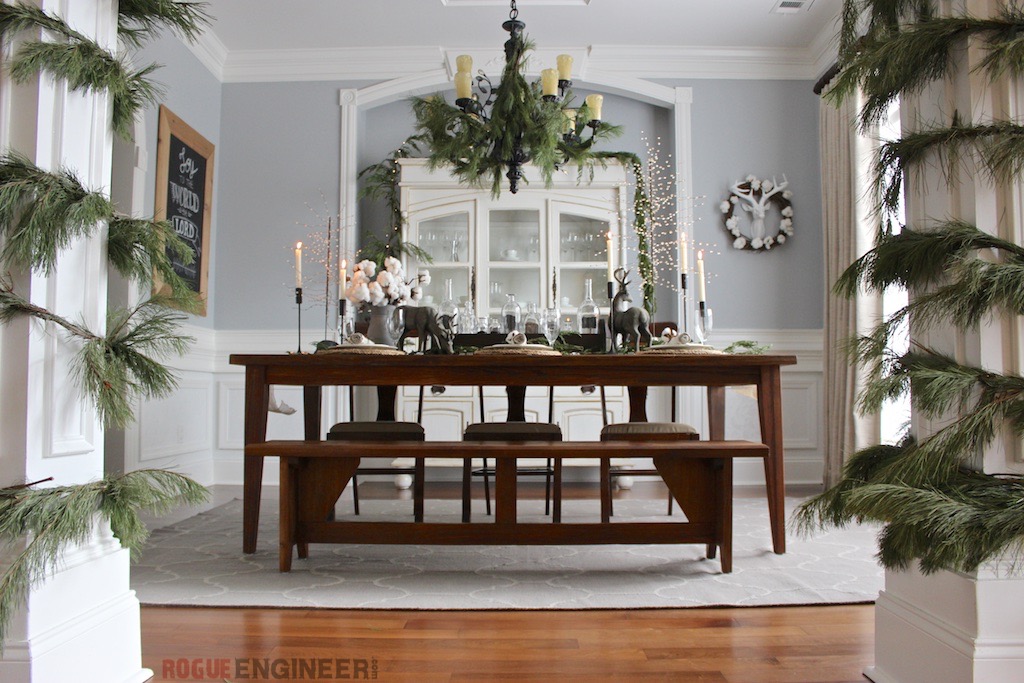 Holy Garland
So as you can tell, we like garland. Garland on the columns, garland on the table, garland on the chandelier, and garland on the china cabinet. Yup, it's pretty much everywhere. It's possibly our favorite Christmas decoration because it not only adds that woodland color and texture that wasn't there before but it fills the room with the most amazing smell.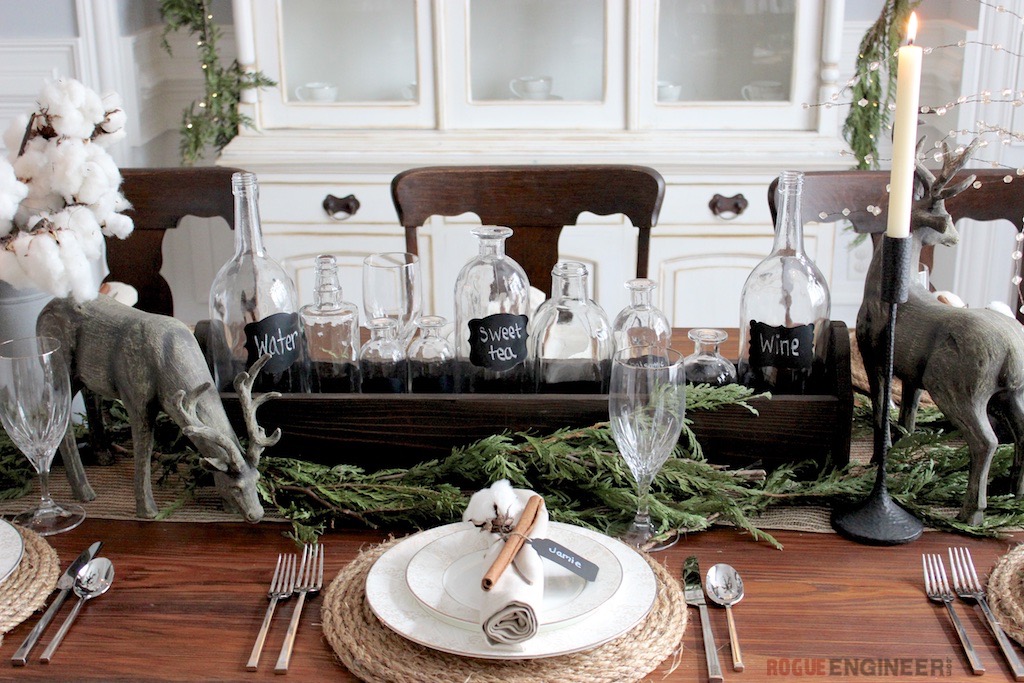 Functionality
For the centerpiece we wanted something that was not only rustic and beautiful but also lower and functional. This is the center of the table, so it should be common ground for all those sitting at the table. That's why we went with a simple glass bottle centerpiece. This houses an assortment of glass bottles that are not only for looks but hold the necessities of the table, like water, wine, sweet tea, olive oil, balsamic vinegar, and whatever other cocktails and/or dressings your table might require. All while being low enough not to interfere with conversation.
[hotspotimage id="1979″]
A White Christmas
In the south we don't get to much snow as you can imagine. What we do get in the winter however is cotton, and boy is it beautiful. Driving by the cotton fields is amazing and we really wanted to tie that into or decor this year.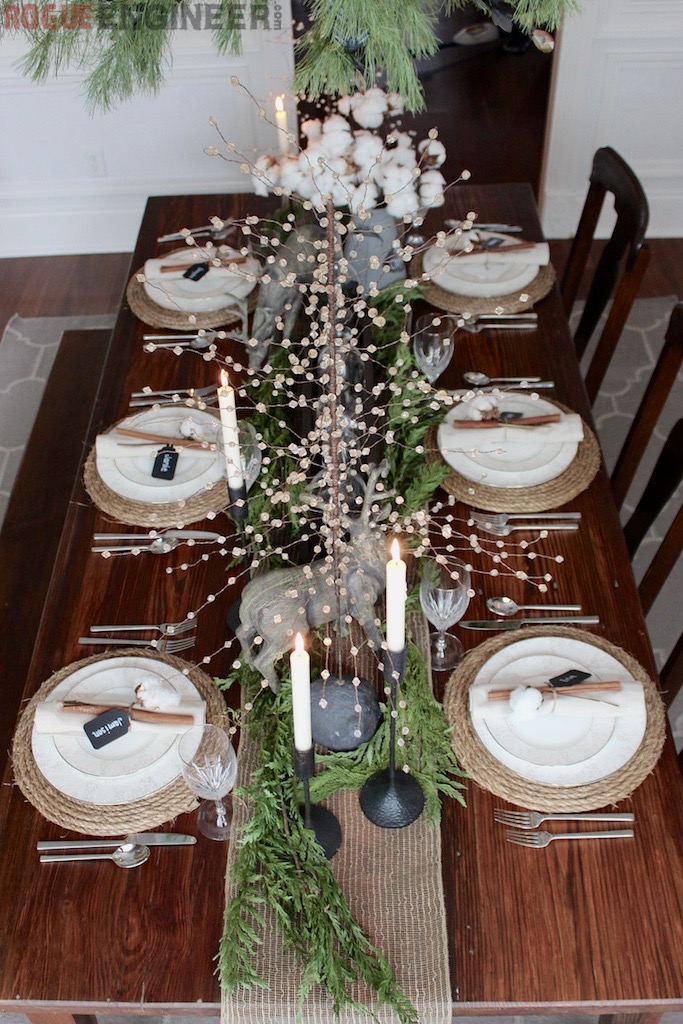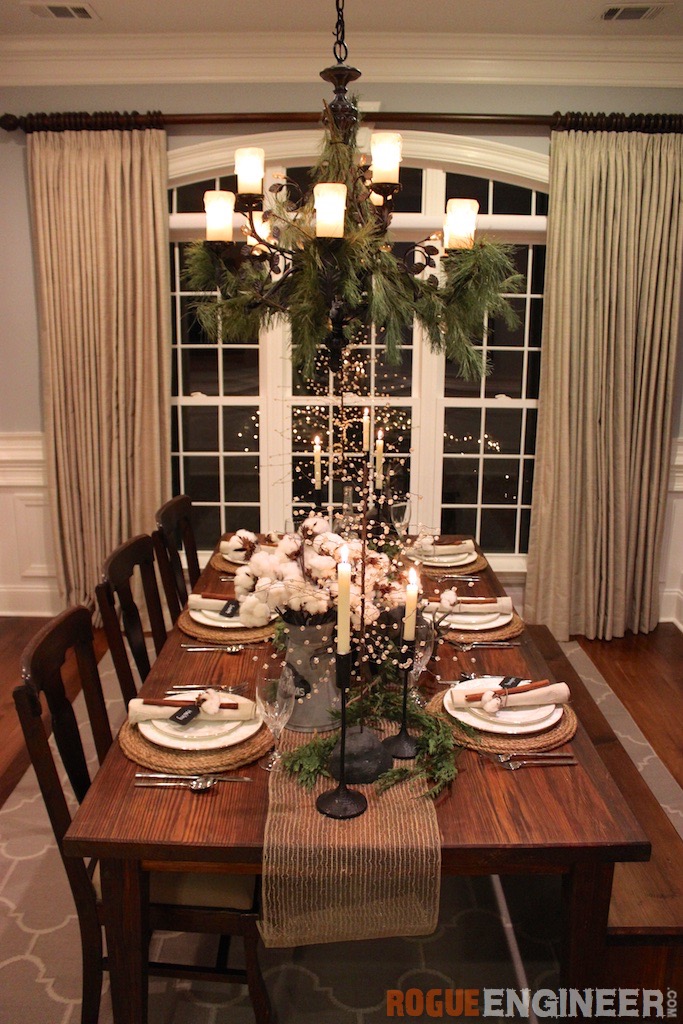 In the photo above you'll see the tall beaded trees at either end of the table. We found these at a local home accessories store and were really digging them. They were perfect because they not only added height and some bling to the tablescape but didn't cut off contact between people sitting across from one another.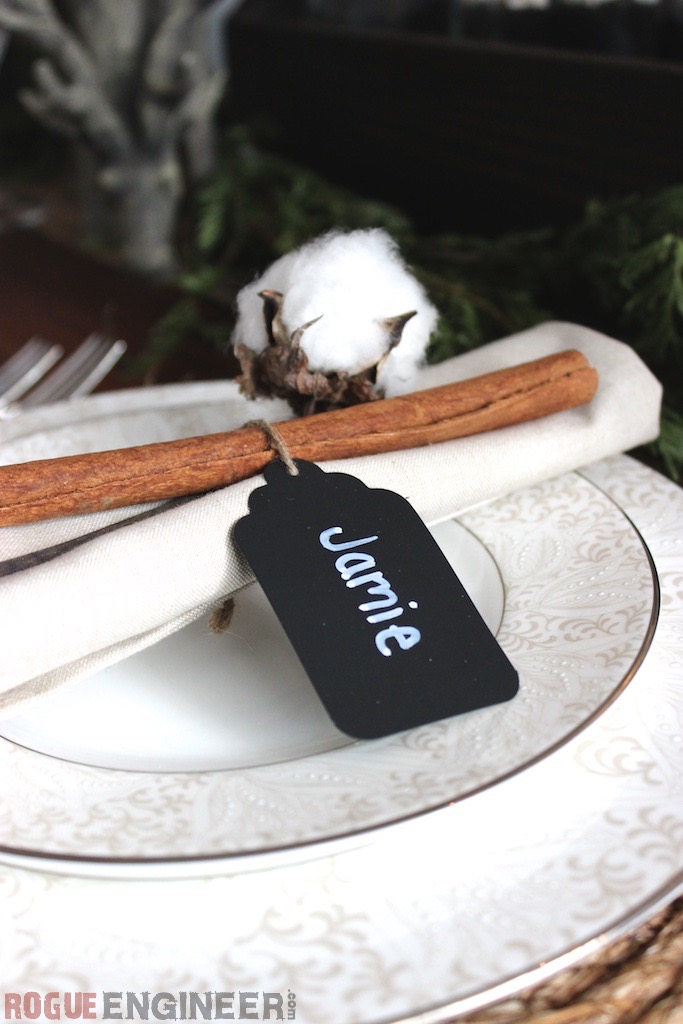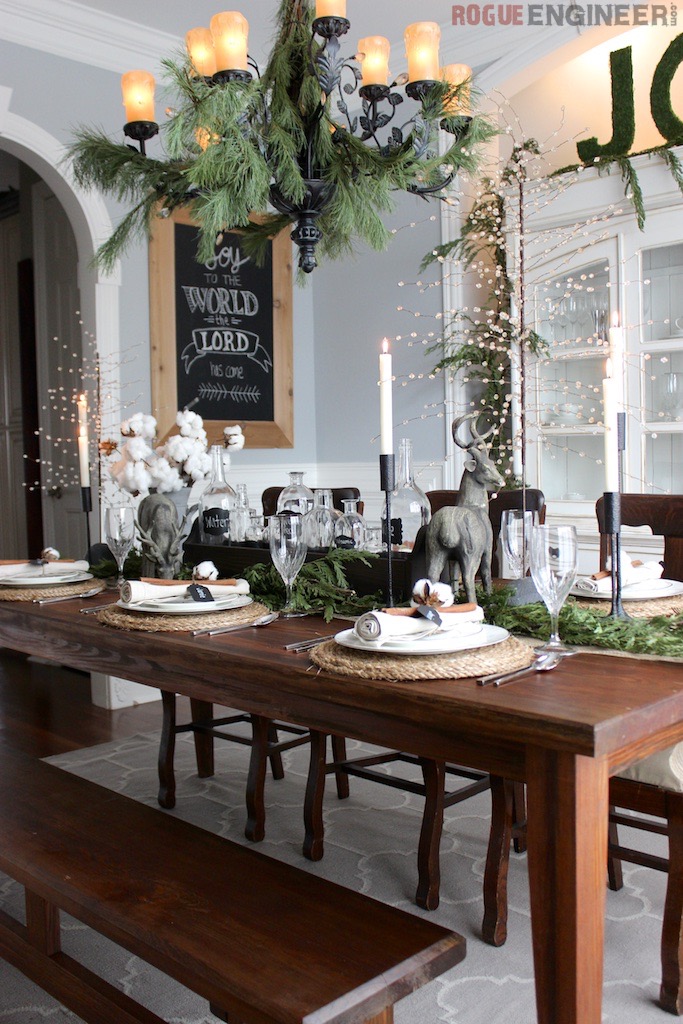 To fit in with the rustic southern charm, linen napkins with a cinnamon stick and cotton stem add a nice touch to each place setting. With the chalkboard tag to help everyone find there place.
[hotspotimage id="1980″]
And finally here is the little fella that started it all. One day we walked into Hobby Lobby with no idea what we were going to do for this. But as soon as we saw this little guy it all came together. I tried to dig up a link on the Hobby Lobby website but I guess since it's seasonal they don't list it. I did however find some pretty cool resin deer statues on amazon that would work just as good if not better.
[hotspotimage id="1981″]
Thank ya'll for taking the time to visit our dining room this holiday season. Take a minute now to remember the real reason for the season and that is the birth of Jesus Christ!
Matthew 1:23 "Behold, the virgin shall conceive and bear a son, and they shall call his name Immanuel" (which means, God with us).