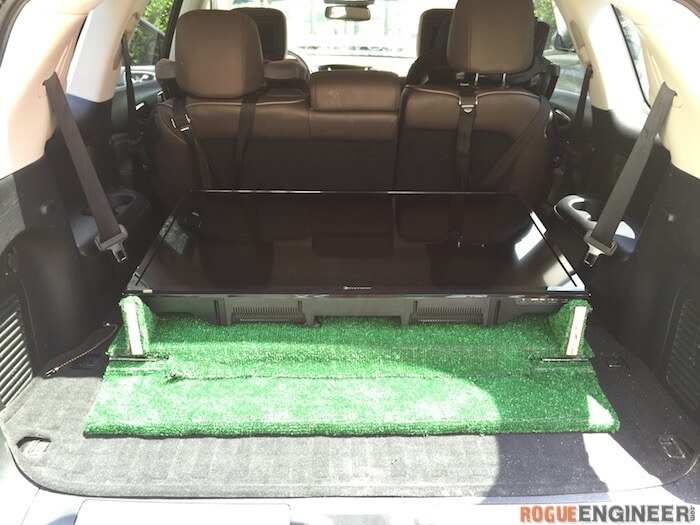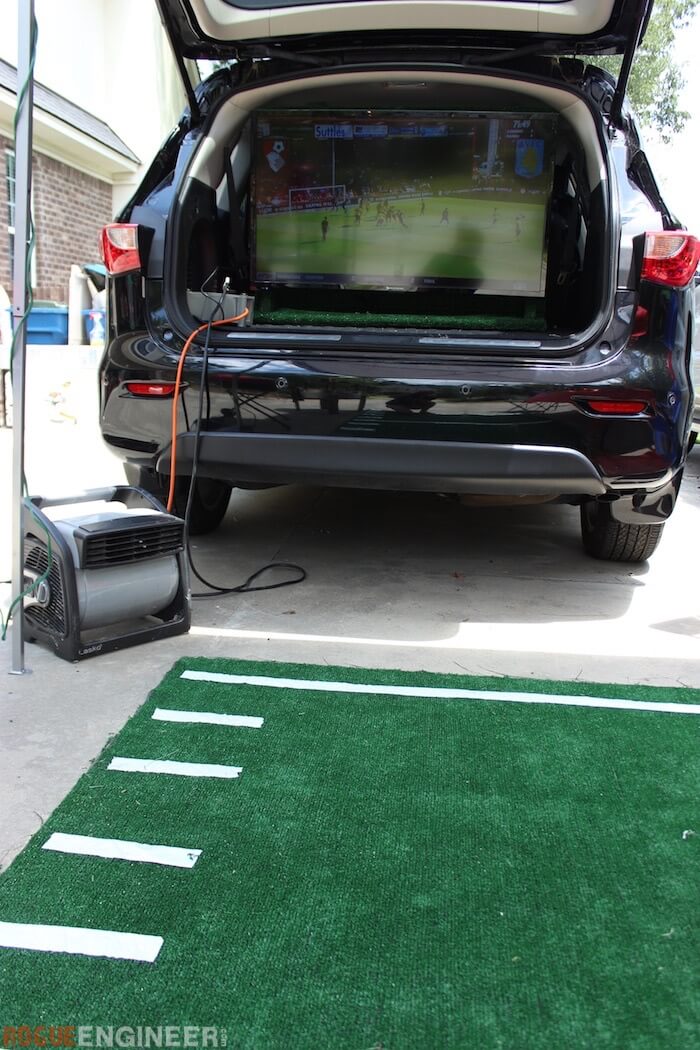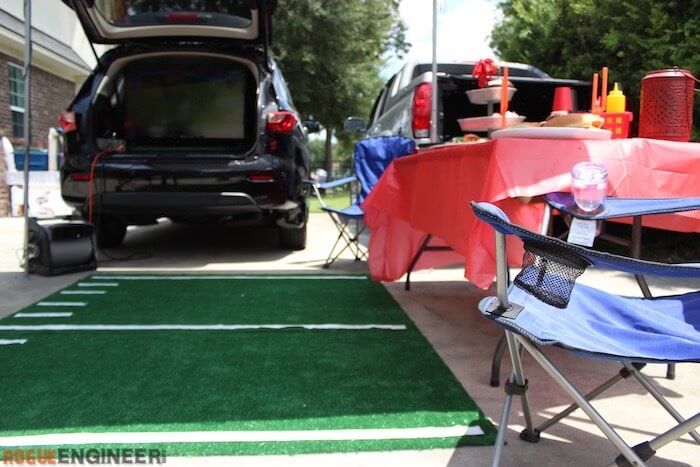 Recently, Home Depot reached out to me and wanted me to do a post on a tailgate powered by a generate. More specifically, a generator rented from the Home Depot tool rental program. At first I hesitated because I didn't think I could come up with any type of DIY project to integrate it with. (Because that's what you guys come here for, DIY project plans, not tool rental advice.) However, I love watching football and I love tailgating, and I love watching football while I'm tailgating so I figured I could make it work. The problem with a TV at a tailgate is, well, how do you safely transport it and view it. Most stock TV stands are not meant to be placed on uneven surfaces and are sketchy at best.
That's where I come in. Not only am I going to show you how easy it is to rent a generator (which is surprisingly easy and inexpensive) but I'll show you how to build a TV stand to that holds up to a 42″ flat screen TV and folds away for storage during transport.
For sneak peeks of our upcoming projects be sure to follow me on Facebook and Instagram. Also, follow me on Pinterest to get tons of projects plans from all around the web!
Disclosure: This post is sponsored by The Home Depot so I did receive compensation however the views and opinions are that of my own.
Powering Your TV
First off, you'll need power for your TV. If you already have a generator then just add gas and you are off! If not, don't worry, you can rent a sweet 2000 watt Honda generator for around $50/day. Head on over to the Tool Rental department at Home Depot and they'll be happy to help.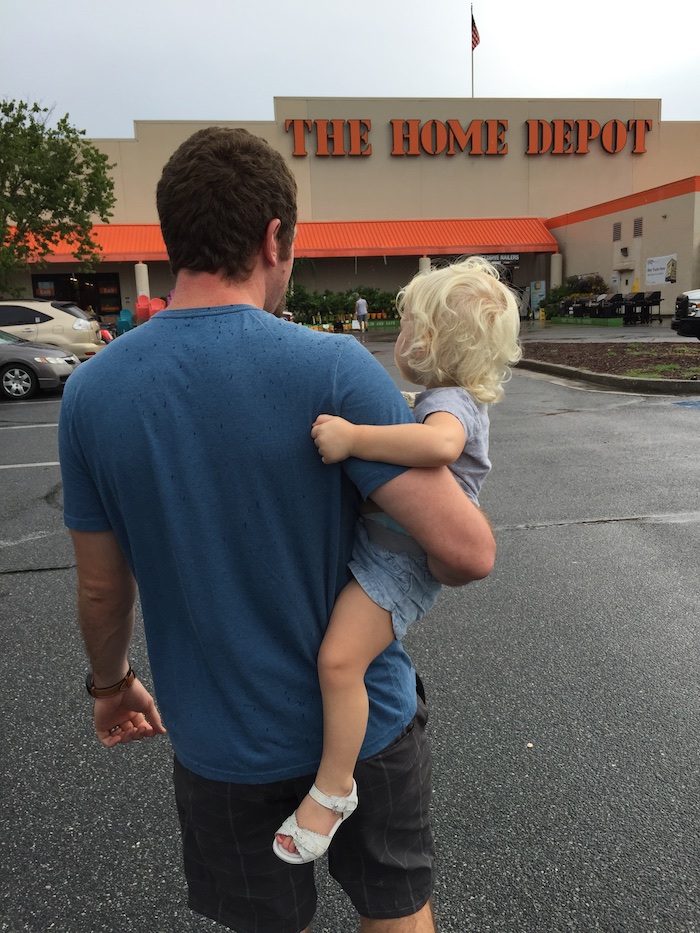 This was actually my first time in the tool rental department and I was think to myself, "Why is this the first time in the tool rental department?" They have so many tools that could really help me get big jobs done a lot faster.

After perusing the isles I settled on a generator. This 2000 watt portable generator might look small but it's more than enough to do the job, and it's super quite.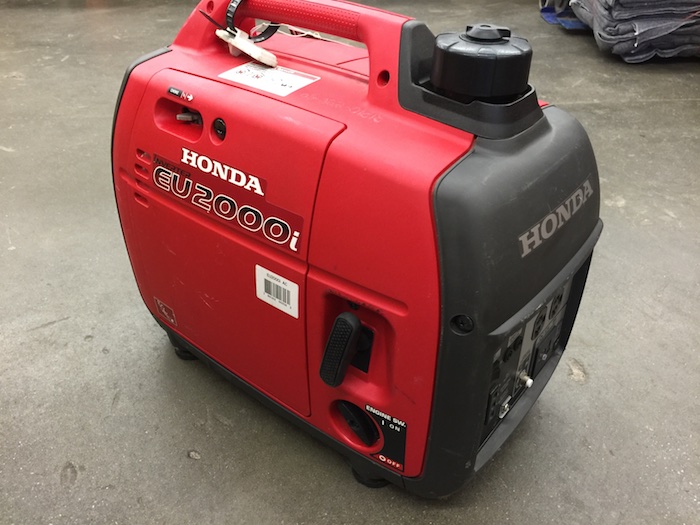 I'm sure I could have figured this all out on my own but it was nice to have someone walk me through everything before I tried to figure it out on my own and possibly break it. (Not that I've done that before.)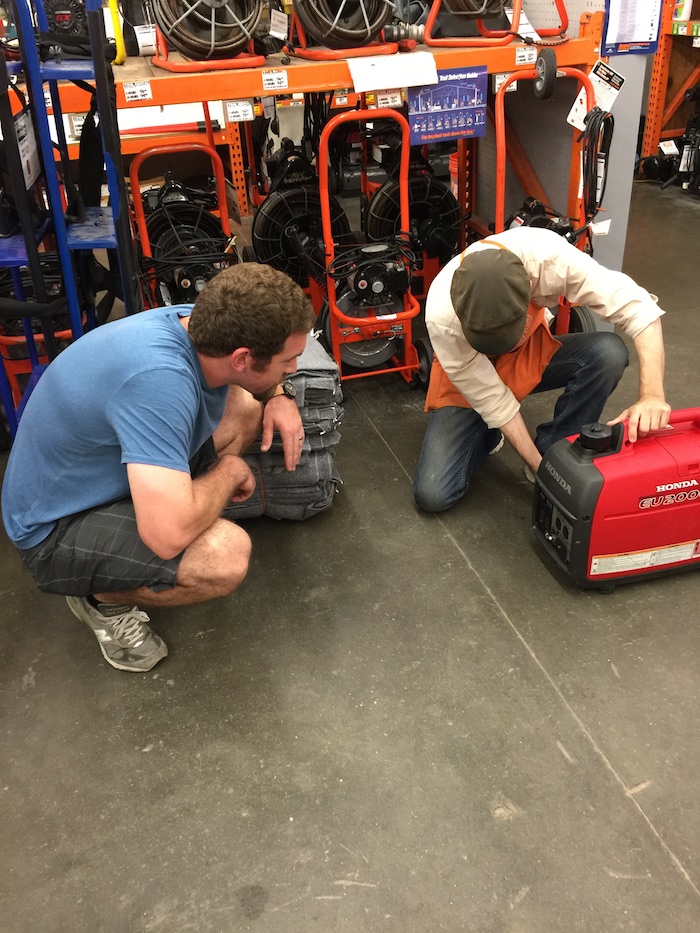 This was a painless process and I am really excited about all the possibilities that the tool rental program could offer.
How to build a Tailgate TV Stand
This TV stand make it easy to transport your flat screen to the tailgate and set it up for viewing.
Required Tools
Disclosure: The links provided in the "materials" and "required tools" sections are affiliate links. If you would like to support our site and help keep our content free come find out more about how we can make money with no extra cost to you.
Start off by cutting two pieces of plywood slightly larger than the dimensions of your TV. Then cut 45 degree forward supports and spaceers for the hinges. Then nail and glue in place the spacers. Make sure to position it as shown.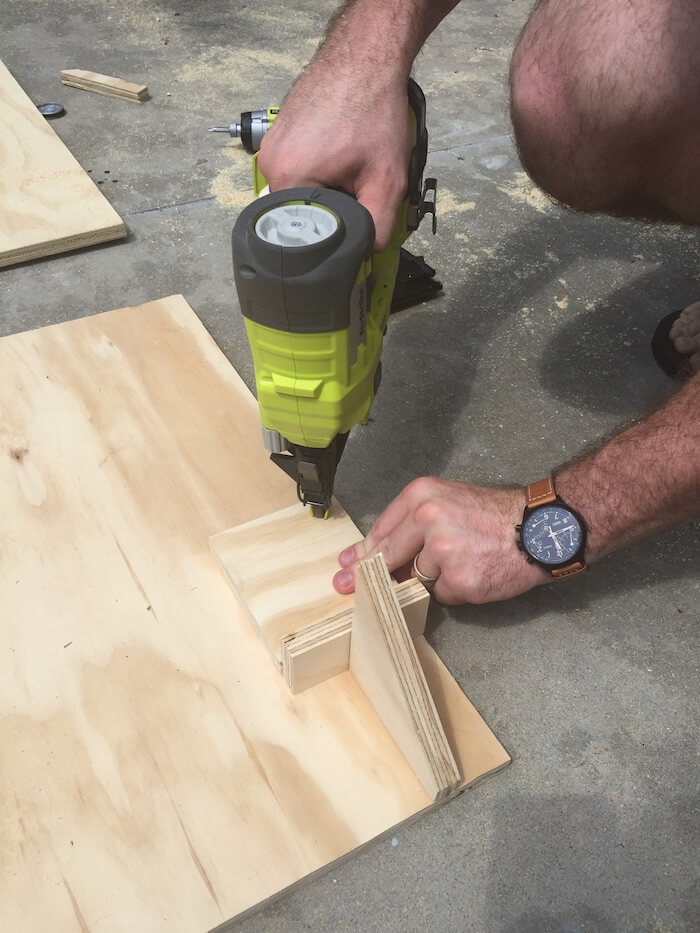 Cover both pieces of plywood with artificial grass rug and staple in place.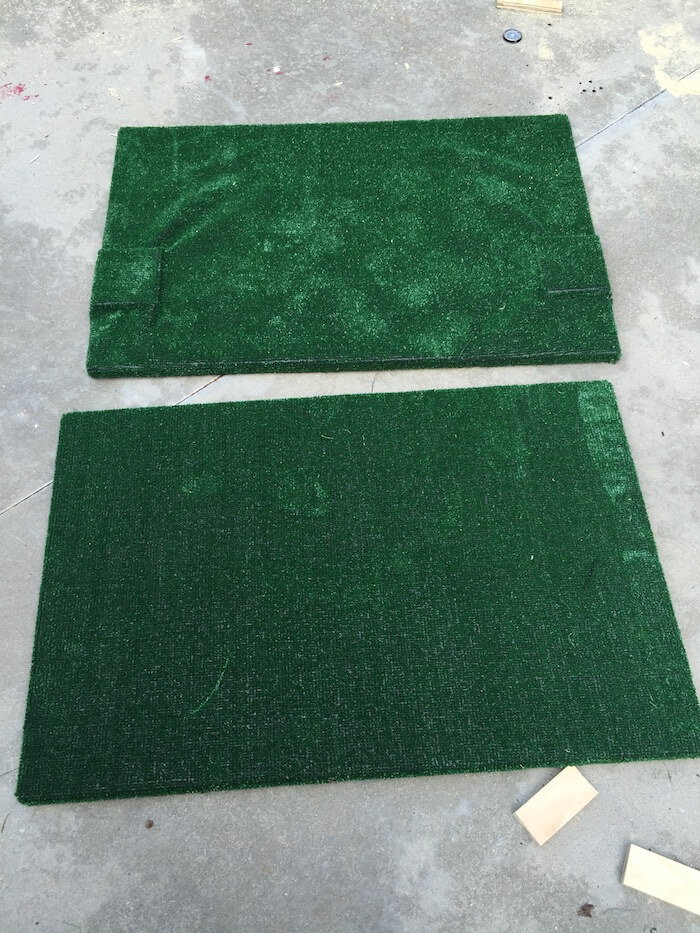 Attach the hinges to the vertical panel and the spacers on the floor panel.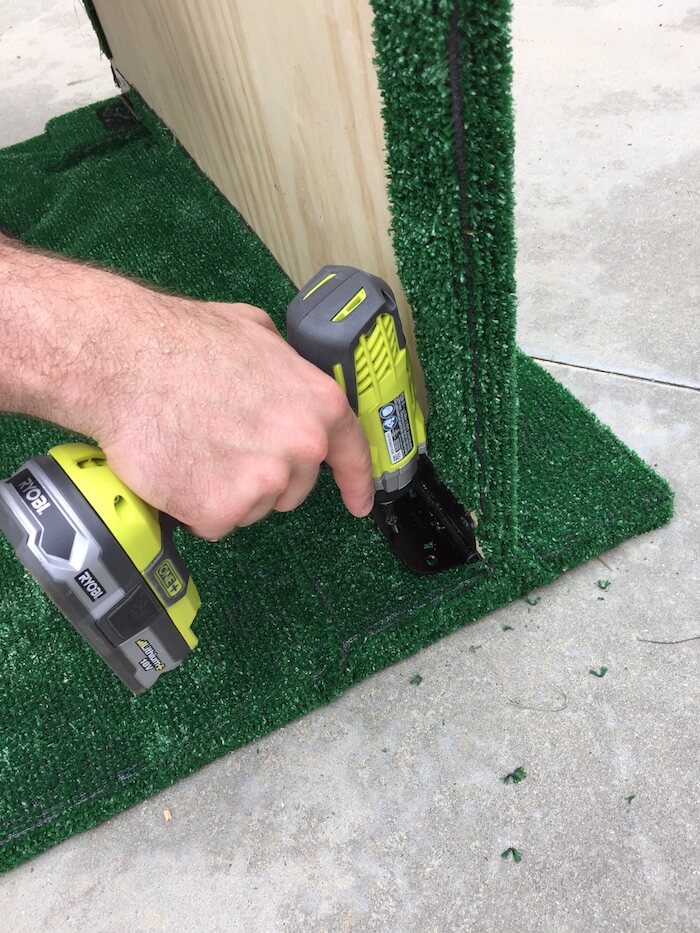 Then attach the 45 degree front supports with 1-1/4″ screws through the front panel.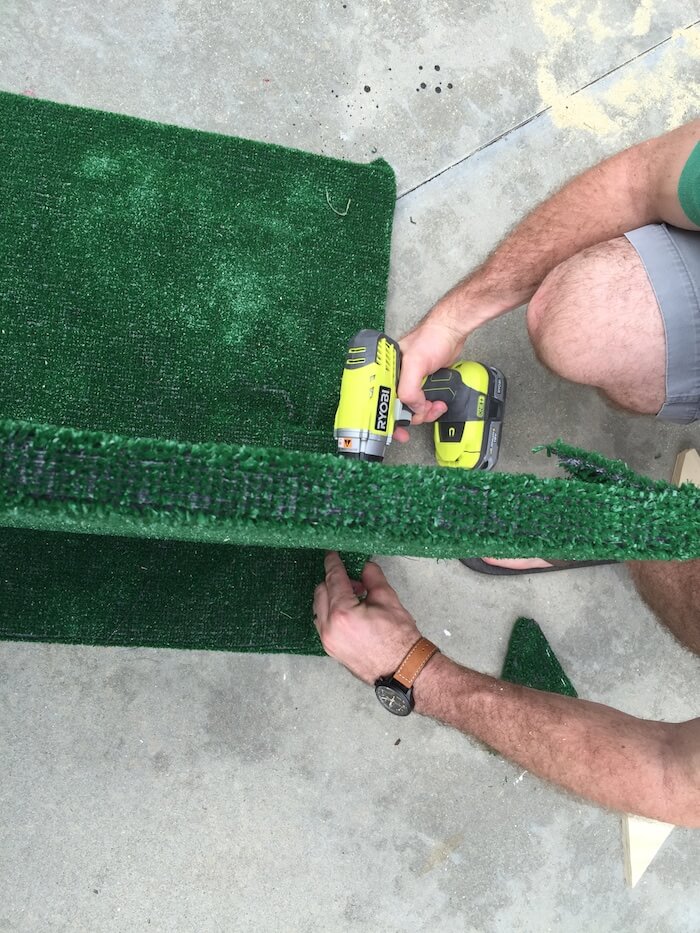 Install hinges and rear supports. Drill a hole for the power cord and antenna cable. Then mount the TV mount as required to fit your TV. A HDTV antenna will get you all the local stations which will more than likely have the game.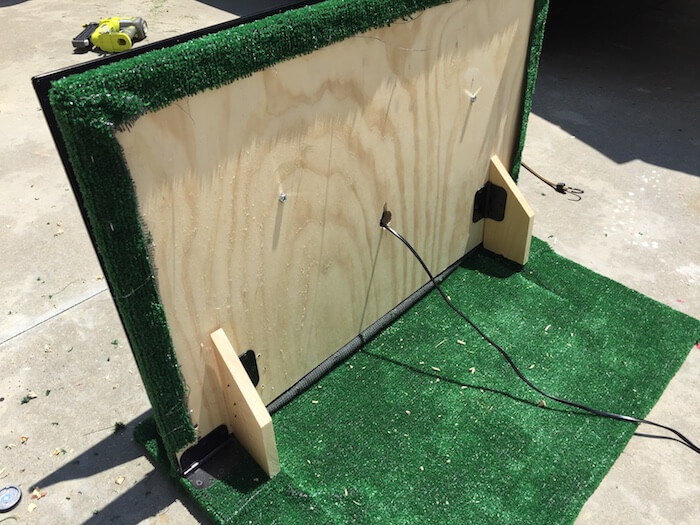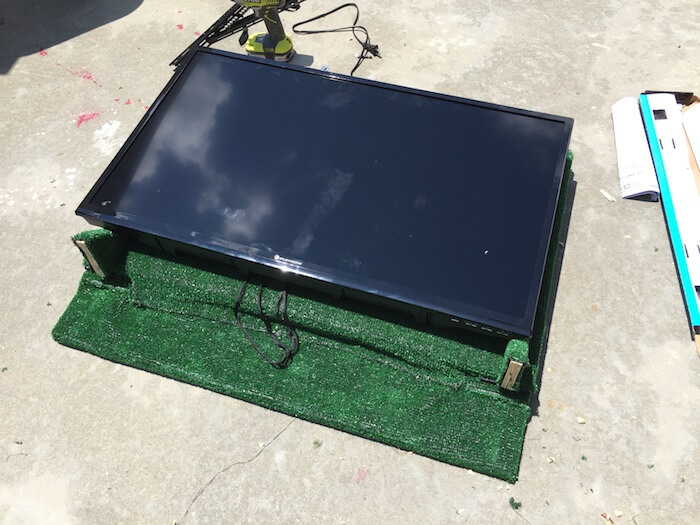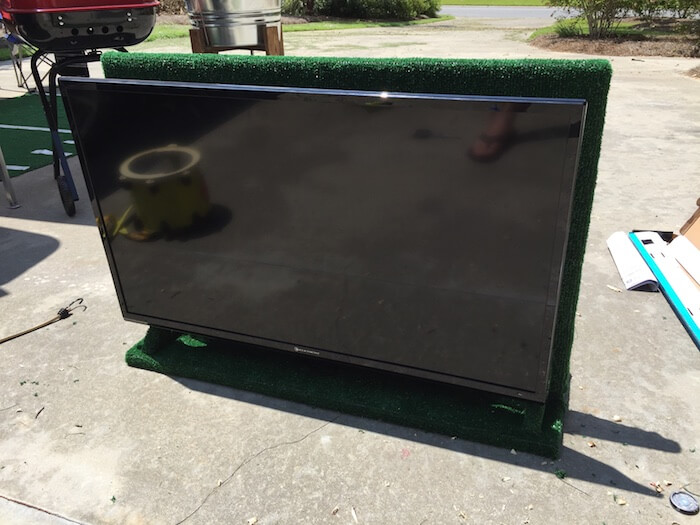 There you have it. I know that wasn't as detailed as my normal plans but this is a fairly custom piece determined by the size of your TV and/or the size of the opening in the back of your car. Mine just happened to work out perfectly. Take care!
Questions? Comments?
As always, if you have any questions don't hesitate to comment below and especially don't forget to post pictures of your finished products in the comments! ENJOY!