Last month we built and installed a custom built-in bench with drawers for our mudroom entryway to reduce clutter and it turned out great. Part B of this project was to build the locker units to sit on top and complete this mudroom design. With this mudroom being a main throughway in our house, we wanted it to look nice, be functional with cubbies and storage for our daily mess. So we built a 6 foot tall unit with coat hooks for jackets and backpacks, multiple shelves with baskets and doors for privacy!
If you love this stuff as much as we do, you might want to consider following us on Instagram where we post sneak peeks and behind the scenes stuff in our stories. Also, did you know you can get tons of projects plans from all around the web when you follow us on Facebook and Pinterest!
Disclosure: This project was sponsored by Kreg Tool Company however the opinions are 100% my own.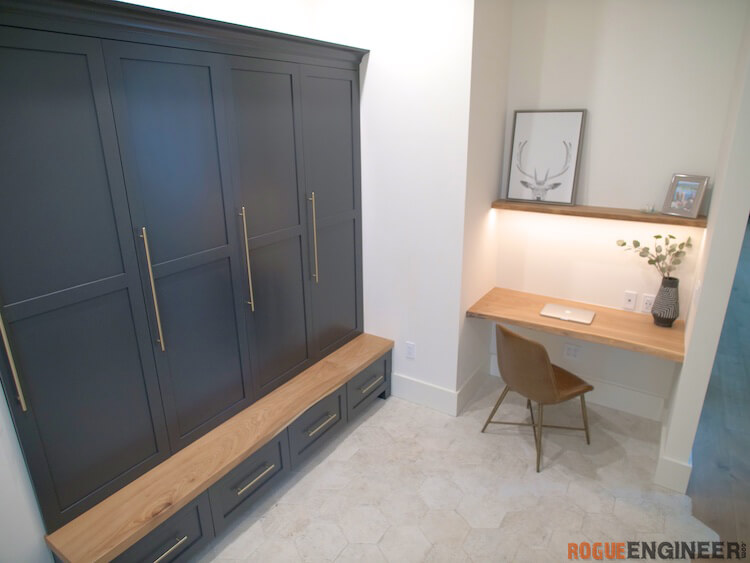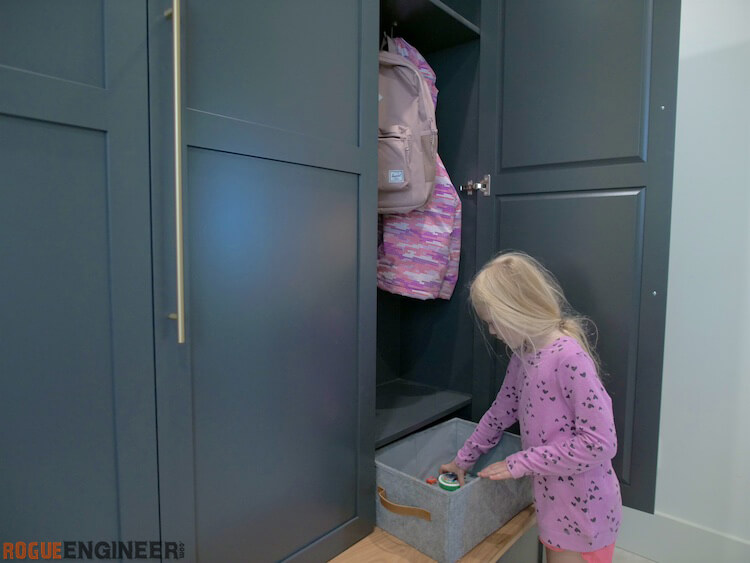 Full Project Video
Wanna see how it all came together? Check out the full project video below and don't forget to subscribe on YouTube so you won't miss future videos!
Required Tools
Materials
3/4″ x 48″ x 96″ Plywood (2 sheets)
1/4″ x 48″ x 96″ Plywood (1 sheet)
Crown Molding Trim
1×3 Poplar (for filler strip and crown starter)
Qty 3 – Full Overlay Hinges (for hinges on exterior side)
Qty 9 – Partial Overlay Hinges (hinges on panels that share doors)
Disclosure: The links provided in the "materials" and "required tools" sections are affiliate links. If you would like to support our site and help keep our content free come find out more about how we can make money with no extra cost to you.
Overview
I put together a drawing below to show how the lockers, filler strip and crown starter get installed on top of our mudroom bench. The dimensions are rough and meant to give an idea of sizes and spacing. This is a custom built in unit that can be adapted for your space. This tutorial is designed to give you an idea of the assembly process and pieces.
Note: Read through these plans fully before starting as some details may not be in the order of operations.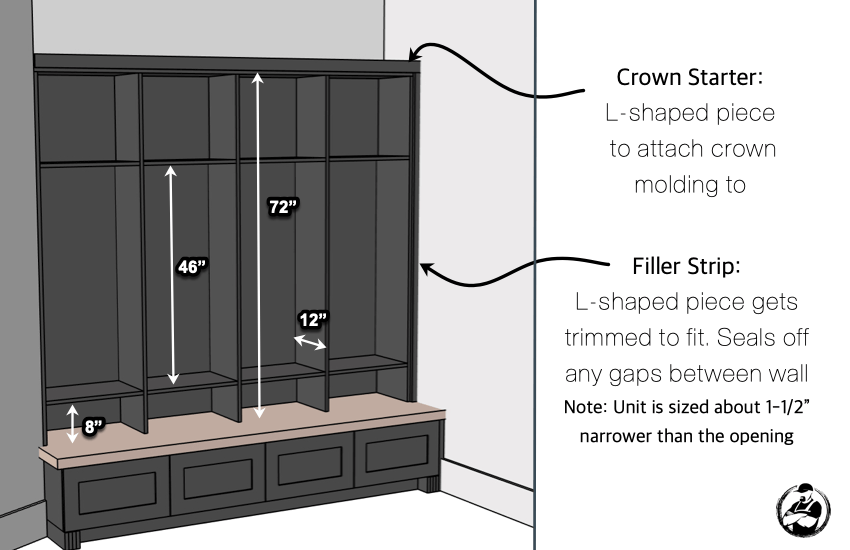 Breaking Down Plywood
When it comes to breaking down plywood for projects like this I have a new friend and his name is the Kreg Track Saw. This tool along with a sheet of rigid foam insulation make breaking down plywood faster and safer than using a tablesaw.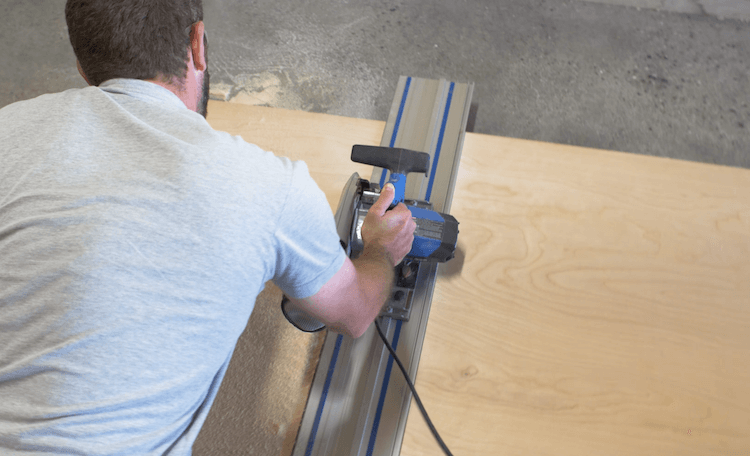 Pocket Hole Joinery
When it comes to joinery, we will be using mostly pocket hole joinery for this project. A pocket hole is an angled hole that allows a hidden screw to secure two pieces of wood together. The Kreg R3 is an inexpensive jig that will make this drilling process easier and quicker.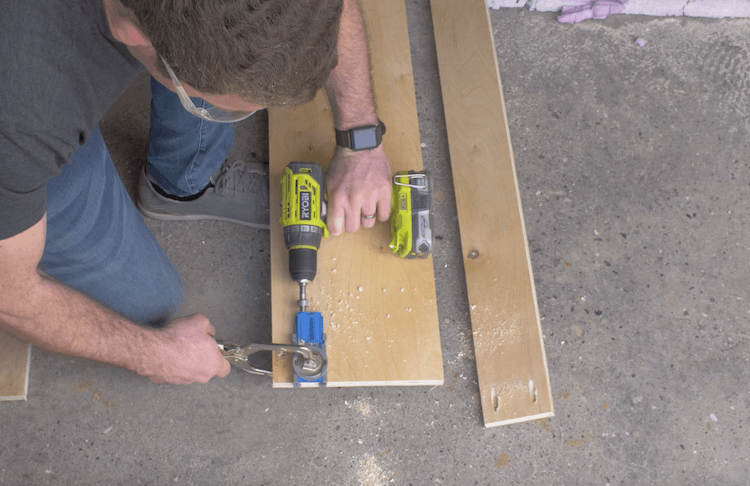 If you are drilling lots of pocket holes, the Kreg K5 or the Kreg Foreman (shown below) will really speed the process up.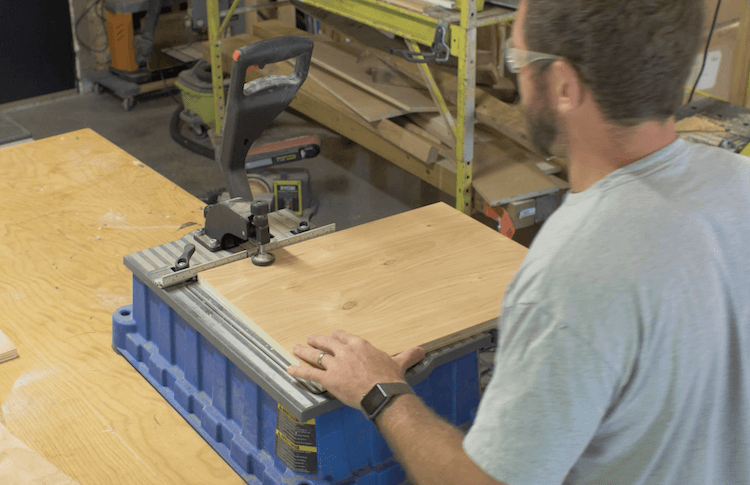 Assembly Process
With all the pieces cut and pocket holes drilled we move on to the assembly. Four lockers are about as big of a unit as I would suggest building as one. This thing was difficult to move around once it was assembled so take that into account.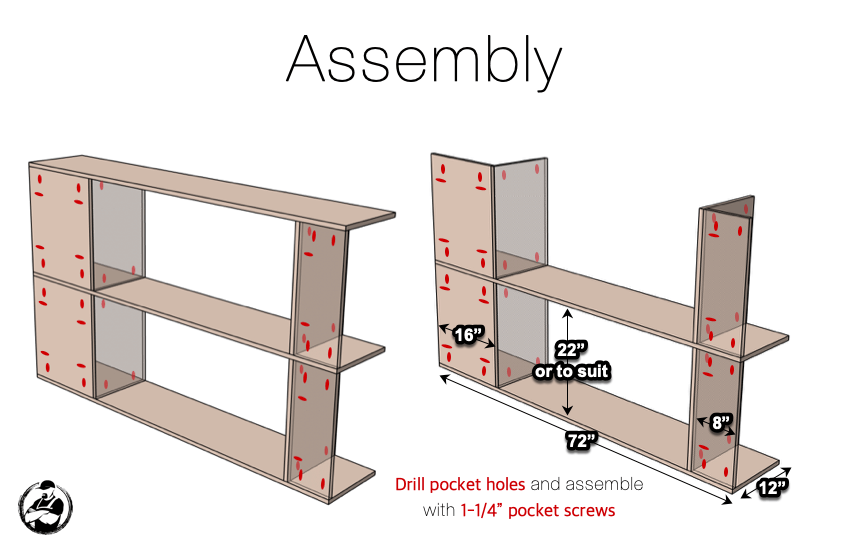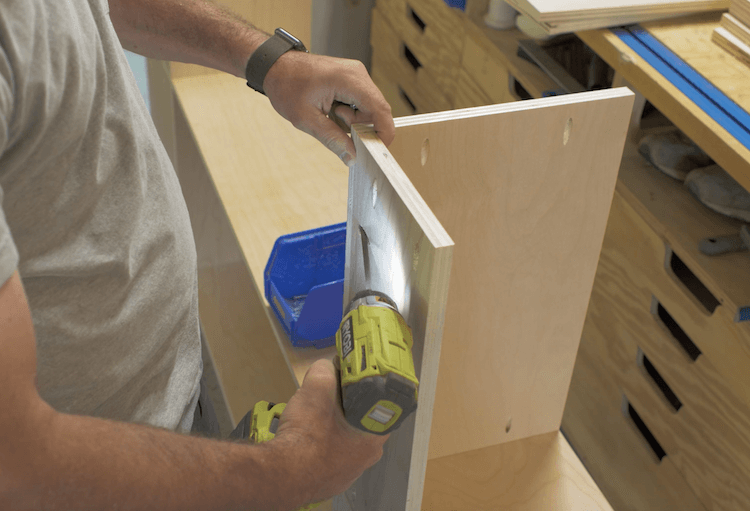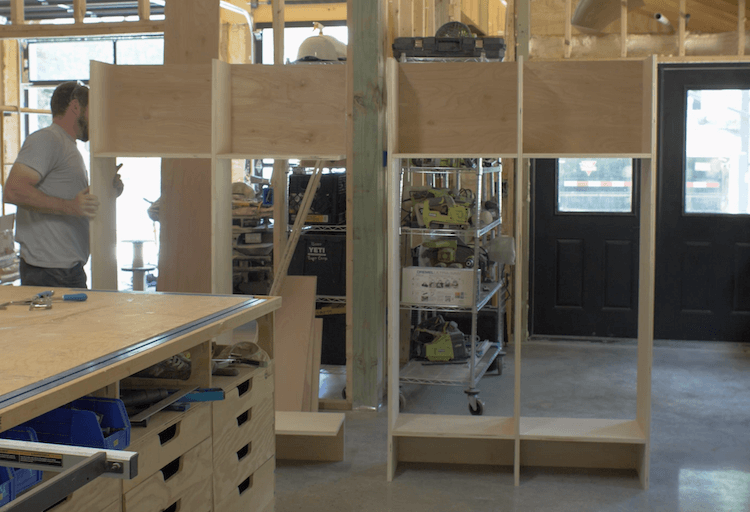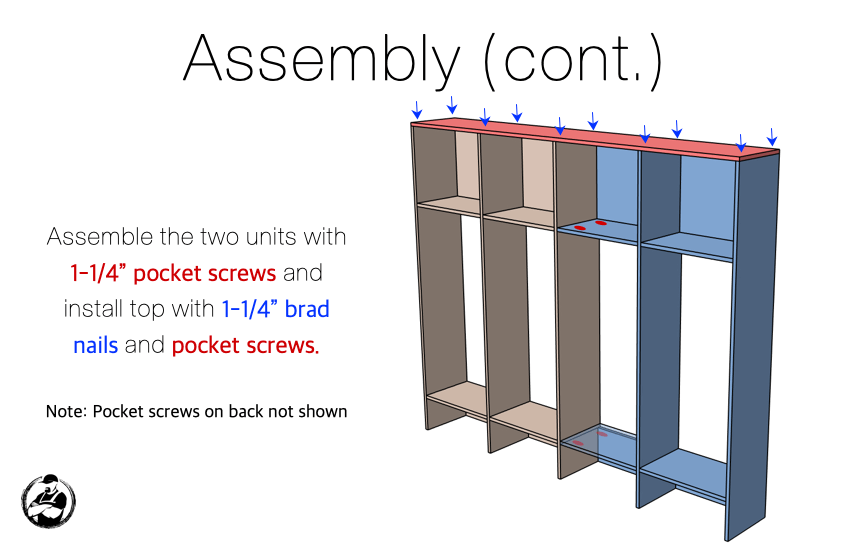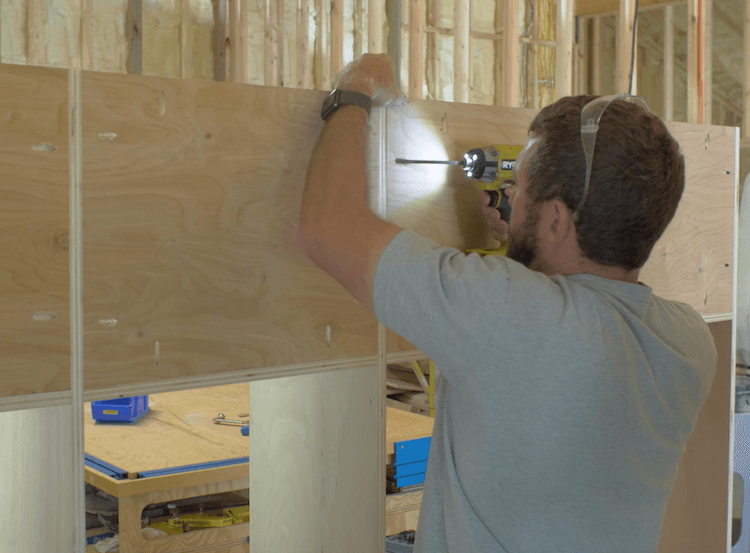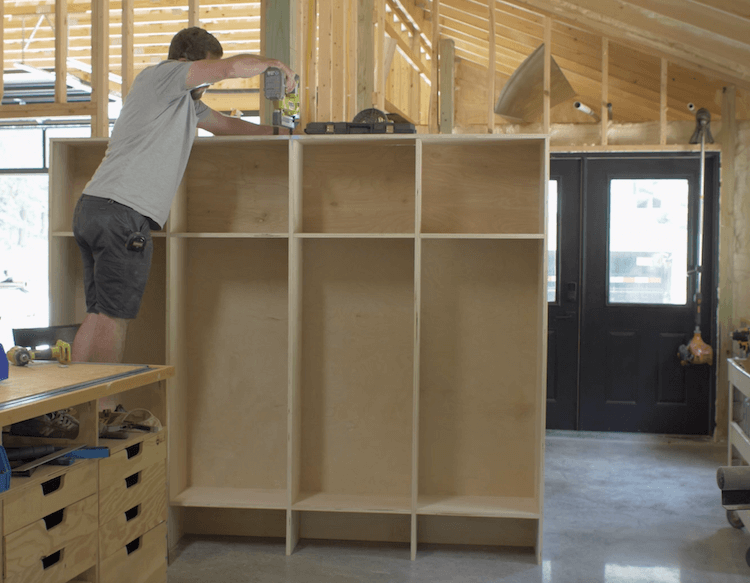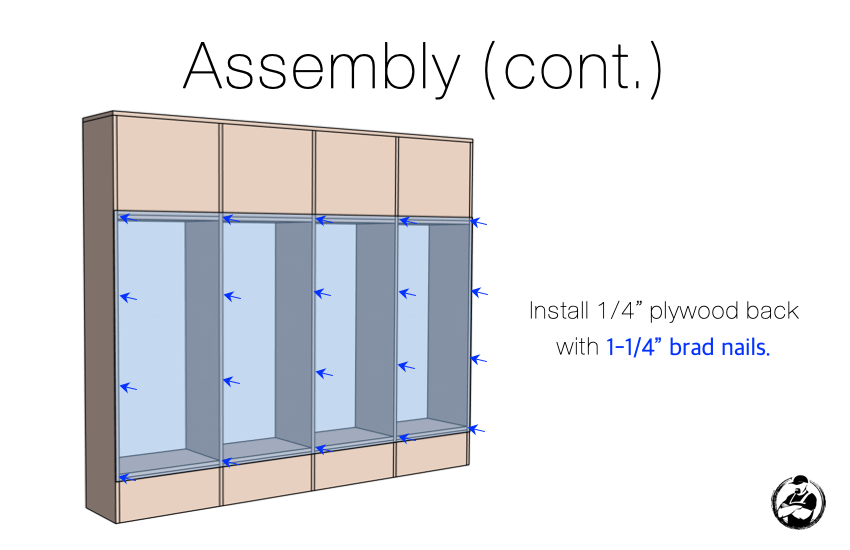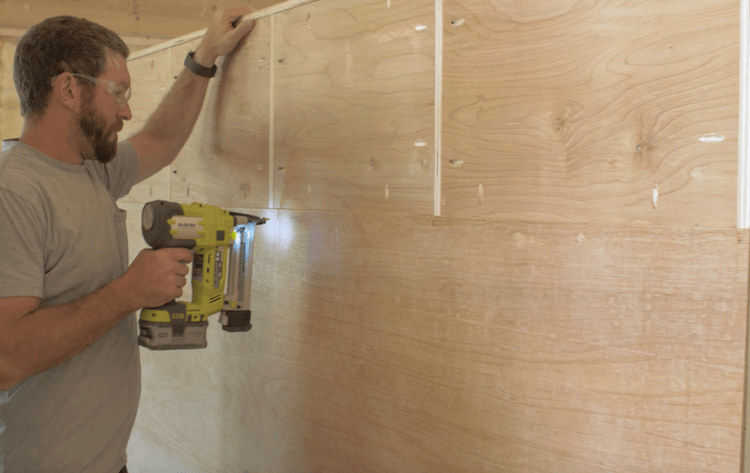 Prepping, Primer, and Paint
With the unit assembled it was time for paint. Before that we needed to edge band the plywood edges. We did so with a birch iron-on edge banding. The edge then need to be sanded or trimmed with a trimmer. This process can also be down before assembly which may be easier for some.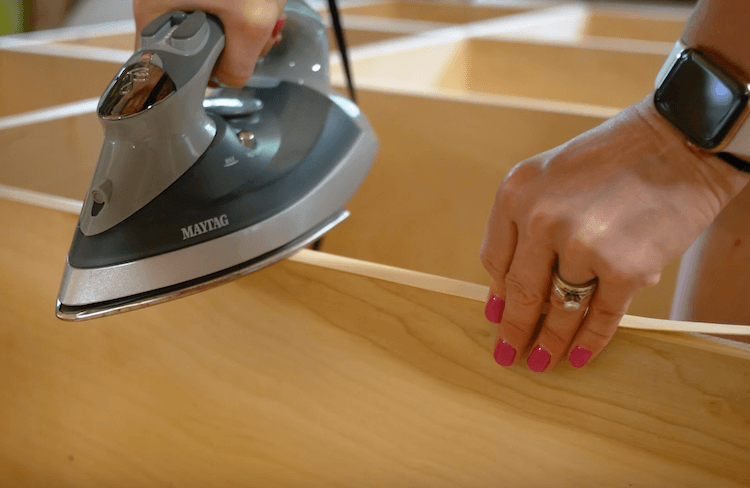 After sanding all the surfaces with 220 grit sandpaper, we primed the entire unit as well as the crown starter and filler strip. Skip ahead to see how those are assembled.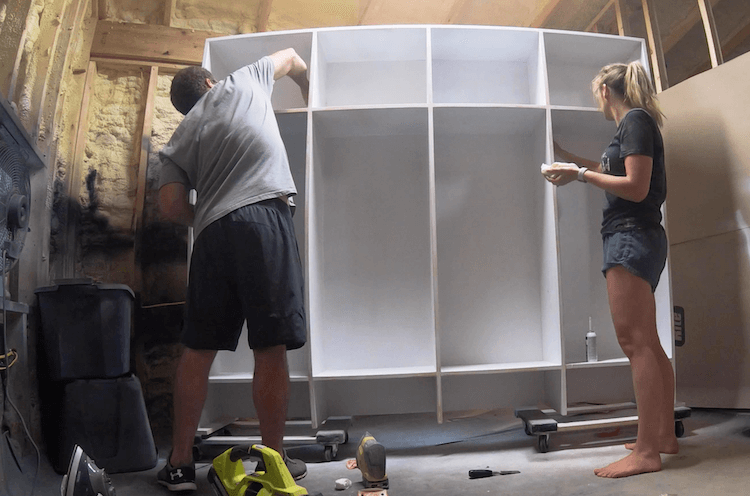 When it came to paint, you'll want to go with a more durable paint designed for cabinets. For this we went with BEHR Urethane Alkyd Satin Enamel paint in Cracked Pepper. This paint was sprayed with the Graco TC Pro airless sprayer which we love. It's an airless sprayer so it doesn't require thinning which means runs are less likely and you get an even, thick coat of paint.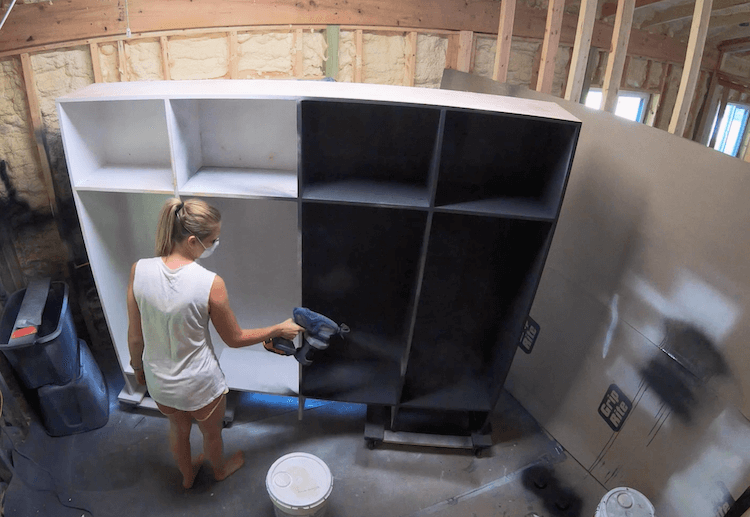 Installation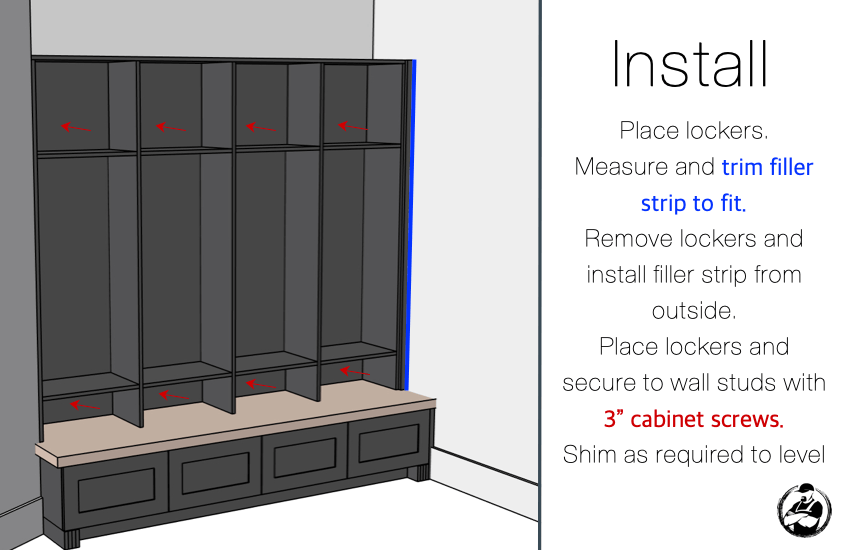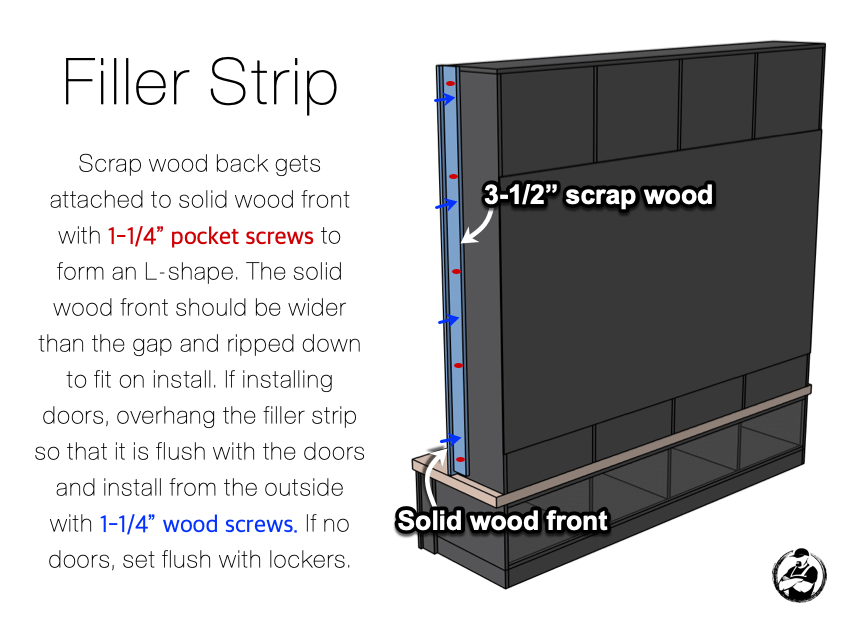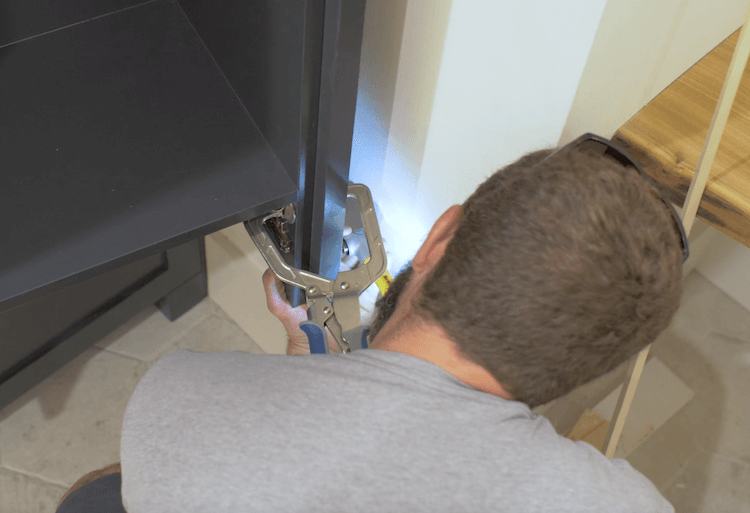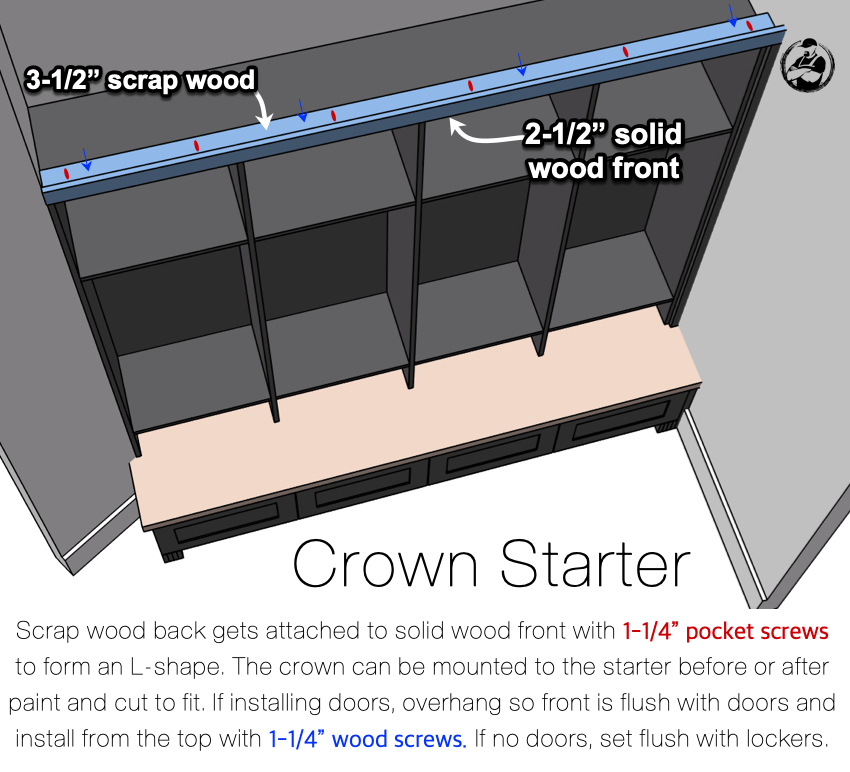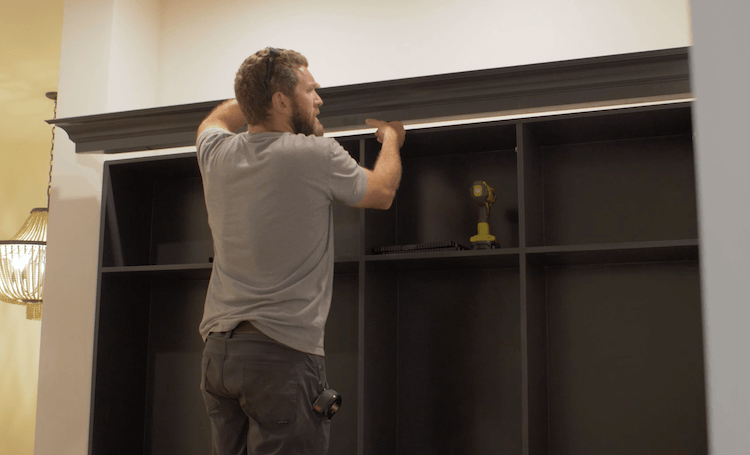 We installed our crown to the crown started before paint and even cut the miter and filled all the nail holes. Both ends were intentionally left long and cut to fit on install.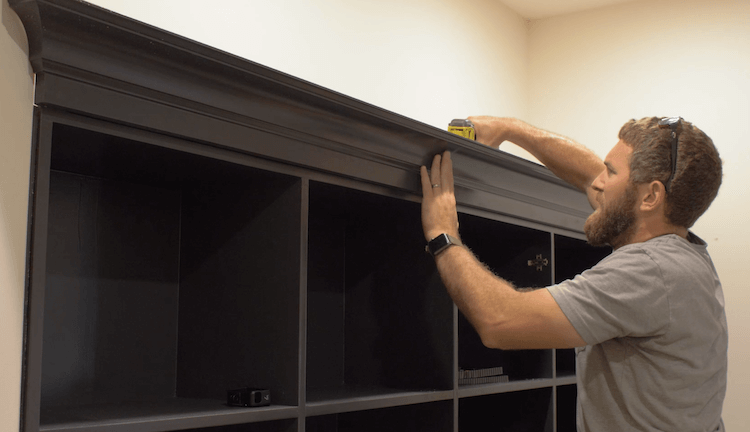 The Doors
When it came time to put the doors on, we decided to have the pros make them because we wanted to make sure these massive doors would be completely flat and stay that way. If you want to make your own doors we have a tutorial on how to make those on a router table here.
With the doors in, we needed to drill the holes for the concealed hinges. For this process we used the Kreg concealed hinge jig which allows you to consistently drill the holes in the same location and correct depth.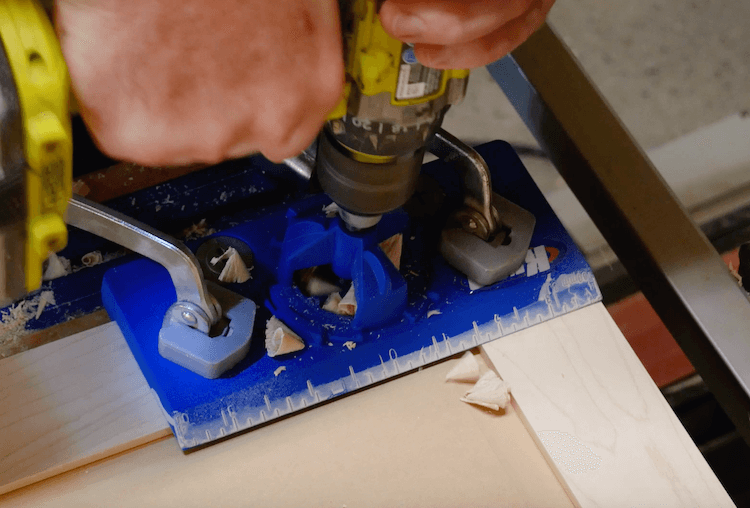 With the holes drilled we used the same process as the lockers to prep, prime and paint the doors. We installed a hook at the top of the doors and hung them from an eyelet installed in a 2×4 that hung from our shop.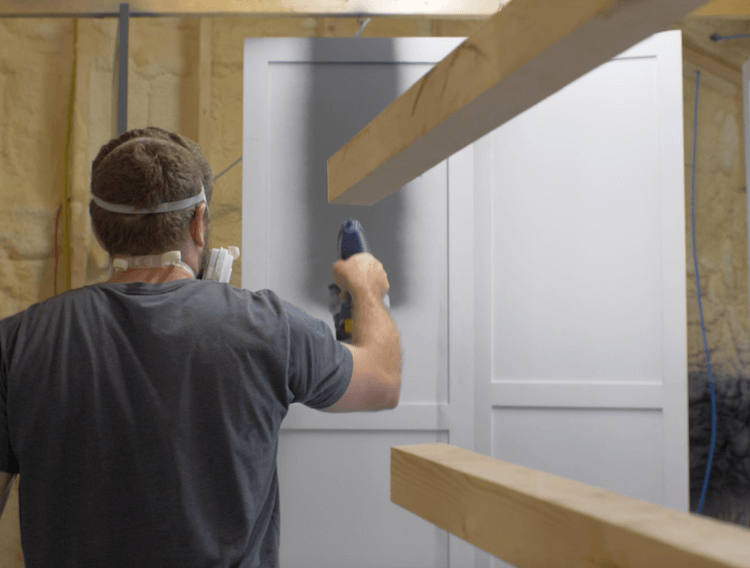 When it comes time to install the doors, you will need two different types of hinges.
Since all of our doors hinge from the right full overlay hinges are needed for the rightmost door since this door will need to cover the entire side of the locker.
For the other doors, partial overlay hinges will be used since the doors will share a side of the locker at their hinge side.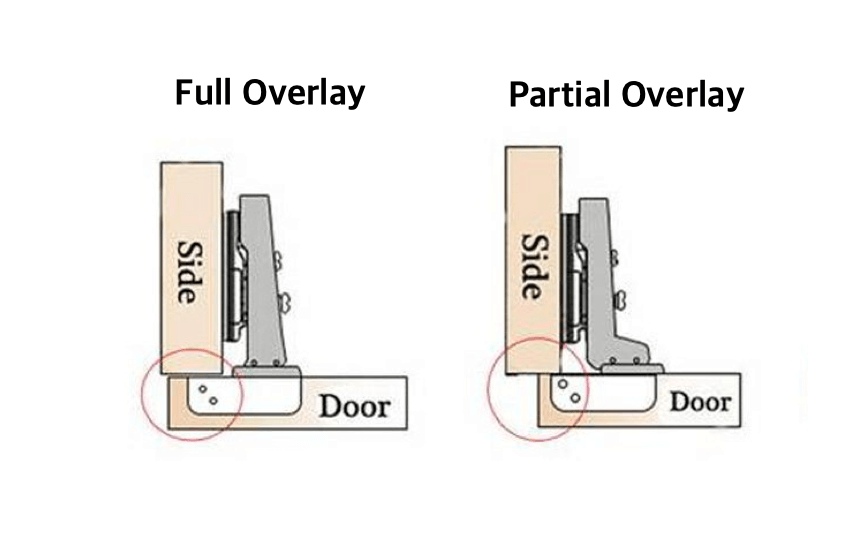 To install these hinges, we made a template by drilling a hole in a small piece of scrap wood the same way that we did the doors. Then we mounted a hinge to the template and located it on the locker where the door will go.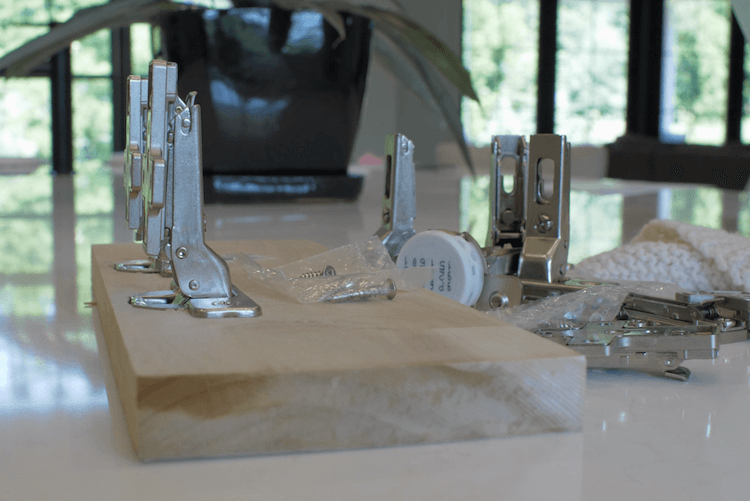 With the smaller template in place we could mount the base plate to the locker and release it from the hinge and template. We did this for each of the top and bottom hinge locations. The middle hinge will get mounted once the door is installed.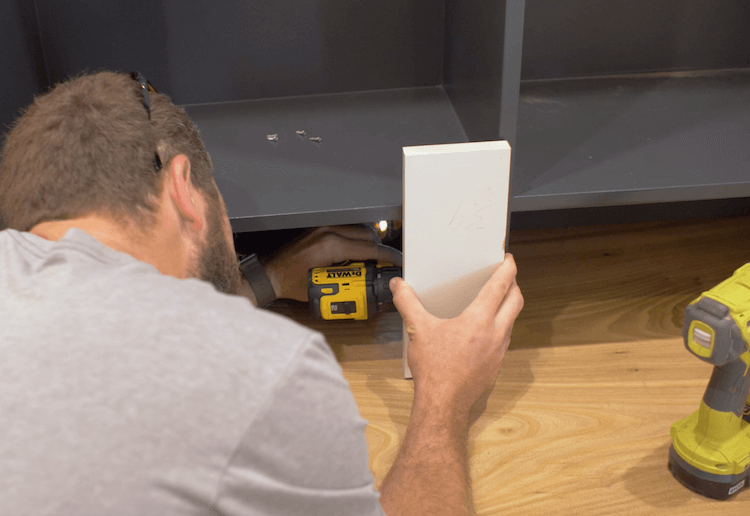 Then we went back to the doors and installed the hinge on the doors.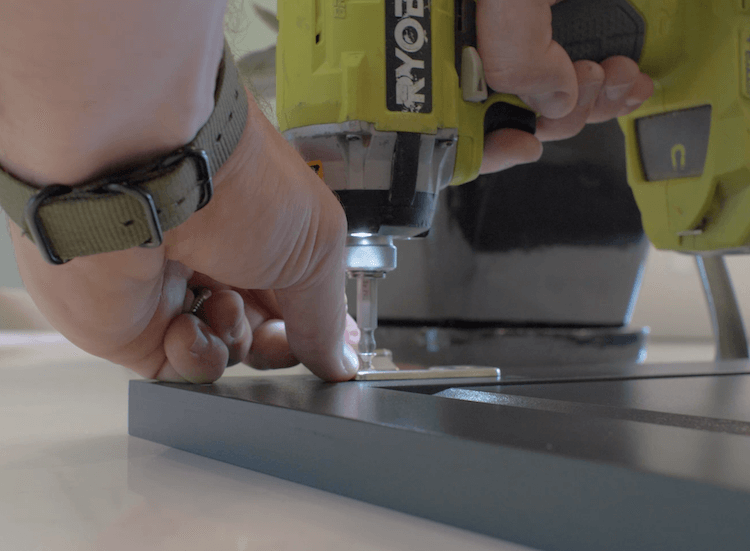 With the top and bottom hinges installed on the door we could then connect it to the base plates that are installed on the locker. These hinges have adjustability features that can be used to make sure the door lines up perfectly with the base plates.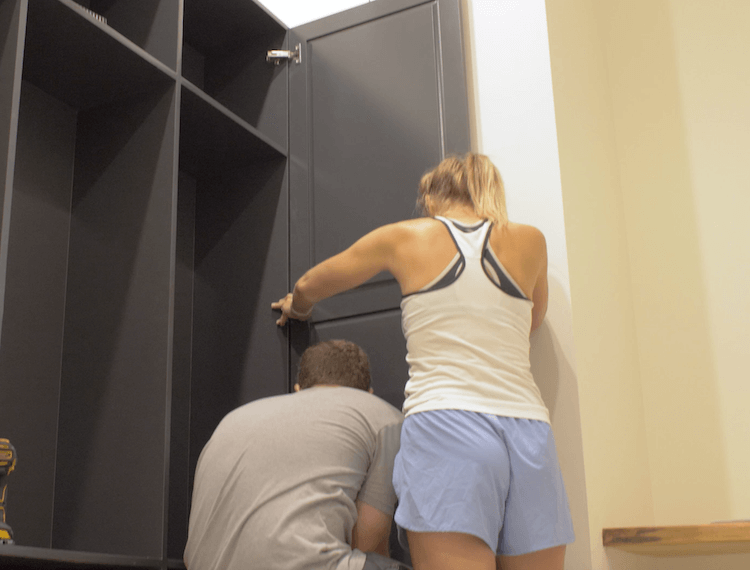 With the door installed, the middle hinge can then be installed as well.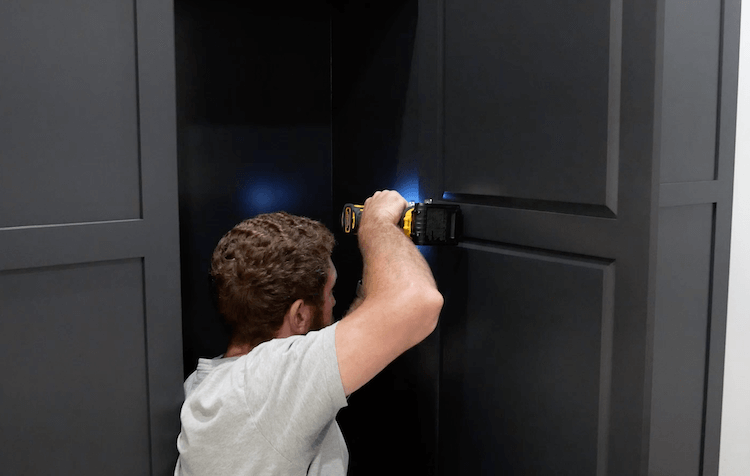 Finally, it was time to mount the hardware and normally I would use the Kreg Hardware Jig but we were installing really long pulls so I made a jig of my own with scrap plywood. I also, marked where the center rail on the door should go for easy locating.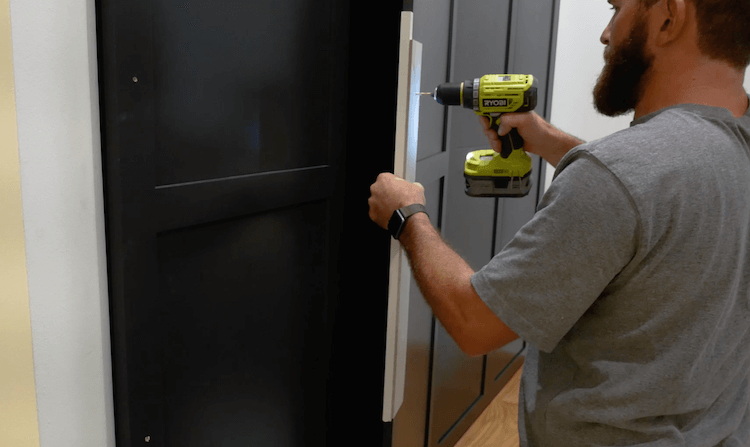 It worked out really well and we love the placement. We ultimately decided to place them such that 1/3rd of the pull was above the center rail and 2/3rds are below.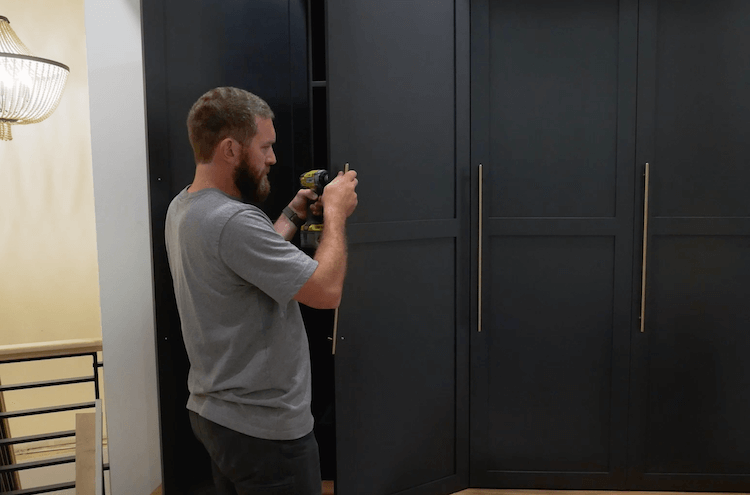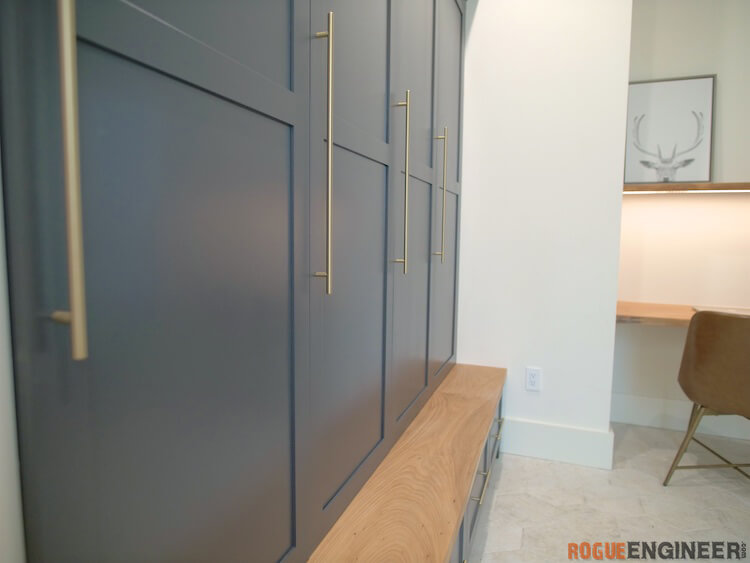 We couldn't be happy with how this project turned out. We even continued the live edge theme into the desk and shelf.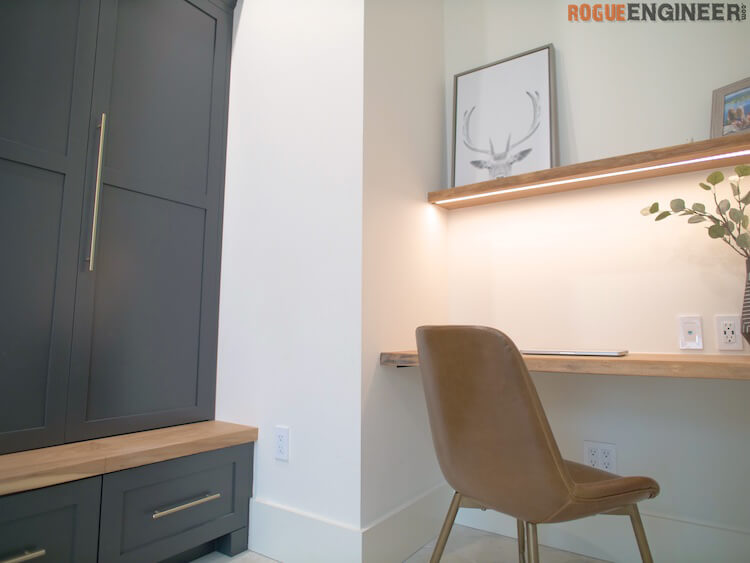 All the live edge wood was finished with several coats of tung oil to retain the natural beauty of the wood. The lighting under the shelf is a recessed channel with LED tape lighting from Kichler and an in-wall dimmer/driver to power it.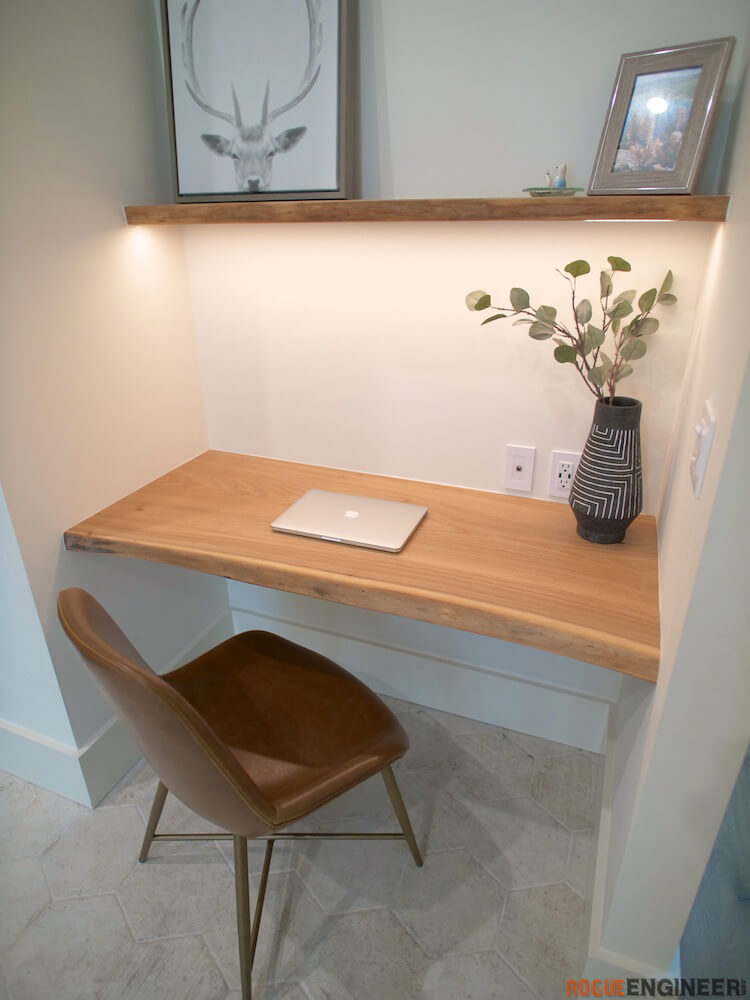 This is such an awesome space and the desk is going to be a great place to work from.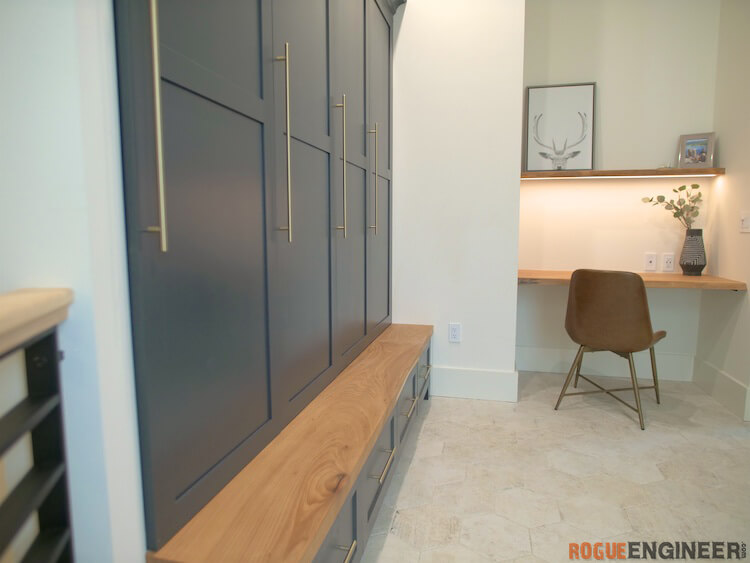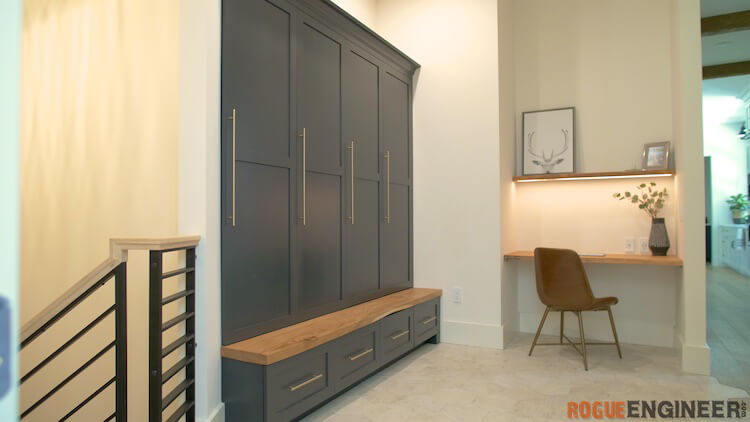 Questions? Comments?
As always, if you have any questions don't hesitate to comment below and especially don't forget to post pictures of your finished products in the comments! ENJOY!