My dad has done so much for me over the years. From teaching me to work hard and be a good person at a young age, to being there to listen to my crazy ideas and even being supportive of me leaving my career in aerospace engineering to pursue being a full time content creator (even though I'm sure he disagreed with it). I've been looking for a way to give back and when he recently purchased a house in Florida, I decided to give him the garage / motorcycle man cave of his dreams.
One of my dad's favorite things to do is ride motorcycles and over the years he has amassed quite the collection. Which is great for when friends and family come to visit. A close second to riding motorcycles is hanging out in the garage and tinkering or just having a drink and watching a game. I decided this makeover needed to include a "showroom like" area for the motorcycles, an upgraded tool area and a bar area with TV. The problem is, that it's Florida and this garage usually is about a million degrees and 300% humidity. SO, it's going to need air conditioning, and a lot of.
If you love this stuff as much as we do, you might want to consider following us on Instagram where we post sneak peeks and behind the scenes stuff in our stories. Also, did you know you can get tons of projects plans from all around the web when you follow us on Facebook and Pinterest!
Before
Because you can't have a makeover without some before photos. One thing that he was excited about with the new place was that he could get all 4 motorcycles in the garage with plenty of space to spare. The plastic shelving was unstable and my college desk that was turned into a bar worked but wasn't ideal. The workbench was also lacking tool storage and unstable as well.
Clean Out
To get started we needing to clear out the garage and start from scratch. After packing away all the things on the shelves and removing the motorcycles we needed to remove the overhead storage rack. This was from the previous owner and, while offering a lot of storage, was in the way and not needed.
Wall Paint
With everything gone we started with a fresh coat of wall paint. Since this is a garage we could have some fun. So, a Harley Davidson paint scheme it was. We started with a charcoal color on the bottom and lighter gray on the top. Then Jamie followed up with a thin orange stripe in between.
I wanted a large Harley logo on the wall somewhere and we finally picked a spot and went for it. I printed out a silhouette of the bar and shield, then I measured each line, scaled the lengths up by 5x and traced it out on the wall. Jamie then followed up with the charcoal colored paint and it look amazing.
Lighting & Electrical
This was one of those things that I really wanted to do but didn't think I would have time. I started by laying out where I wanted the lights to go. One over each motorcycle, over the work area, and over the bar top. Then I drilled all the holes and pulled the wire from hole to hole. Then I removed the existing shop lights and tied the cans into that circuit.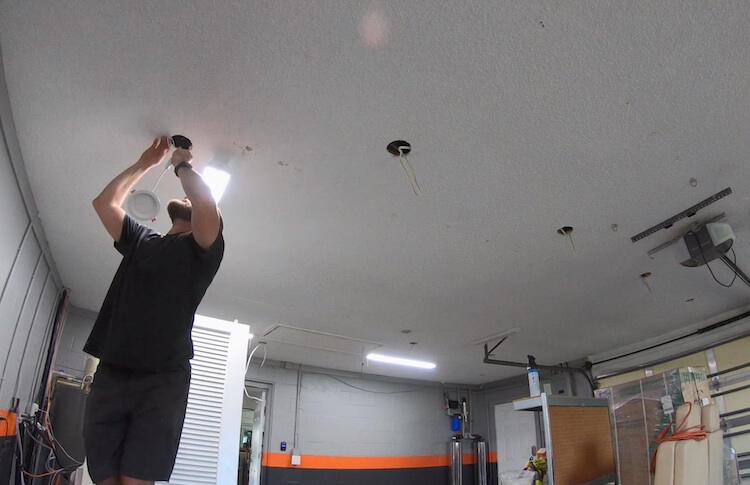 I knew one complaint of my father's was the lack of outlets in the garage. So I tapped into one outlet and added a bunch more. I was also able to add outlets that were connected to the lights so that we could plug in the neon signs that my dad likes so much.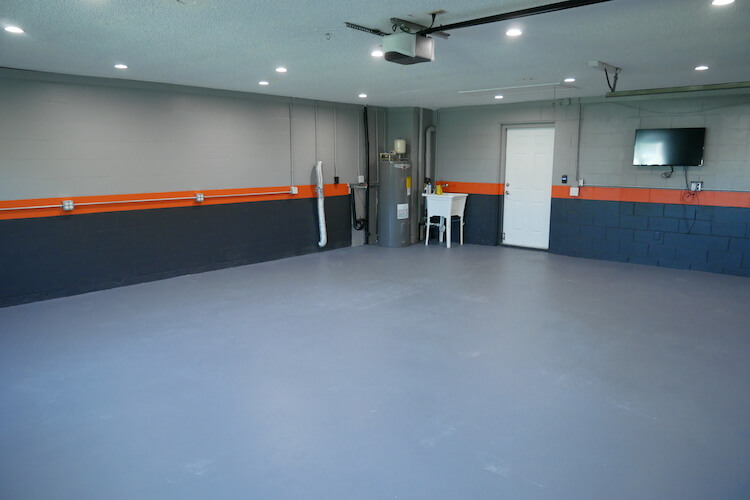 Epoxy Floor Coating
This was a huge transformation. I knew the floor needed a refresh so we degreased, primed and applied an epoxy coating to it. This process was worthy of its own post so if you want to learn more about the, check out my garage floor coating post.
HVAC
All of this would be a waste unless we could make it comfortable to hang out and enjoy the new garage. This is a unique space to condition because with the garage door closed it really doesn't take a ton of cooling power to make it comfortable. But a lot of times we have the garage door open which normally no AC would be able to handle but we also have a screen that encloses the garage. This is just enough to restrict the airflow. That being said, I decided to go with a multi-zone mini split system from Cooper & Hunter. This allows one unit to cool the room when the door is closed and both to pump cool air into the room when the door is open.
Mini-splits are the way to go for a space like this because they are so efficient. Cooper & Hunter offers a ton of options and they sell direct to consumer on Amazon. This cuts out the middleman and helps you pay less for a high quality product. You can purchase your own unit and then hire a HVAC professional to install it that way there are no mark ups on the equipment.
They also have great support, so whether you need to discuss sizing a new unit(s) or maintenance on an existing one they will be there to answer any question. Plus they have been around for over 20 years and are in over 30 countries, so you don't have to worry about them going away any time soon.
It took the guys one full day to get everything installed and we worked on a few other projects while they were installing those. Here is a shot of both units. We positioned them so they blow on the occupied areas and even with just the screen over the garage door opening, these mini-splits really perform and make it comfortable to be in this space, even on the hottest day.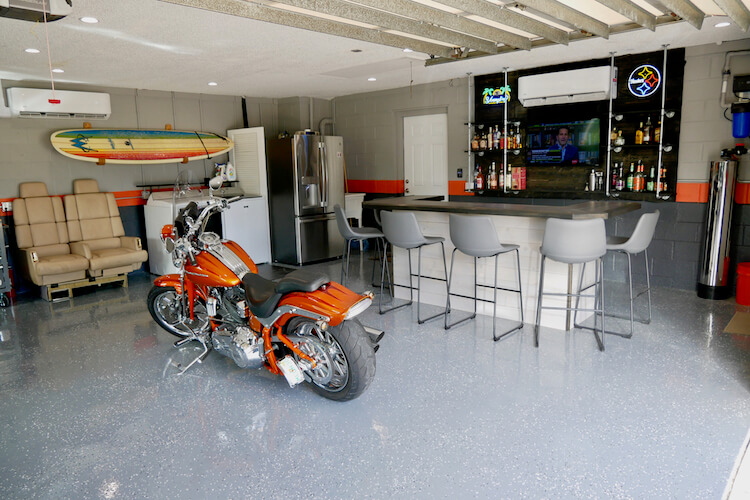 Bar Area
The bar area will probably get the most use so I wanted it to be comfortable and look good.
Dry Bar
The bar was built around two stock cabinets and really turned out great. For the full plans and details on this build check out my freestanding dry bar plans.
Feature Wall / Liquor Shelving
Behind the bar, we hung a TV but I didn't want to stop there. We needed some shelves for liquor storage. So I started by anchoring vertical 2x4s to the wall. Then, we stained 1x6s with ebony wood stain and nailed them in place. Finally, we used galvanized pipe to support the 1×10 shelves, which turned out great! The contrast of the silver pipe against the black boards is absolutely perfect and creates a toon of storage.
Neon Lights
Finally, the neon lights that my dad enjoys so much were mounted nicely and plugged into an outlet that is tied into the lighting. That way, when the can lights come on, so do the neon lights, and vise versa.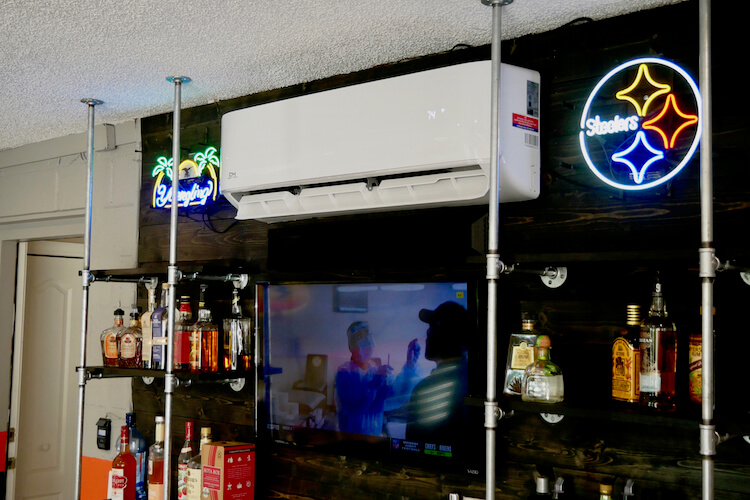 Overall, I think this project was a huge success. Jamie and I had a blast transforming it and my parents love how it turned out as well. I originally told him I was going to just do the floor so this was all a complete surprise to them and it was awesome to see his face when he saw it for the first time.