This post is sponsored by The Home Depot.
This quarter I'm switching gears from cordless power tools to tool storage and more from Husky. I'm pretty excited about these tools because we are in the middle of building our dream maker space and as you'll see these are going to help take that space to the next level.
That's a long title yet is still doesn't begin to describe the awesomeness of this addition to our shop. The 18 drawers offer a ton of storage which I can't wait to get moved into and organized.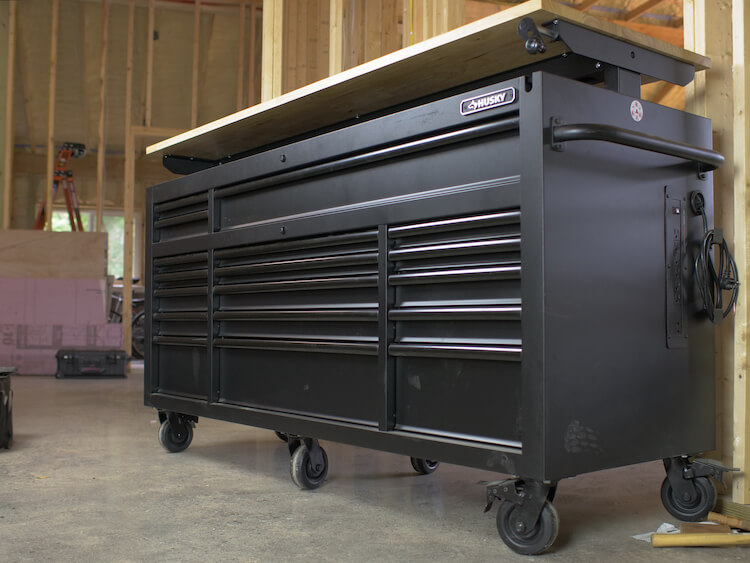 The heavy duty drawers and casters will support more weight than I could ever put in them and the drawers have various depths to support a range of tool sizes. While the power strip on the side will also help keep my batteries charged and corded tools going.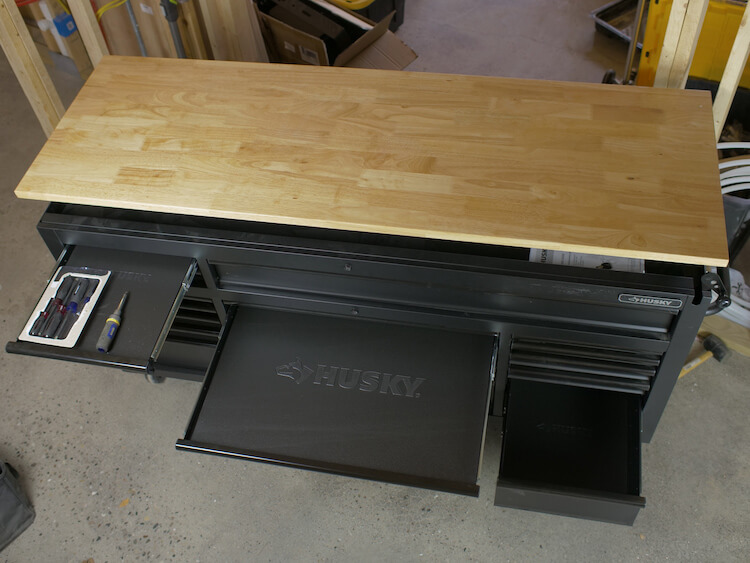 As for the adjustable top feature. I'm a big fan of this because, having back issues I know the importance of good posture and being able to work while standing at an appropriate height top makes that a lot easier.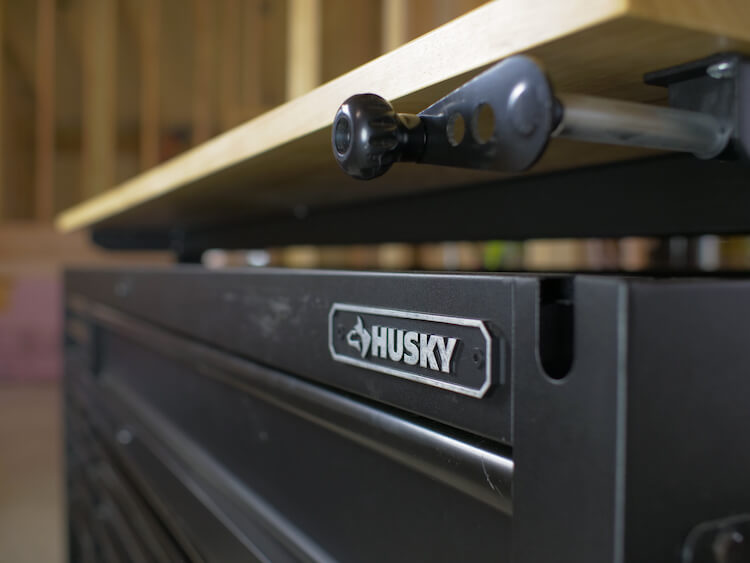 The other really cool thing is that, when the top is up, another storage space is revealed below it. This allows you to quickly set down a drill or tool in that space so your work surface doesn't get cluttered. It's also a great spot to hide snacks from the kids!
View this product on HomeDepot.com
When it comes to storing the smaller things like bits, screws, nails, anchors, etc. these organizers are really nice to have. The fact that they stack nicely and are interlocking makes them great in terms of portability.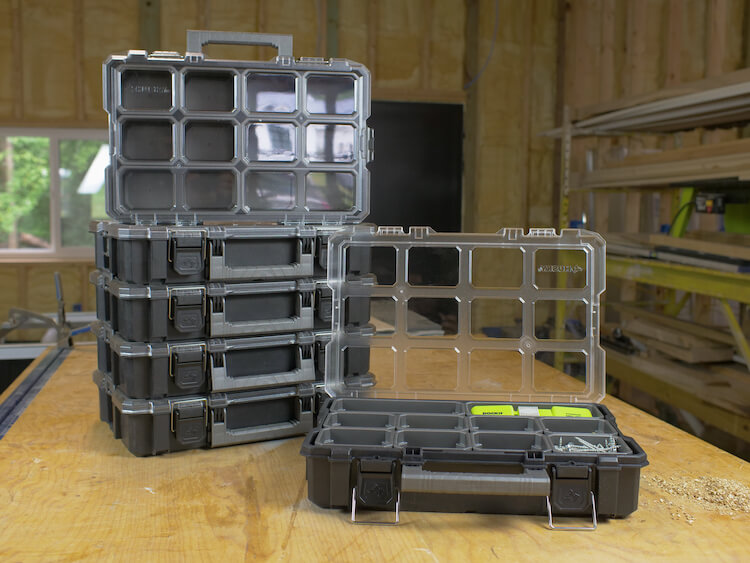 However, for the shop I think I will be building a storage shelf system so they each have their own shelf and are nicely labeled for quick access.
View this product on HomeDepot.com
Sometimes you need to throw some tools in a bag for a quick job and get out the door. I like this hybrid tote because it has the open center storage for larger tools and such but it also has a secondary tool organizer for storing wrenches and smaller tools in a more organized fashion.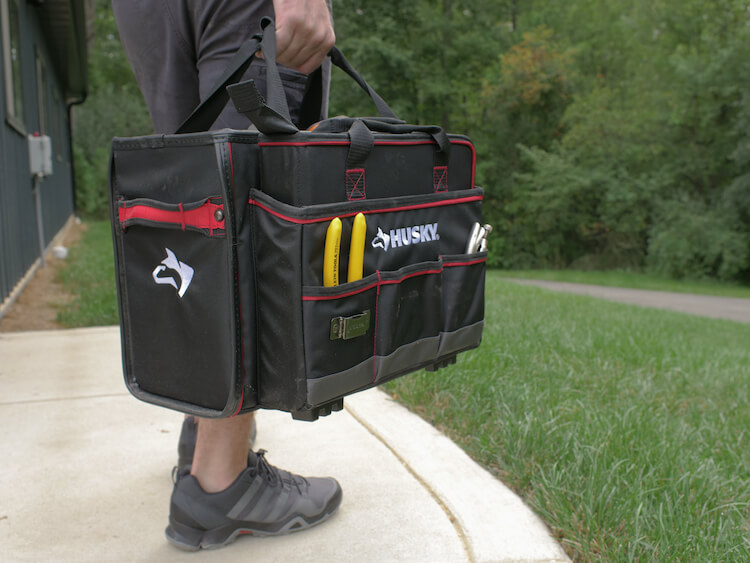 This tote is made with heavy duty fabric and has reinforced edges and heavy duty feet so you know it will take a beating and keep on going.
View this product on HomeDepot.com
Now If you need a little more storage for the job you might want to consider this rolling tool box. You can pack it with a ton of stuff and easily wheel it to wherever you project is.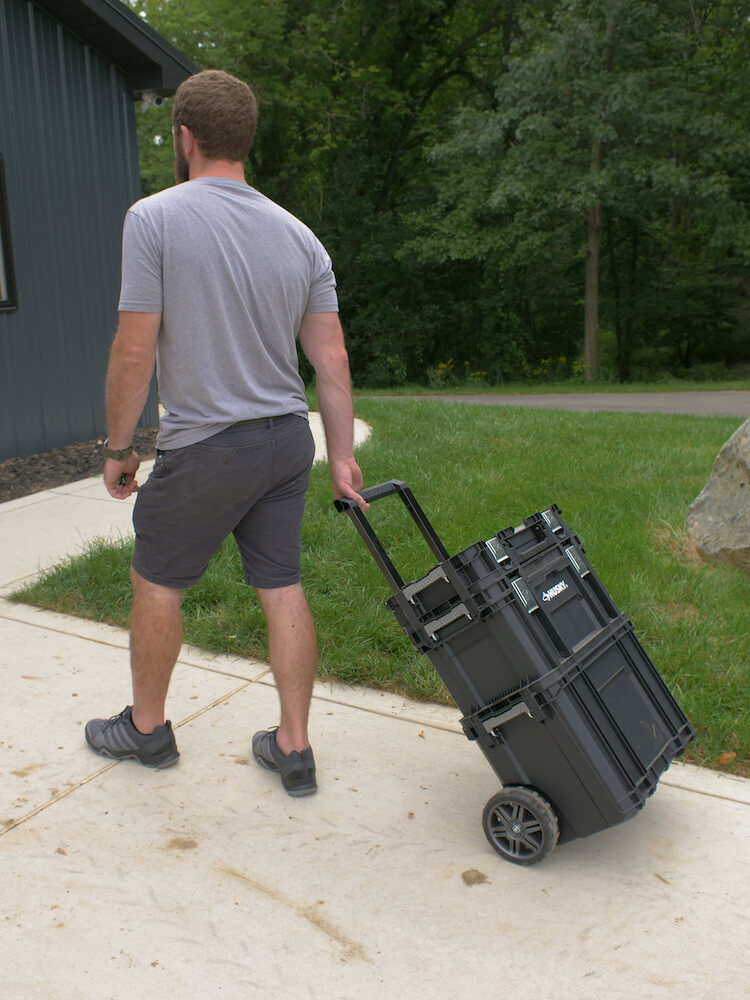 There are three interlocking boxes that vary in size. One small parts organizer, a medium sized tool box with removable tray and the large rolling bin at the bottom which is great for transporting power tools.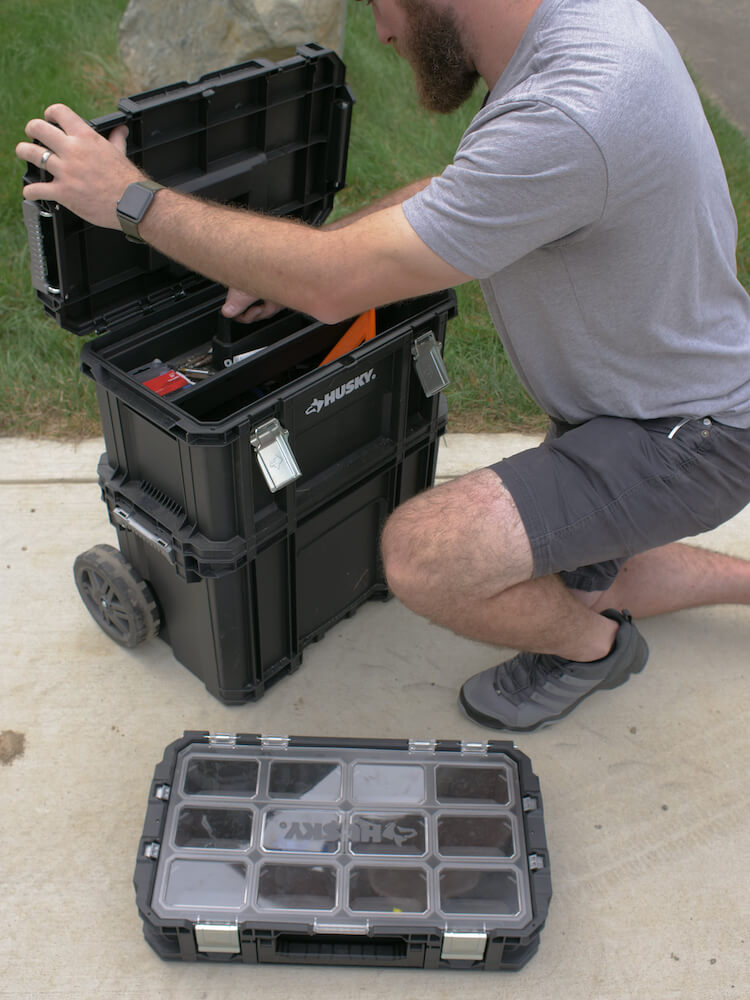 This has already gotten a lot of use around here. With the workshop being about 200′ away from the house, it makes sense to have something to load up like this for projects inside the house.
View this product on HomeDepot.com
This is something I am actually pretty excited about. I've had air compressors before but didn't end up using them much because they are loud and need to run almost all the time due to their size.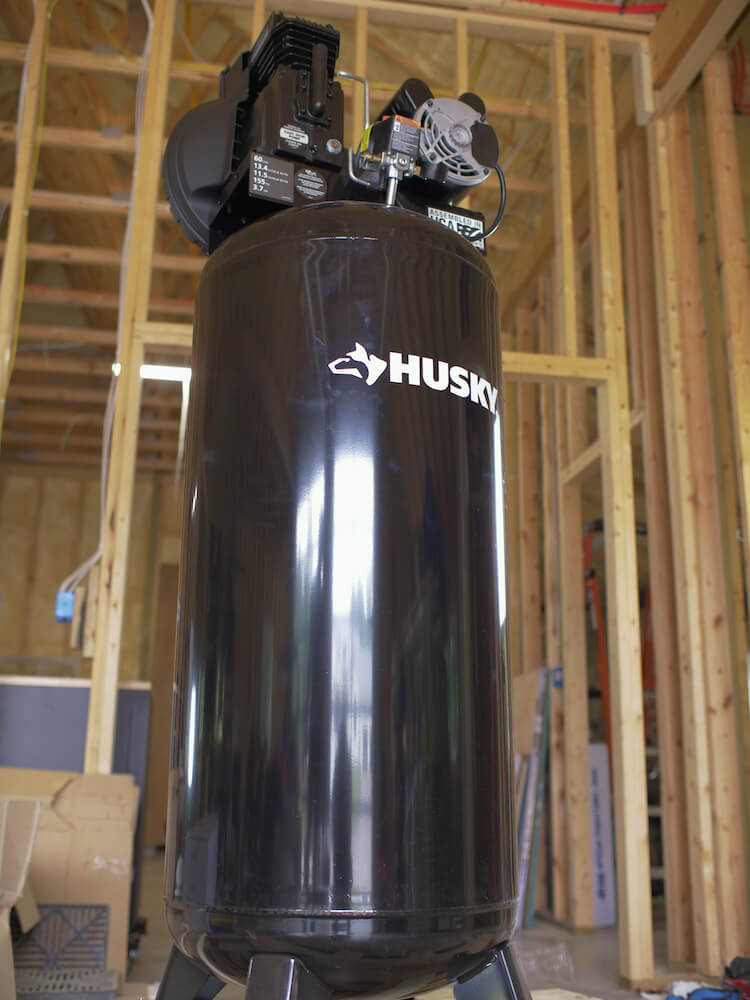 In our new shop we will have multiple air lines ran throughout to be used in different areas while the compressor will sit in a quiet corner of the building. A compressor of this size can handle more demanding projects like HVLP spraying, sanding and grinding, which require a large volume of air.
View this product on HomeDepot.com
What's a compressor without a convenient way to access it. This 50′ reel will make filling tires or running pneumatic tools in the shop quick and easy.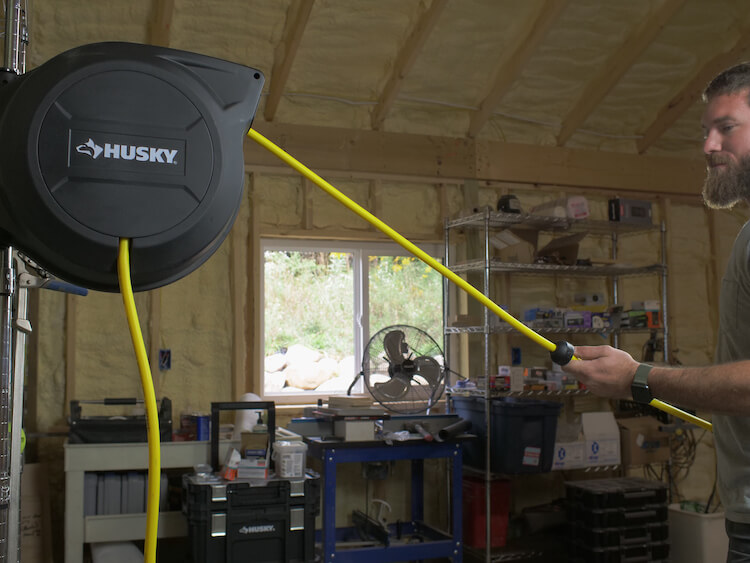 The bracket can be mounted on a wall or ceiling and the reel can swivel to make extending or retracting a smooth operation from any angle.
View this product on HomeDepot.com
With an awesomely large air compressor I can now run an HVLP spray gun directly from it. This HVLP sprayer uses high volume and low pressure (4.3 CFM at 40 psi) to apply a fine finish that is perfect for spraying lacquers, polyurethanes, and other clear coat finishes.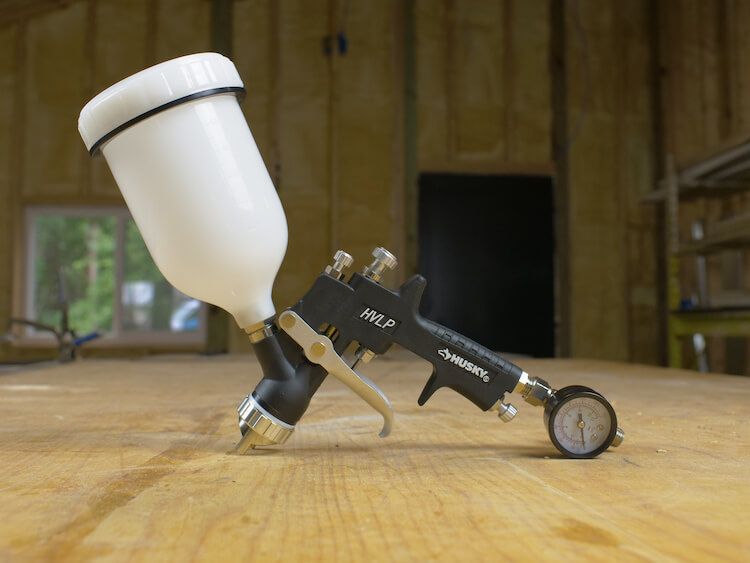 The composite body makes this unit very light and the pattern, fluid and air adjustment knobs will make sure we get it dialed in for that perfect finish.
View this product on HomeDepot.com
I've had a basic socket set for years and sometimes don't have what I need to get a project done. Since having this set it has gotten me out of several jambs including taking off a door panel to replace a handle, which required a longer and smaller socket. Having a set like this will assure you that you'll always have the right socket or extension for the job.
This set comes with a 1/4 in. and 3/8 in. drive 144-position long handled ratchets, (22) 1/4 in. drive standard sockets, (26) 3/8 in. drive standard sockets, (21) 1/4 in. drive deep sockets, (22) 3/8 in. dive deep sockets, 24 bit sockets, and 8 extensions and drive adapters.
The 144-position ratchets are pretty awesome because they only require the handle to have about 3/4″ of space in order to turn the fastener.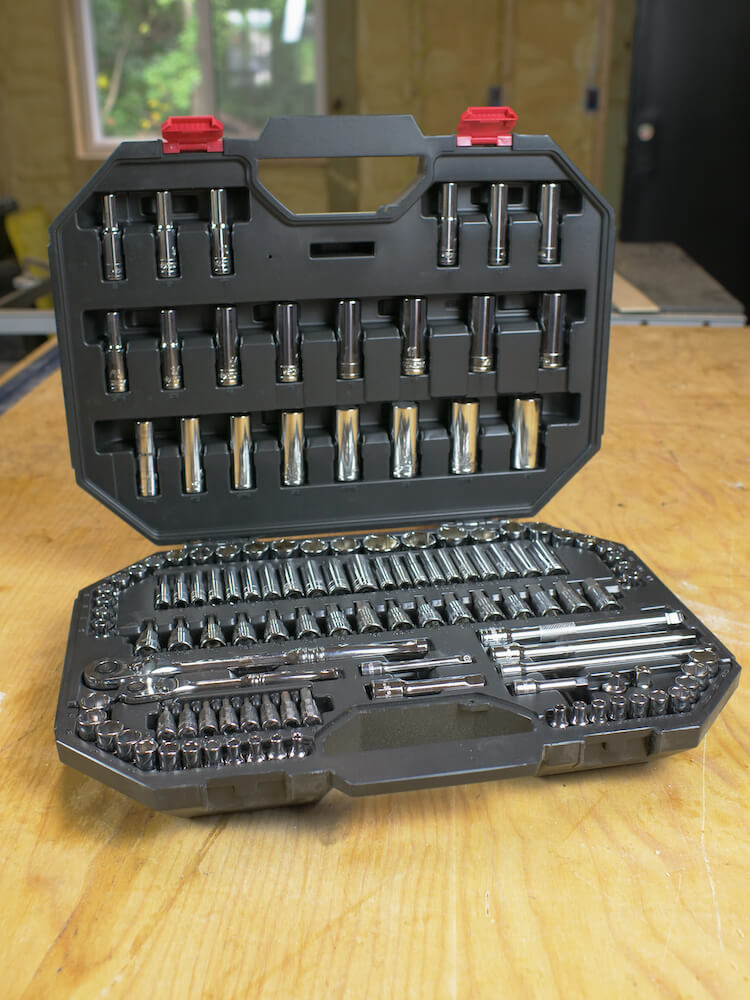 My only gripe with this product is the case. There is a thin piece of foam (not pictured) that goes in the middle. Without this foam, the tools stored on the lower half will fall out of their spots as soon as the case is raised into the vertical position. Trust me I know. But as long as you remember that foam everything stays in its place.
View this product on HomeDepot.com
Husky 3/8 in. Drive Thin Wall Deep Impact Socket Sets
I also received two smaller thin wall sets, one in Metric and one in SAE. The thing I love about these sets are that they are designed to work with an impact driver. These sockets are two times stronger and 20% thinner giving you greater access and the ability to get the job done quickly with a cordless impact driver.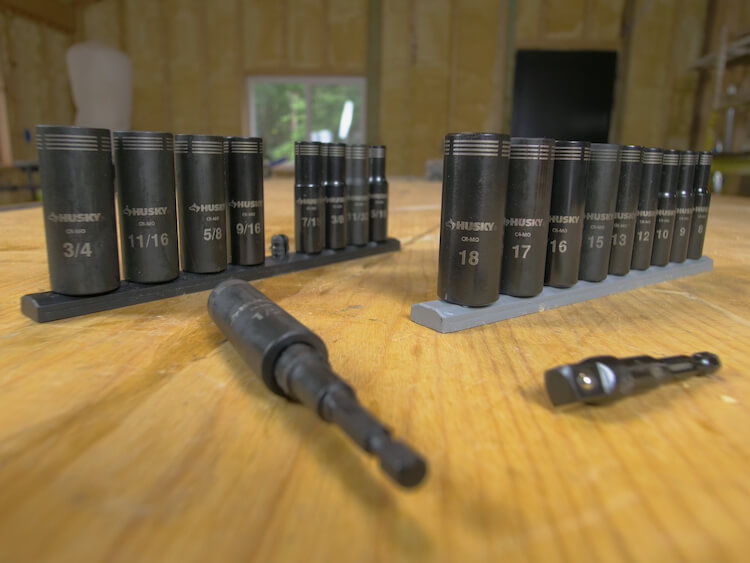 View the metric set on HomeDepot.com
View the SAE set on HomeDepot.com
[divider