After building our coffee table we decided to tackle the side table. For this we wanted something rather simple but sized appropriately. After some back and forth we came up with a simple base that incorporated angles found in other furniture in our great room. For the top we went with a 30″ diameter circle. Overall, it's definitely an oversized side table but it fits the space well and cost about $50 to build.
If you love this stuff as much as we do, you might want to consider following us on Instagram where we post sneak peeks and behind the scenes stuff in our stories. Also, did you know you can get tons of projects plans from all around the web when you follow us on Facebook and Pinterest!
Materials
3/4" x 4' x 4' Plywood
(2) 2 x 2 x 8' Boards
Wood Glue
Disclosure: The links provided in the "materials" and "required tools" sections are affiliate links. If you would like to support our site and help keep our content free come find out more about how we can make money with no extra cost to you.
Dimensions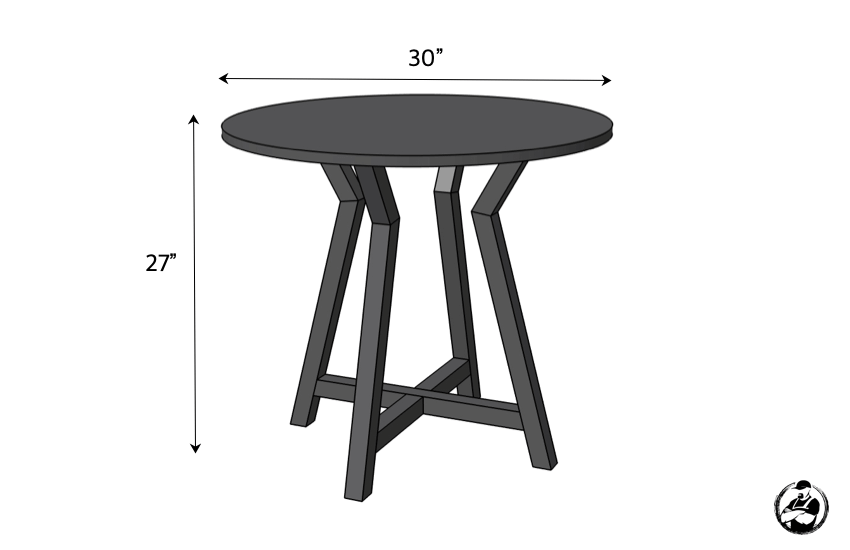 Time needed: 1 day.
This tutorial will show you how to make a large round side table using plywood and 2x2s
Cutting Out the Pieces




The circle can be cut out with a jig saw but the edge will probably need to be straightened due to blade deflection. That can be done with a sander, bandsaw, or table saw (see video). Then iron on the edge banding to hide plywood edge.

Assembling the Base


Assembling the Base (Cont.)




Assembling the Base (Cont.)




Attaching the Top