We recently built a paver patio beside our barn to create more space for grilling and storage. The patio turned out great but the AC unit is directly behind it and we wanted to build a small privacy fence out of composite decking to hide it from view. This was a super simple and quick project and it turned out great!
Full Paver Patio & Privacy Fence Project Video
Before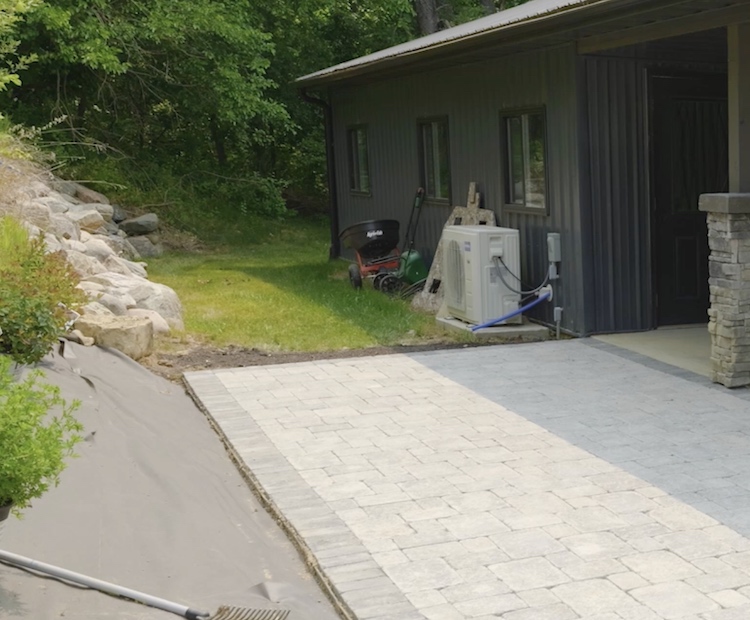 How to Build a Small Privacy Fence
Drive the Post Bases


For the post bases I am going to be using the Simpson StrongTie EZ-Spikes. These makes setting posts quick and easy versus digging holes and pouring concrete.

To get the EZ-Spikes into the ground, I used a small piece of 4×4 and hammered them in with a small sledge hammer. Throughout the process of driving the spike you will want to check to make sure the spike is plumb, using a level, and aligned properly.



Installing the Posts


I started by cutting two 4 foot long pressure treated 4x4s. After setting them into the post bases and making sure the tops were level, I then secured each post with four connector screws.



Framing the Side and Top


To hide the 4×4 posts, I cut the composite decking to length, mitering the corner, and secured with composite deck screws, leaving a 1-1/2″ overhang on the front face.



Cladding the Privacy Wall


To cover the wall I simply cut down all the composite deck pieces to size and secured them to the 4×4 posts with composite deck screws.


This project was so easy to do and even though we spent a little extra on the composite, it was such a small project that it wasn't a big deal. Plus it looks great and will last forever. If you want to check out the patio project you can get that here!