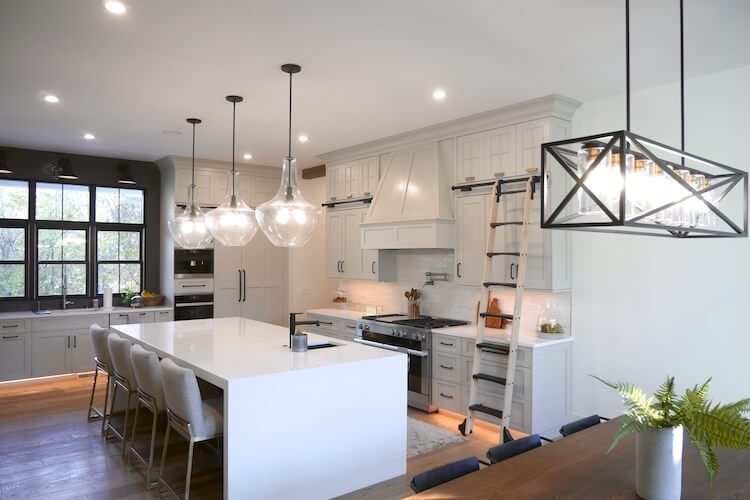 In this episode of the Dream House build we go over the ins and outs of out kitchen design and construction! This is one of the most important rooms in our house as we do a lot of cooking and since Jamie loves to cook (and is really good at it!) I decided to give her the kitchen of her dreams. Since we were able to save a bunch of money by managing the project ourselves and doing some of the work, this is one of the areas that we splurged.
Disclosure: Some of the products highlighted in this episode were given to us in return for promotion, however the design and opinions are 100% our own.
Kitchen Cabinets
First things first, after laying the floors, which you can find out more about in episode 10, it was time to install the cabinets. We actually went through the free design process with CliqStudios which was extremely helpful, however, they offer semi custom cabinets and ultimately we were able to have an Amish cabinet maker build our cabinets custom to exactly what we wanted for the same price or cheaper.

Installation
Jamie's Dad and I installed all the cabinets ourselves which actually turned out to be easier than I initially thought. The cabinet maker made separate platforms for the toekicks that get leveled and installed first and then the base cabinets mounted to that. The uppers get installed using a cleat and a laser level.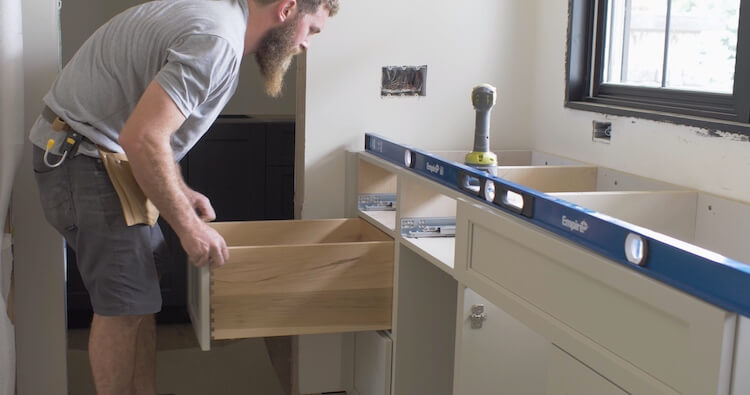 Style
We went with a european style cabinet. Essentially this is a cabinet with no face frame, which gives you greater access to the interior, allowing for wider and taller drawers as well.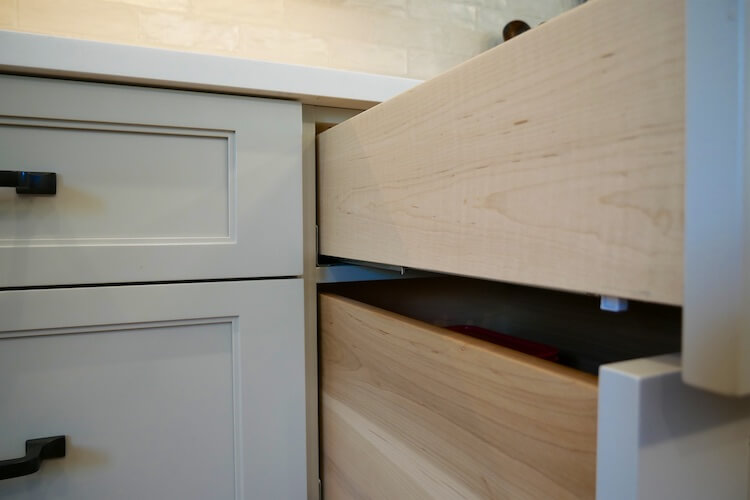 The cabinet doors and drawer fronts are a sort of shaker style door with a flat panel and small step on the inside of the door frame.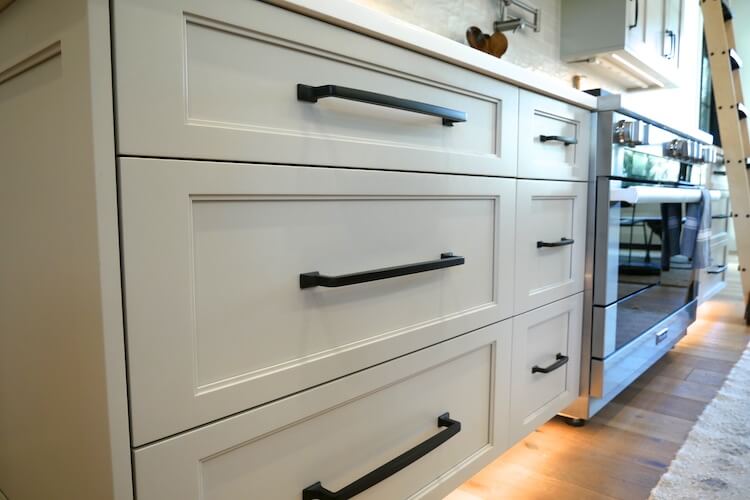 Color
The perimeter cabinets are painted in the color Tapestry from CCI FinishWorks which I believe the same colors are available with Benjamin Moore. The hardware used for these cabinets is the Westerly from Amerock in Black Bronze while the cabinets up near the ceiling got the Kane cup pulls in Golden Champagne.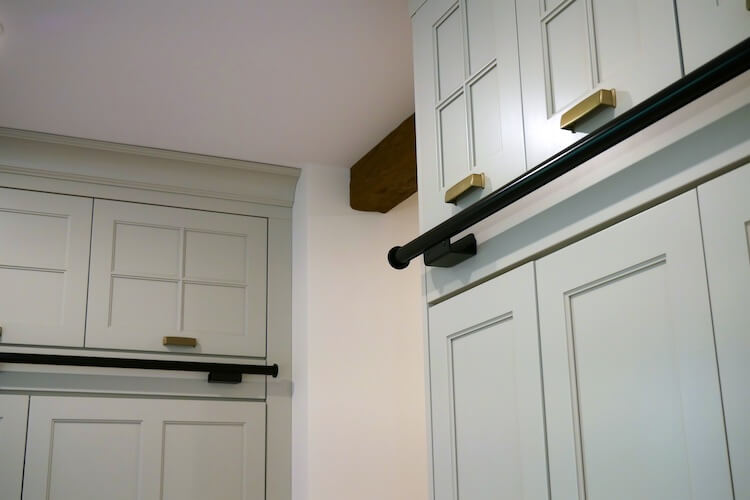 The island cabinets are painted in the color Iron Ore and received the St. Vincent pulls in Golden Champagne.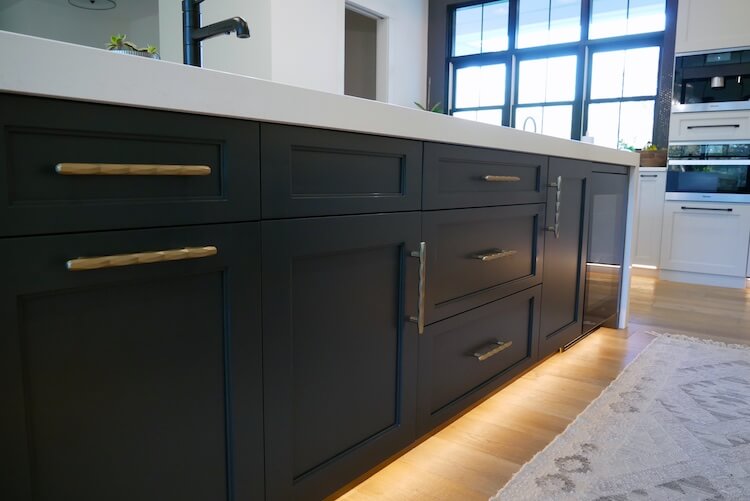 Countertops
When it came to the countertops we knew we wanted quartz because of its extreme durability however, we didn't want anything that could potentially go out of style. We settled on Diresco quartz because not only do they have an amazing selection of colors but they also offer variations in thickness and finish. The color that we went with was Venato Supremo in a poli finish and 3cm in thickness. This color has the look of marble but the veining is very subtle.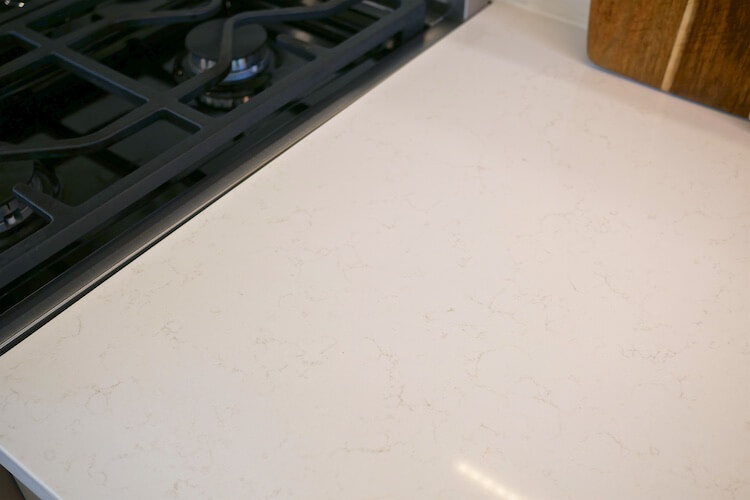 Waterfall Island
For the island we wanted something awesome so we had the fabricators, Granite Source of Michigan, create a nearly 3″ thick look on the sides and a waterfall effect on the sides. The ends were mitered at 45 degrees and go all the way to the floor to create that waterfall effect. We also didn't want any seams in the middle so we made the island as long as we could while using one slab for the top.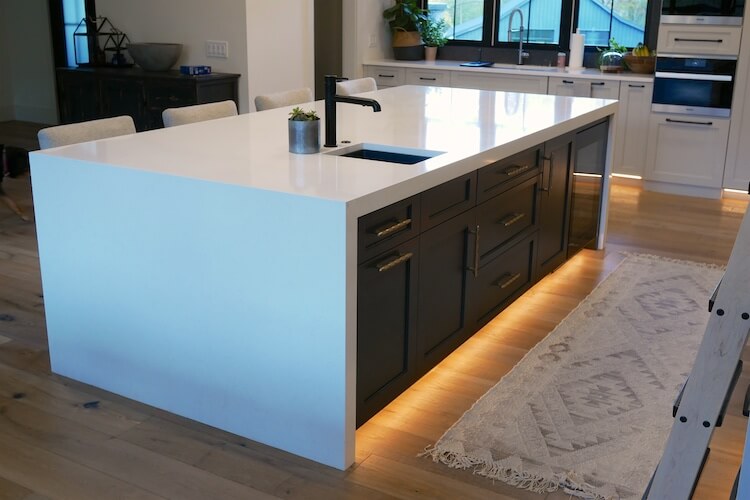 What all this meant was that the top was incredibly heavy and in one piece that needed to be transported inside and somehow set on top of the cabinets and structure. With 5 guys we were able to get it into place without too much of a struggle.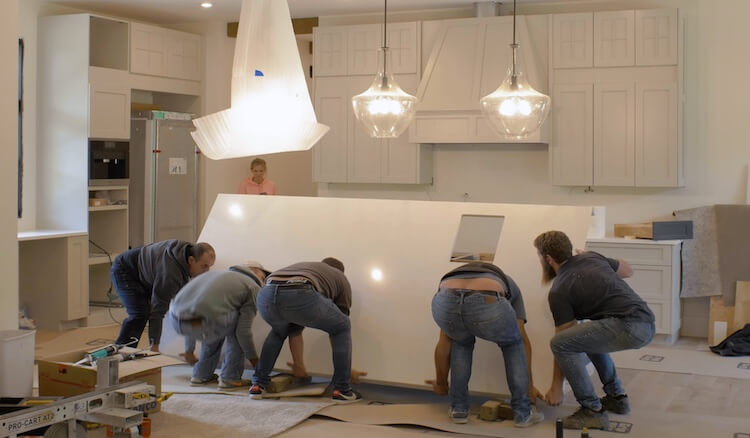 If you want to learn more about quartz and why it's such a great choice for countertops click here.
Appliances
This is what can make or break a dream kitchen. After spending weeks, if not months, researching brands we ultimately decided to go with Miele. Miele is a, family-owned, Germany company that manufactures high-end appliances. As a former engineer, I appreciate the attention to detail and love that Miele manufactures all of their components in-house, therefore they are able to maintain the higher level of quality that they are known for. But one of my favorite things is that they guarantee all parts will be available for 15 years after the end of the production model. Basically, they are the BMW of appliances. 
First and foremost is the range. We went with the massive 48 inch dual-fuel range with 6 burners and a griddle and could not be happier. The dual-fuel part of that basically means that the ovens use electric to heat because it gives a more consistent and even heat but the cooktop uses natural gas because of its ability to heat quickly at higher temperatures.
I love having the griddle for things like frying eggs or making pancakes in the morning and even cooking burgers and toasting buns for dinner.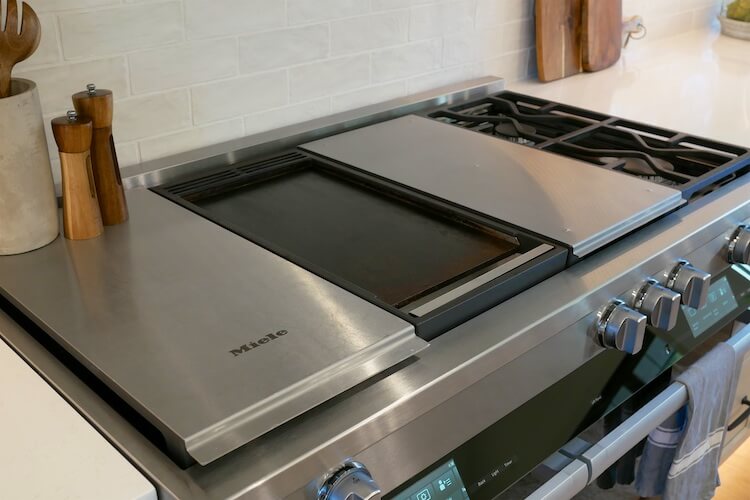 This ranges also features a 3-door concept which consists of a larger oven with moisture plus, a smaller oven which includes a speed oven (or microwave) feature, and a warming drawer. The speed oven is our only microwave and has worked out even better than I imagined.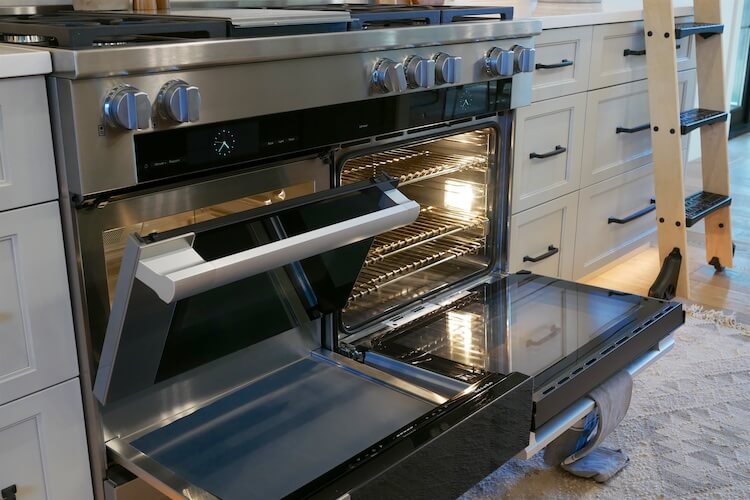 Then there is the beautiful M Touch controls, an operating mode for every dish possible, Moisture Plus and the MasterChef programs. MasterChef and MasterChef Plus is a library of over 100 automatic programs that will select the proper cooking mode, temperature and duration for anything from auto roasting a turkey to baking cupcakes.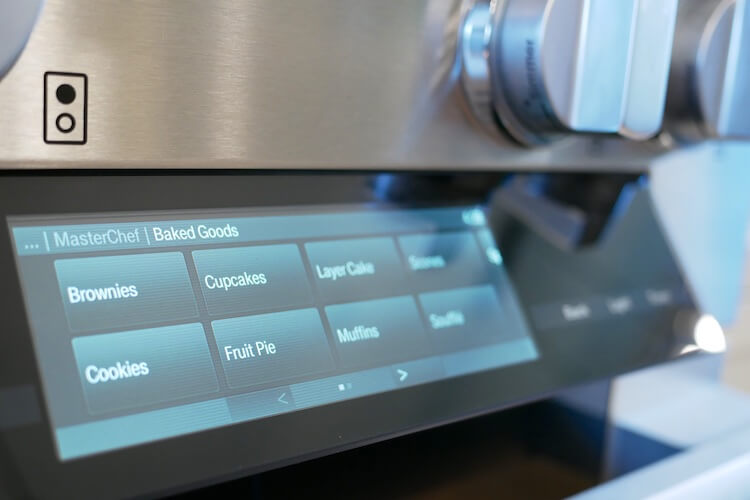 There are way more features than I have space to write about but feel free to learn more about the Miele line of ranges here.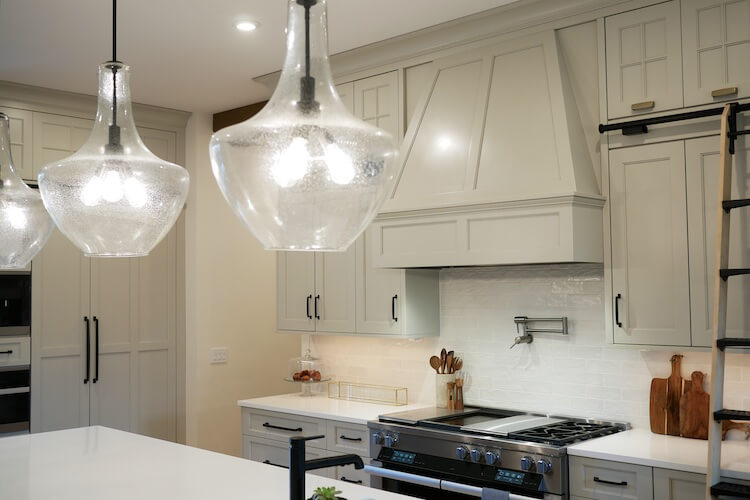 With such an amazing range we needed an equally impressive hood, so we had the cabinet makers build a hood that would accept the our integrated ventilation hood insert and blower.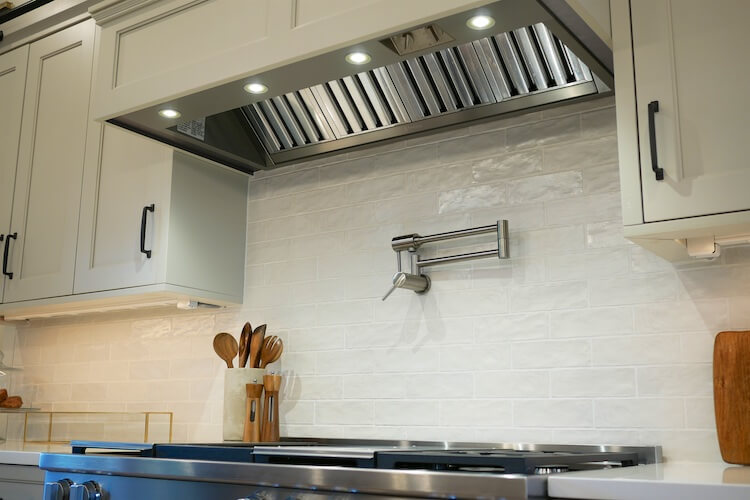 Every kitchen has them, and most are packed to the brim and tough to get things in and out of. The thing I love about the Miele refrigerators and freezers is that they offer integrated options in which each unit is dedicated. Therefore, you can also mix and match sizes, for instance we had 48 inches of space to work with so we went with an 18 inch panel-ready MasterCool freezer and 30 inch panel-ready refrigerator.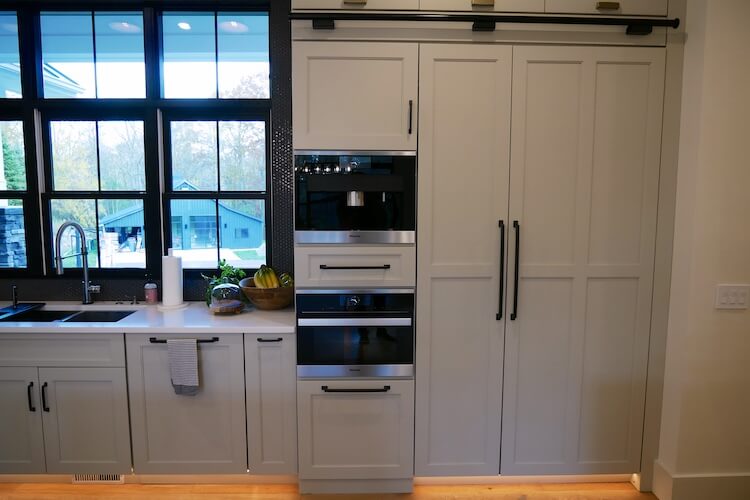 The integrated units are the same depth as the cabinet so they will blend nicely, however, with the panel-ready option you can install a custom panel to the front of the unit for a truly integrated look.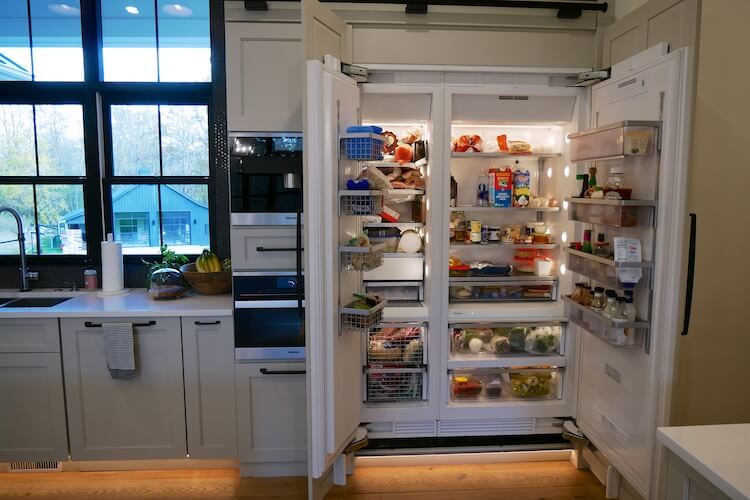 Overall the construction is top notch with high quality materials and solid adjustable mechanisms. The other thing that most can't see from a photo is the fact that these units are tall and not too deep. What that means is that things are not stacked in front of one another but rather above or below making getting food in and out a whole lot easier.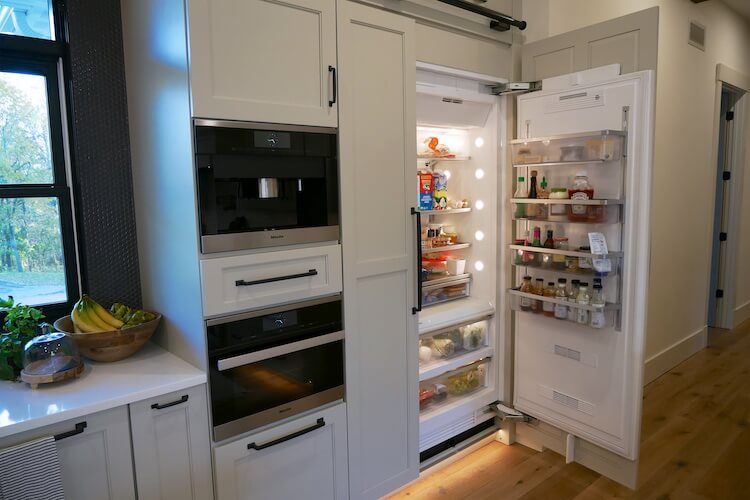 Most have probably never even heard of this. I can say that because before picking out appliances for our kitchen I hadn't either. A steam oven is just that, an oven that cooks with steam. Therefore, instead of steaming vegetables on the stovetop with a traditional steamer pot, you simply set them on a tray and stick them in the steam oven.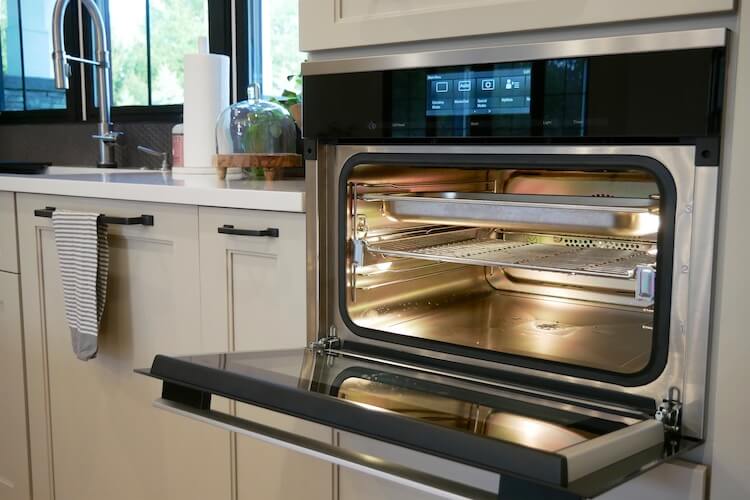 However, this is not just a steam oven, it is a combi-steam oven, meaning it has all the capabilities of our other ovens so it can be used to cook almost anything. Plus with the MasterChef programs and the menu cooking feature you can cook entire meals in this oven and it will even alert you at what time you need to add what and on which rack so that everything will finish at the same time.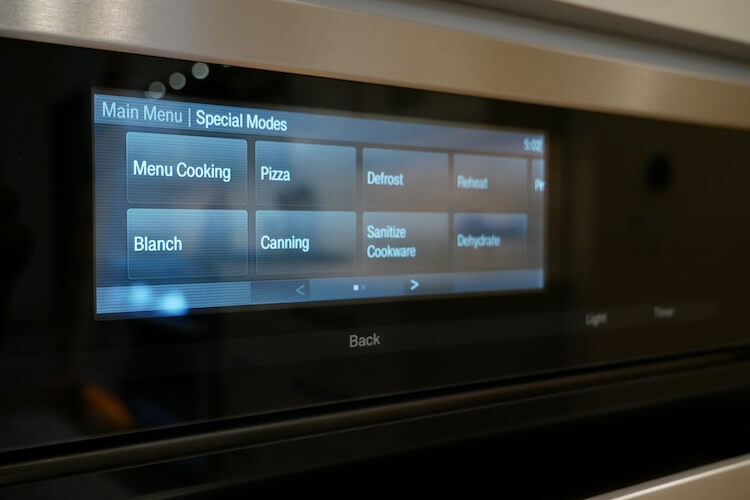 This XL combi-steam oven has quickly become the most used cooking appliance in the kitchen. It's versatility and ease of use is absolutely amazing. Plus, we ran a water line directly to it so it automatically draws fresh water as it needs it. Learn more about the Miele Combi-Steam ovens here.
This is for all you coffee drinkers out there. This is truly a game changer. Having a built in coffee maker is something I have always wanted. In our house we need the convenience of being able to brew a single cup of coffee at a time which meant that we always had a pod brewing machine. We were constantly replacing them (because they were unreliable) and we had a mountain of plastic k-cups. This unit has a hopper that will hold a pound of whole bean coffee, grind and brew the perfect cup of joe on demand.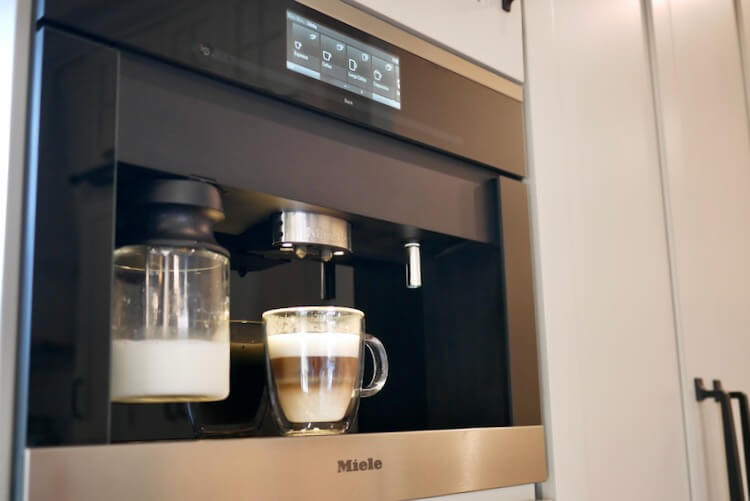 However, if you prefer hot milk and/or milk froth in your coffee this machine will make an amazing cappuccino, macchiato or latte and much more.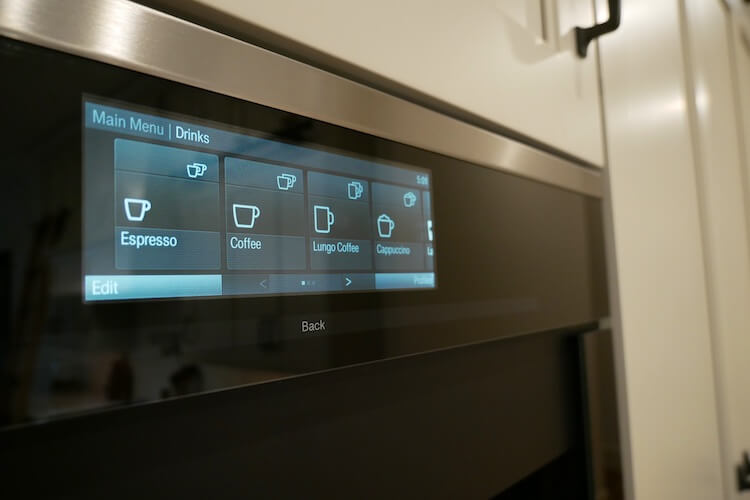 With such an amazing machine we need to make sure to keep it properly maintained. Luckily, the machine automatically rinses itself on startup and shut down, as well it will rinse the milk pipework after every milk drink. It will also remind us when we need to do scheduled maintenance such as descaling or degreasing the brew unit; and it will walk you through every step of the process. We also plumbed this unit so the water reservoir is always full and when the internal waste bin is full of spent coffee or the drip tray is full it will let you know that it is time to empty those.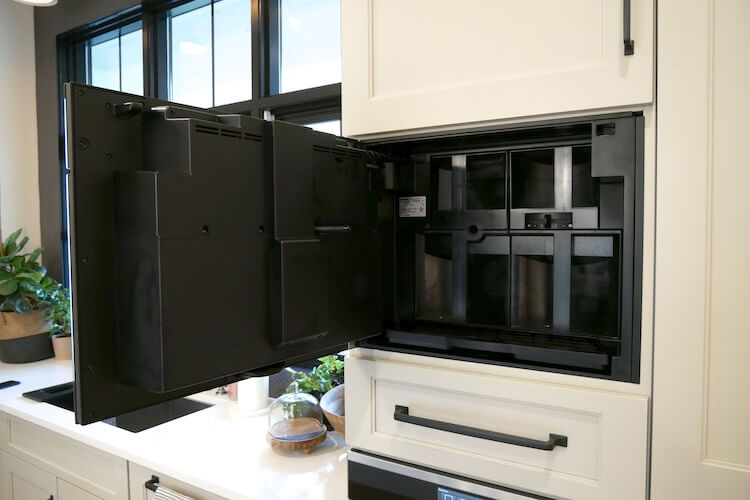 Now that we have our own built-in barista, I don't think I could ever go back to the pods. Learn more about Miele built-in coffee machines here.
Coffee is great in the morning but once the sun starts to set, that's when we head to the wine cooler. What we liked about this under-counter design is the sleek handleless design, which is possible with the Push2open feature.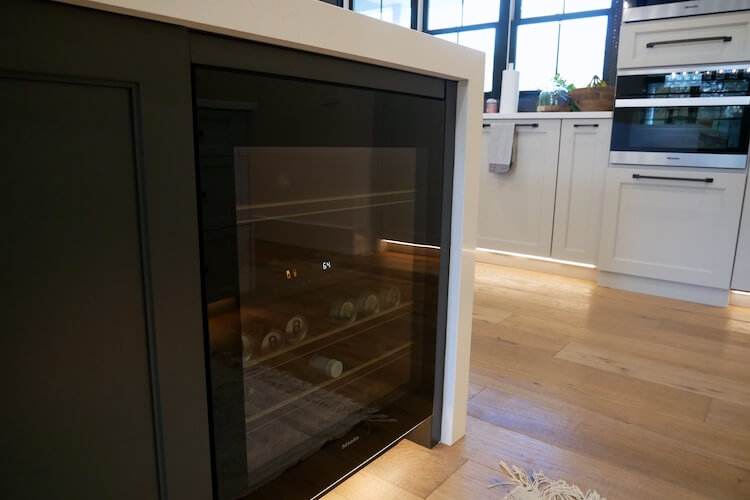 We also have enjoyed the fact that it has two temperature zones, one for white wine, beer and soda, and one for red wine.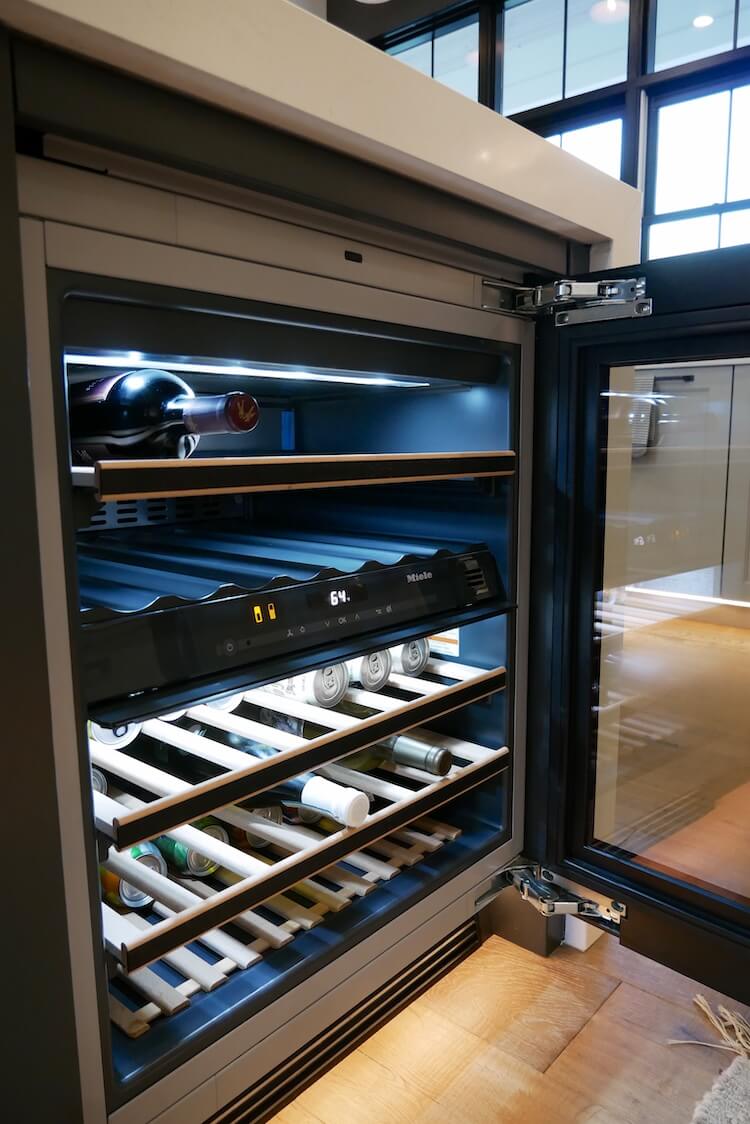 Last but certainly not least is the dishwasher. Sticking with the built-in theme we went with the panel-ready full-size Miele dishwasher.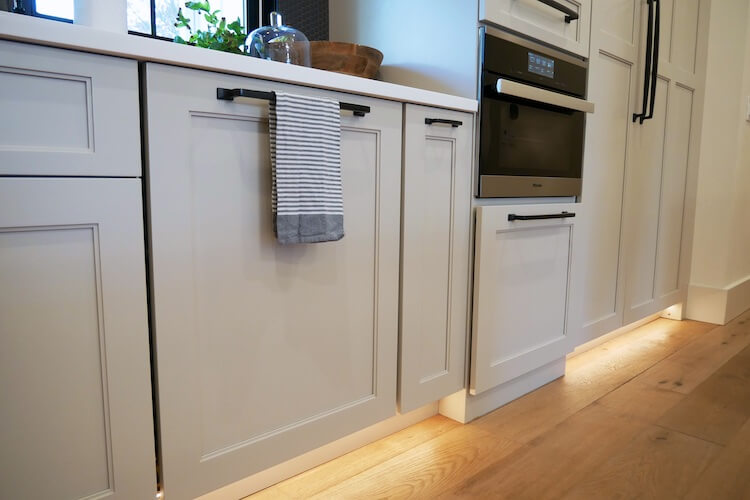 I love about it are the fact that it is so quiet. But, this is also the first dishwasher that we have had that has the cutlery tray at the top. This feature allows for so much more storage and organization plus it has their patented 3D+ cutlery tray which can adjust in all 3 dimensions to give you the perfect loading spaces for whatever you might have.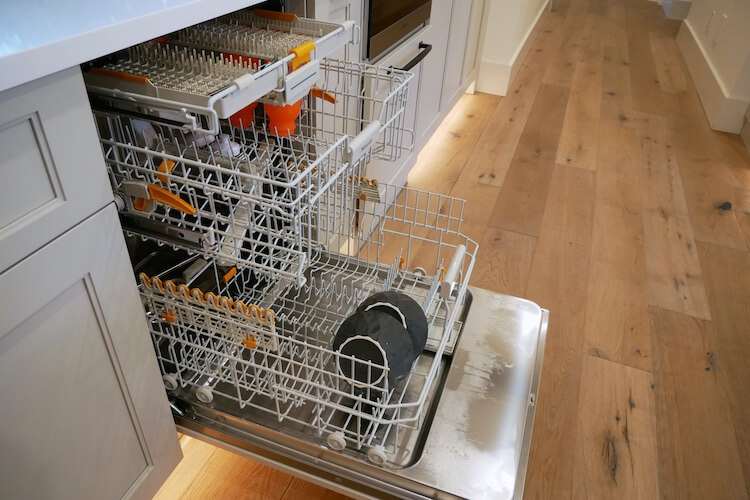 But possibly the coolest features is their patented AutoOpen which opens the door slightly when the cycle is done. This not only lets you know it is done but it also allows the humidity to dissipate and the plastics to completely dry which is not the case with most dishwashers.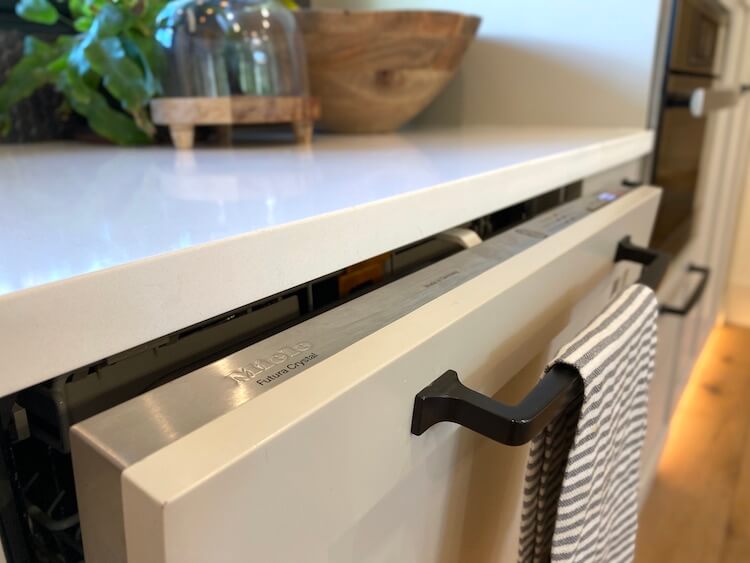 Lighting
Lighting is an important aspect of any room. There are different forms of lighting that are needed to achieve the perfect look. In the past a lot of new construction tended to over light areas like the kitchen with dozens of recessed can lights. In our kitchen we used 6 of the Kichler Horizon downlights. These are great because they fit into a standard junction box so they are quick and easy to install, yet it only takes 6 of them to fill our kitchen with light.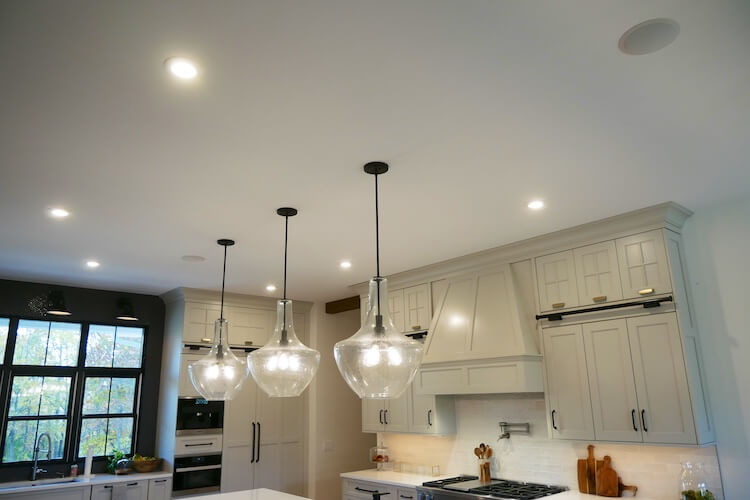 Pendants
Large pendants over the island is something we both wanted. We ultimately decided to go with three of Everly™ 27.5″ bell shaped pendants from Kichler and couldn't be happier.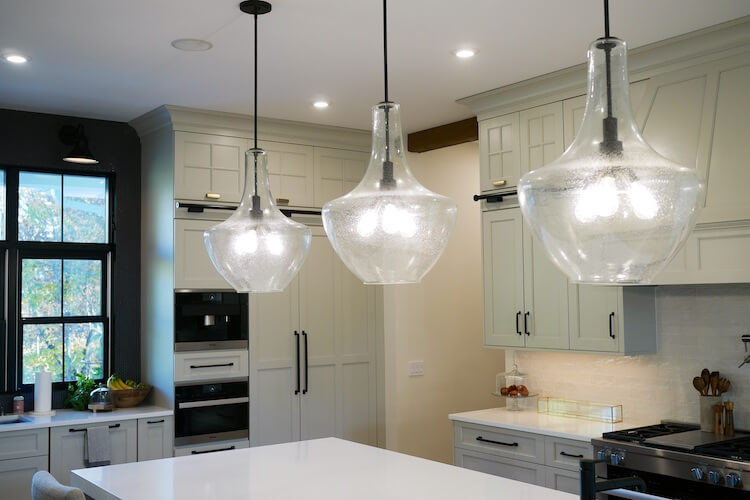 Wall Lights
Over the main sink we have a large bank of windows and above them we wanted to accent that area with 3 lights. We did so using the Northland lights which are actually exterior lights but we loved the look.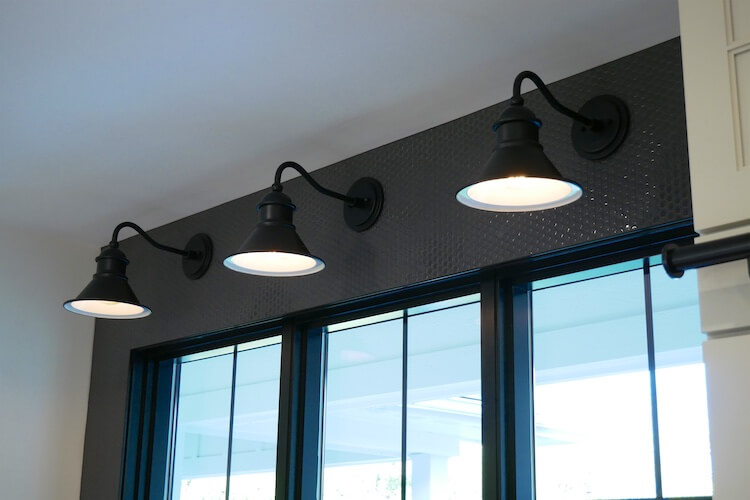 Toe Kick Lighting
Lastly, we wanted to add path lighting which we did by lighting the toe kicks. We have these lights on a Leviton Decora Smart switch which is automated to turn on to 5% at dusk and off at dawn. This provides the perfect amount of light at night for getting around without turning the lights on.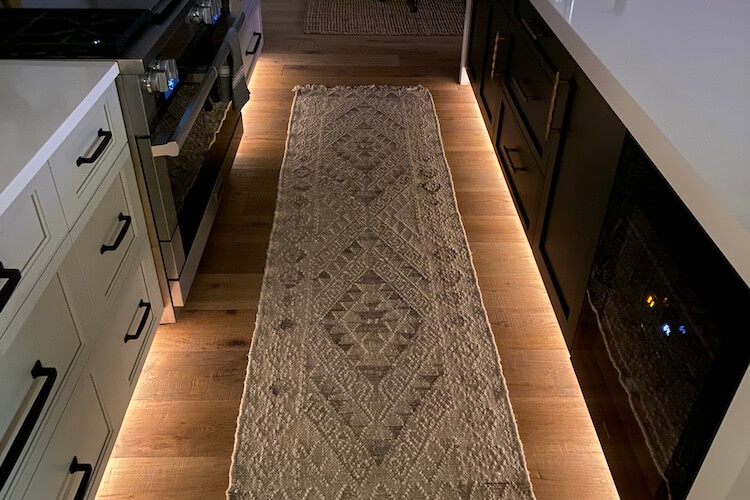 And even during the day we can turn them on to 100% for a cool effect.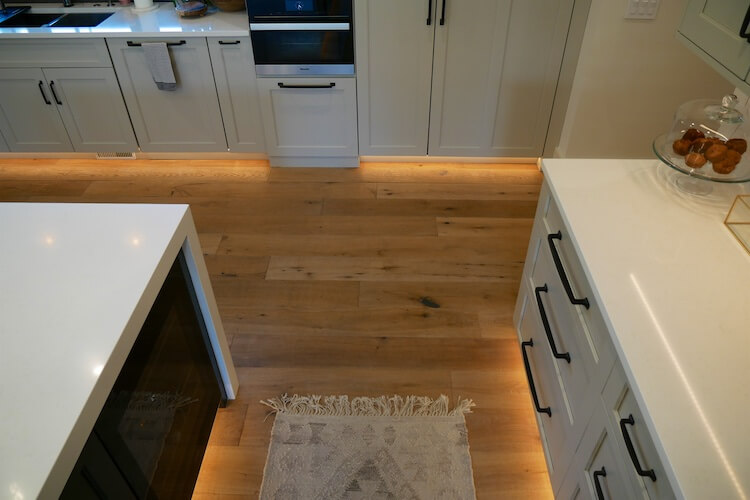 Plumbing Fixtures
Water sources and drains are a necessity in a kitchen. In ours we decided on two sinks, a large industrial main sink and a small prep sink in the island. We also placed a faucet above the range for easy pot filling.
Main Sink & Faucet
For the main sink we wanted it to be a double bowl that was big and deep. This way we will have plenty of space to wash dry things that we may not want to go in the dishwasher. We ultimately went with the equal double bowl stainless steel sink from Blanco's Quatrus R0 Collection which has crisp "industrial like" lines. We paired this sink with Delta's Trinsic Pro faucet with Touch2O to continue that modern twist on the industrial kitchen.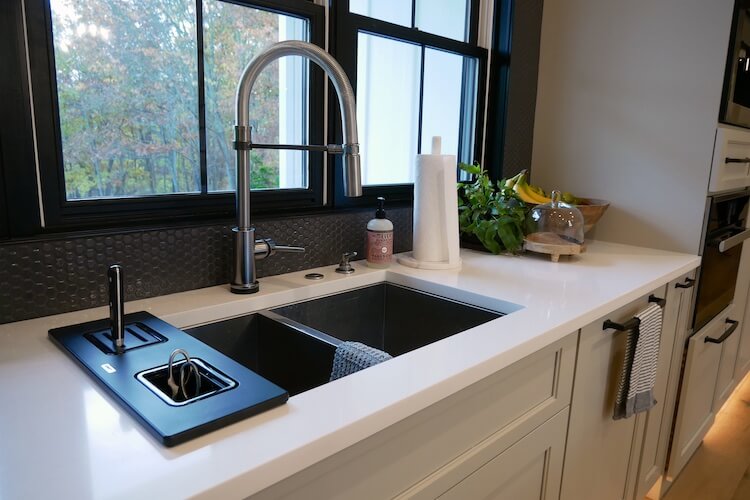 Not only is this sink station clean and sleek looking it is also a great workstation. Blanco has accessories available to fit into the sink such as grids for the bottom which will protect the sink and allow things to dry better. They also have a workstation to house knives and utensils, as well as a cutting board, colander and much more.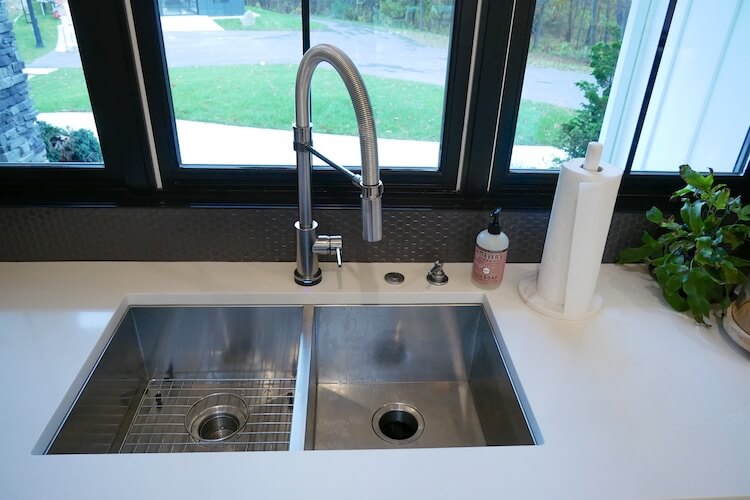 Prep Sink & Faucet
In the island we wanted a small prep sink for washing vegetables, filling water bottles and light washing. Since the cabinets below are black we stuck with that color family and when with Blanco's medium PRECIS sink bowl in the Anthracite color. This is part of their SILGRANIT line which is a granite composite material that is crazy durable, cleans well, and looks amazing. Plus it has accessories just like the main sink. This sink was paired with the Delta Trinsic single handle pull out faucet in matte black. We also installed an air switch in the counter that turns the garbage disposal on and off, just as we did in the main sink area.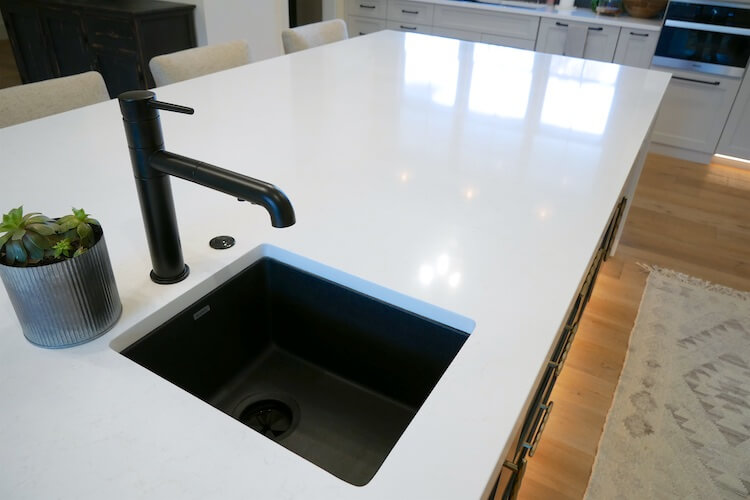 Pot Filler
We also installed a pot filler faucet above the range for convenience. Sticking with the modern theme we went with the contemporary wall mount pot filler from Delta in stainless.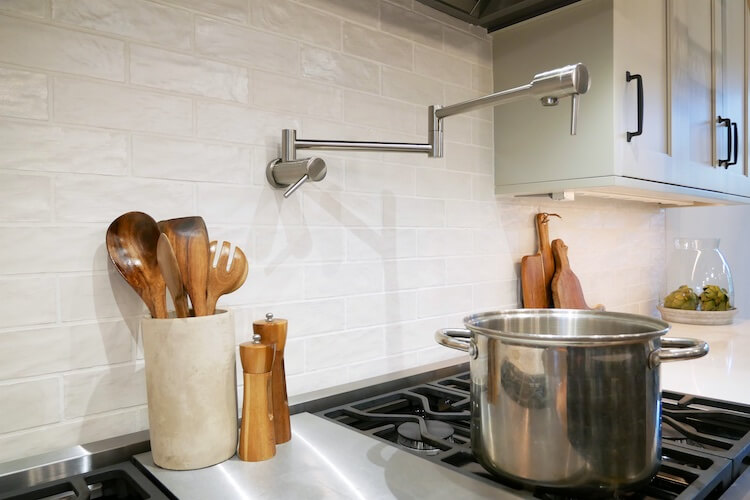 Tile Backsplashes
Behind the range and between the upper and lower cabinets we needed to install a tile backsplash to make cleaning the wall after cooking a little easier. For this wall Jamie wanted the tile to be more traditional and subdued so we went with a white subway tile. However, this tile does have a little texture to it and looks great with the colors around it.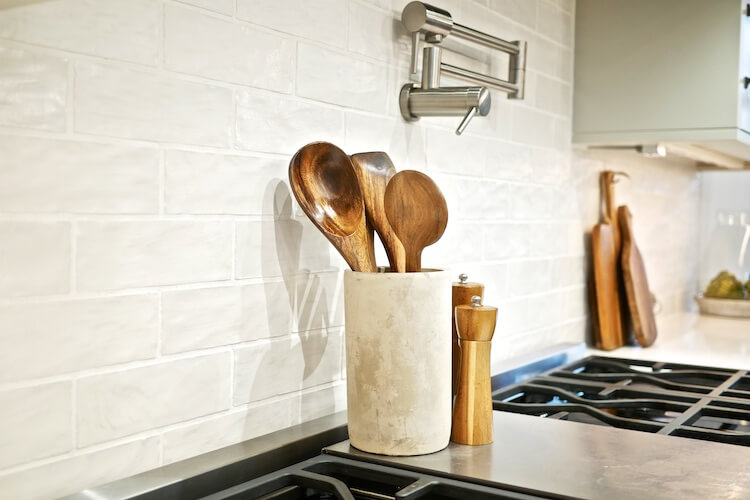 Another area we wanted to tile was the wall behind the main sink. This wall has a massive bank of windows on it so there really isn't much area to tile. With the black window sills we stayed close in color, going with a dark gray small hex tile and covered the entire wall with it. We also opted to have a trimless window and used a black tile edge to hide the edge of the tile right at the window.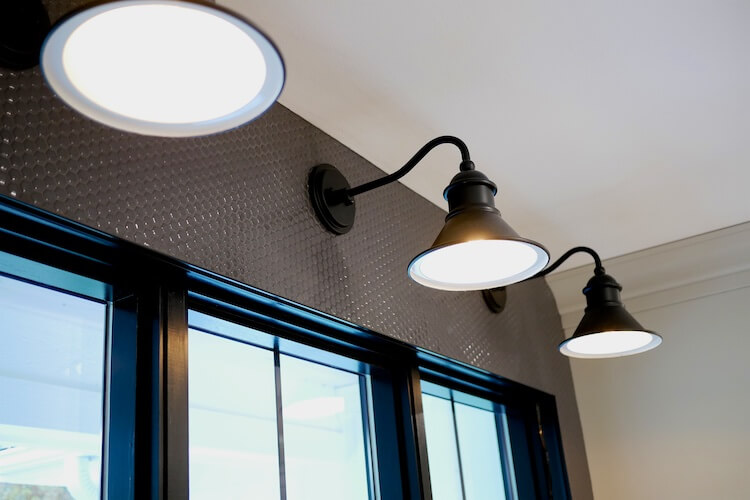 Other Cool Features
We also included a lot of other cool features in our kitchen that I love and think you will too. These are things that may be a little different but are done with intention and in an effort to create a more functional or beautiful kitchen.
Coffee Drawer
Let's start with the coffee drawer. I had our cabinet maker build a short drawer just below the coffee maker that would be used for coffee mugs, coffee beans and other coffee related things to make them easily accessible.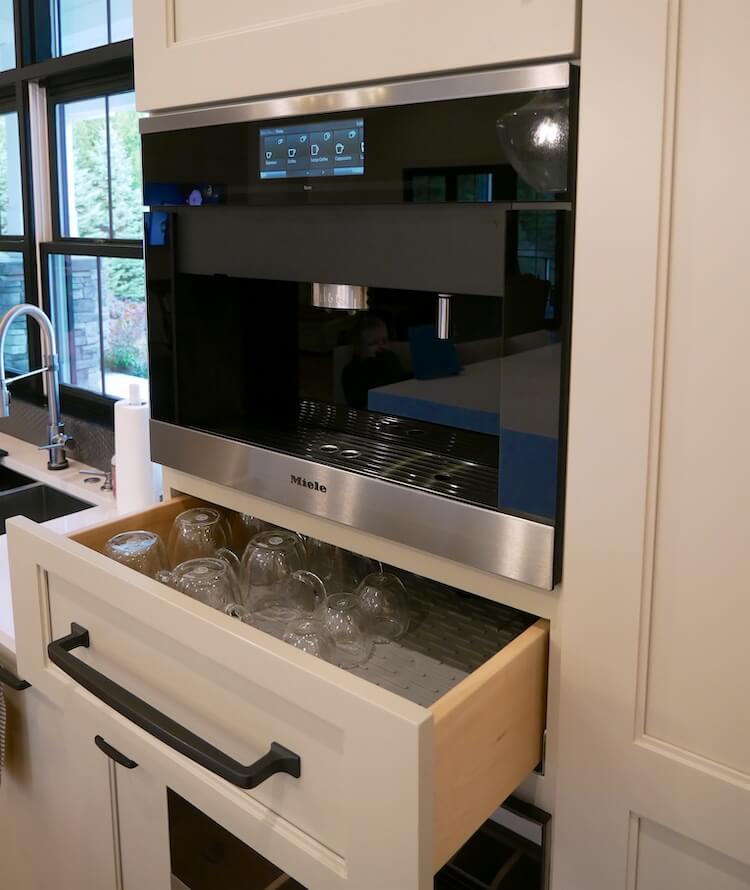 Silverware Canisters
Another thing we did was make the silverware storage a little more convenient by using a canister pull out organizer beside the dishwasher. The canisters are also nice when entertaining because you can pull them out and set them on the counter for guest. Plus the stainless steel canisters are easy to keep clean and the shelves below house extra dish cloths and dishwasher detergent pods.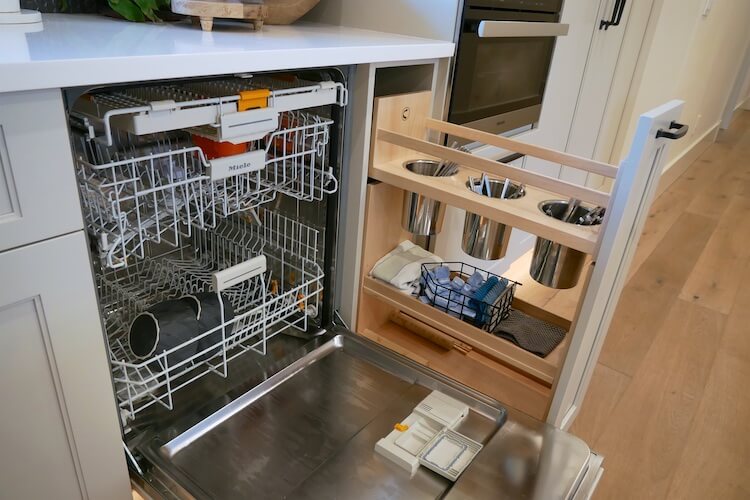 Library Ladder Rail
With 10 foot high ceilings and cabinets that go all the way up we need a safe way to access them. In lieu of climbing on the counters every time we decided to install a library ladder. The ladder will be stored in a closet and can be pulled out when needed for safe and convenient access to the top cabinets.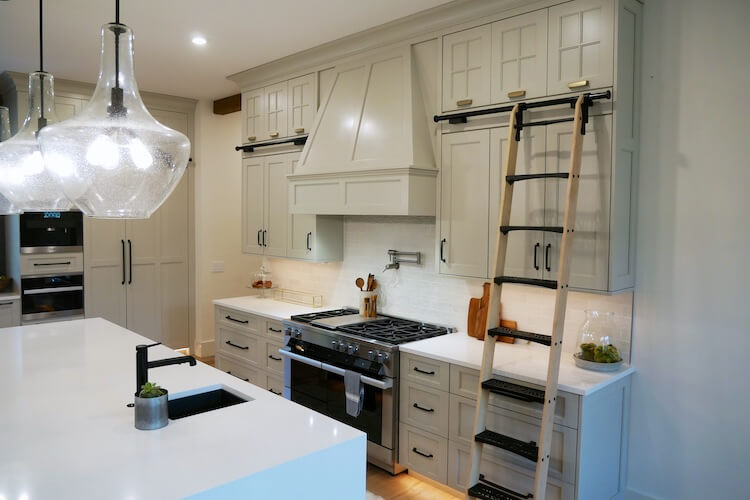 This ladder came from Rockler Woodworking and Hardware where they have tons of roller ladder parts. So much that it can get confusing on what all you need, so they also have a Rolling Ladder Wizard that you can use to build your own kit based on your style and needs. Then using that bill of materials you can look up each part by SKU and add the appropriate quantities to your cart. 
Assembly is straightforward and you can finish the wood to your liking which we had maple rails and finished them in a Rubio Monocoat oil (Smoke 5%) left over from the stair treads.
Pan/Oven Rack Storage
Below the combi-steam oven there is a really deep drawer and above the coffee maker are a cabinet door, both of which have vertical dividers that allow for a ton of pan, tray, and platter storage. These are located close to the combi-steam oven as most of the trays and pans are used for that appliance on a regular basis.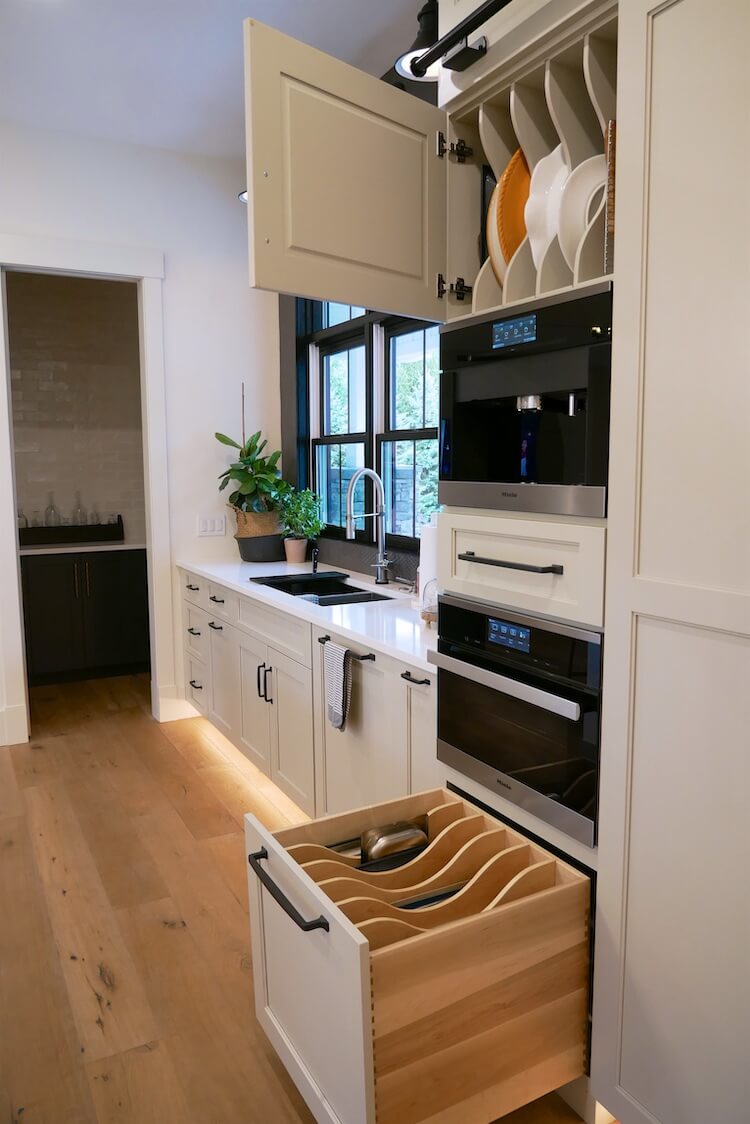 Plate and Bowl Drawer
I was undecided on the storage location of the plates and bowls. I wanted to try out the wooden peg drawer organizer for this in a big drawer. I love the fact that it is customizable and I have to say that pulling or placing plates and bowls from the top of the pile is much easier to do from below you in a drawer versus above you in an upper cabinet.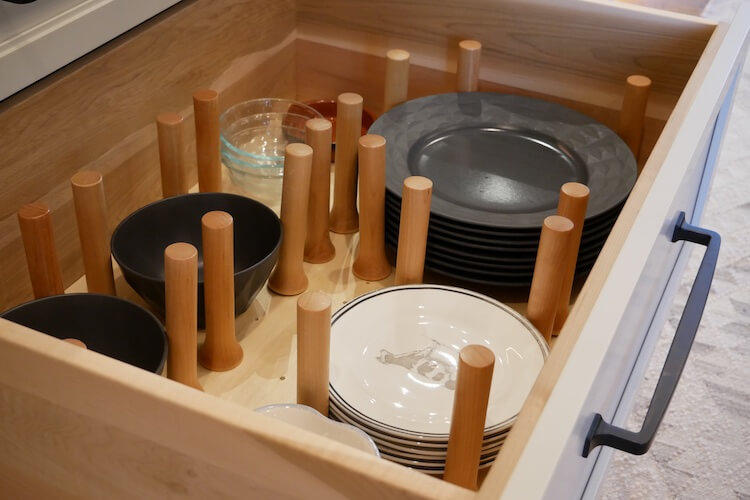 Mixer Lift
Jamie almost never used the KitchenAid mixer in our other houses due to its weight and the inconvenience of moving it around. Since we added the mixer lift with soft close mechanism, it gets used all the time.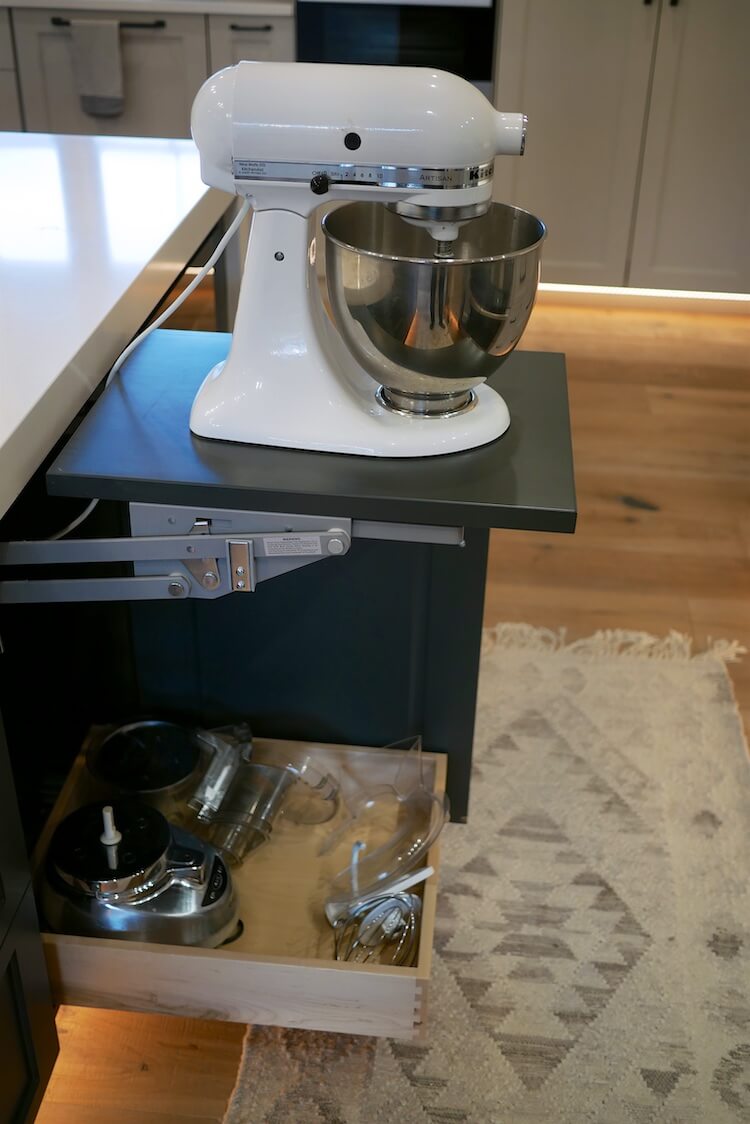 Spice Drawer
We've had the narrow pull out spice rack before and it's almost never enough storage and it's hard to find the spice you are looking for. This time we opted for dedicated spice drawer beside the range. This drawer got a maple spice drawer insert to keep everything in line and organized.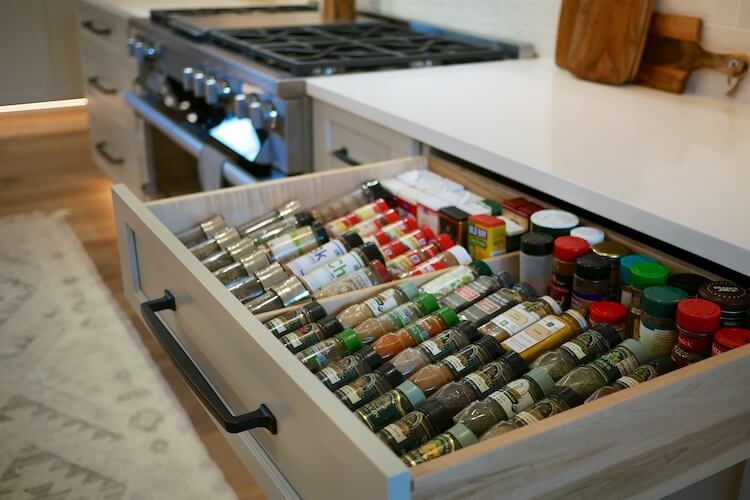 Knife Storage
Next the to spice drawer we have a small knife drawer with a wooden block to organize and safely store the knives with the blades hidden.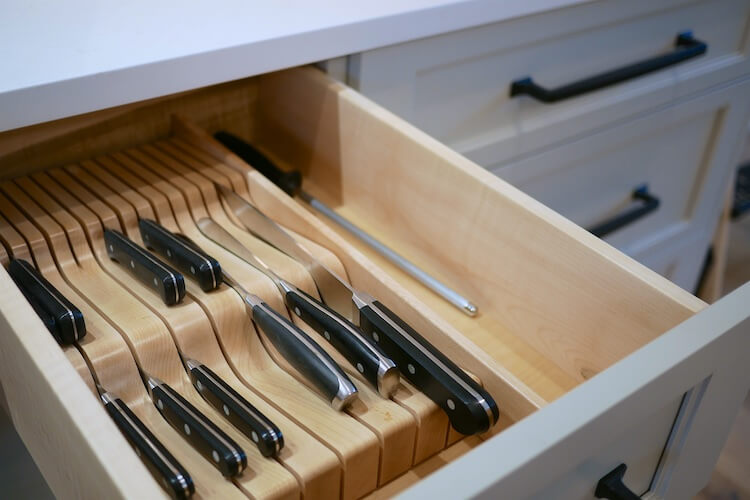 Hidden Outlets
Rather than having unsightly outlets in the backsplash we decided to hide them under the cabinets using plug mold.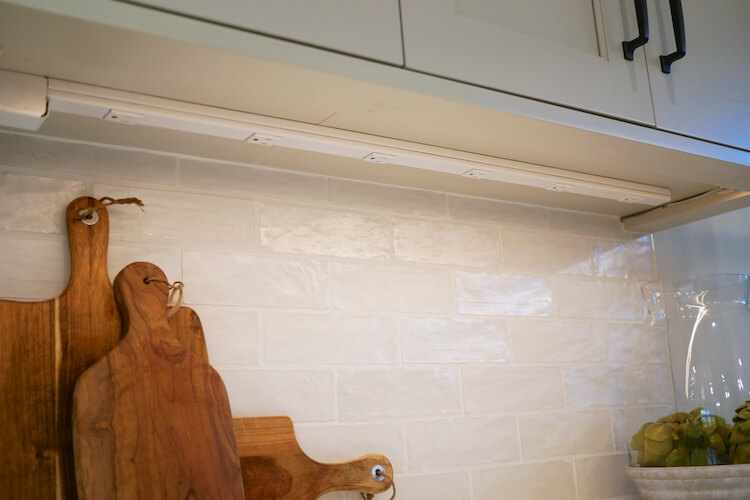 We also did the same under the island (in front of the bar stools) for charging phones and laptops.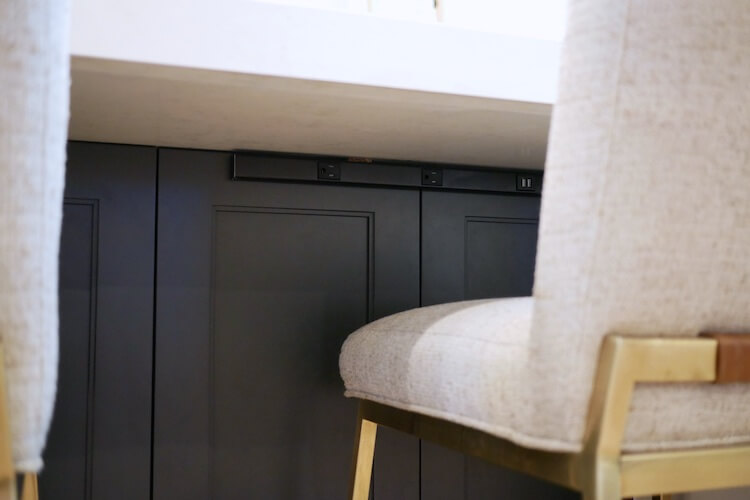 Speakers
If you are a tech geek like me then you'll appreciate this. I installed two speakers in the ceiling. One of which is in the kitchen, more towards the main sink, and the other closer to the dining room. These speakers are connected to the TV in the living room so that the sound will fill the room without having to blast the TV.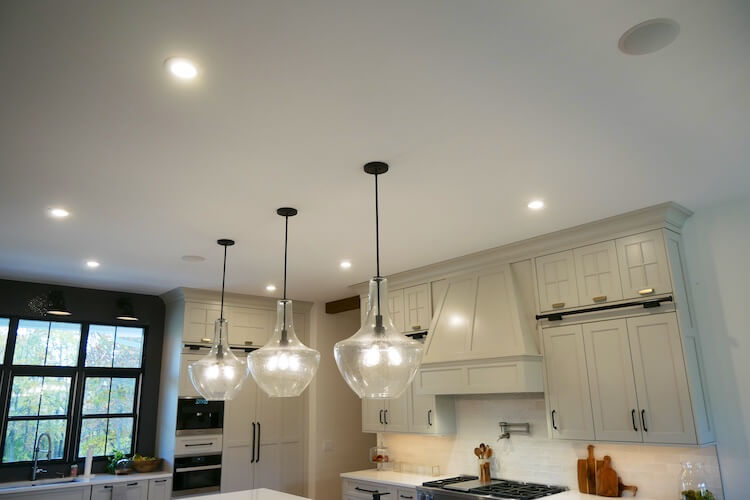 I also installed a volume control knob with source selector so you can turn the volume off or listen to a different source all together. I also have my thermostat for that area in the kitchen as this will be where we spend most of our time.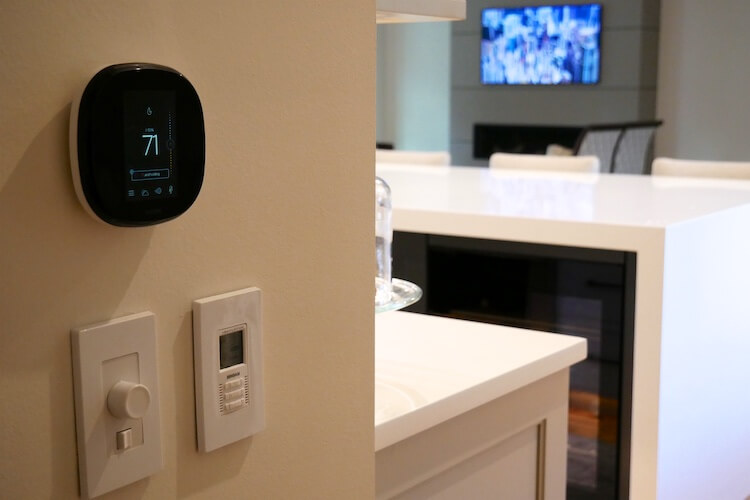 Overall Layout
There are three main areas in our kitchen and they all create a sleek and efficient workspace.
Main Sink Wall
The main sink wall, from left to right, has a bank of drawers, a double pull out trash can, sink, dishwasher, silverware storage, coffee and combi-steam oven center, freezer and refrigerator.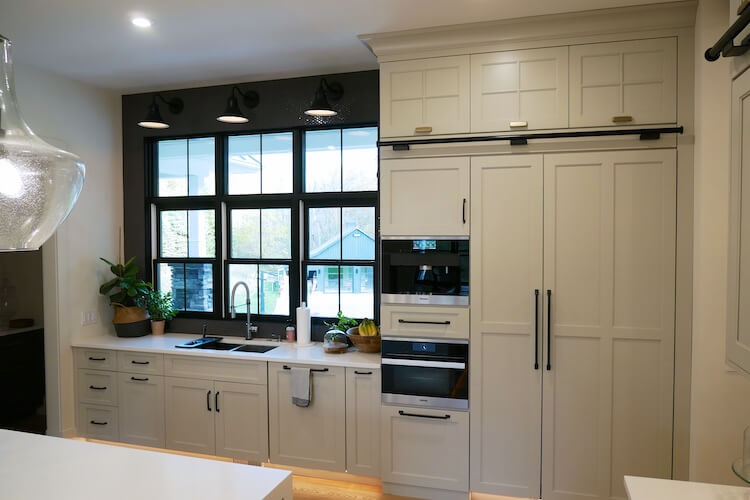 Range Wall
The range wall has tons of storage above and below, with our plate and bowl drawer on the left, pots and pans drawer below that range in the middle and spice drawer and knife drawer on the right.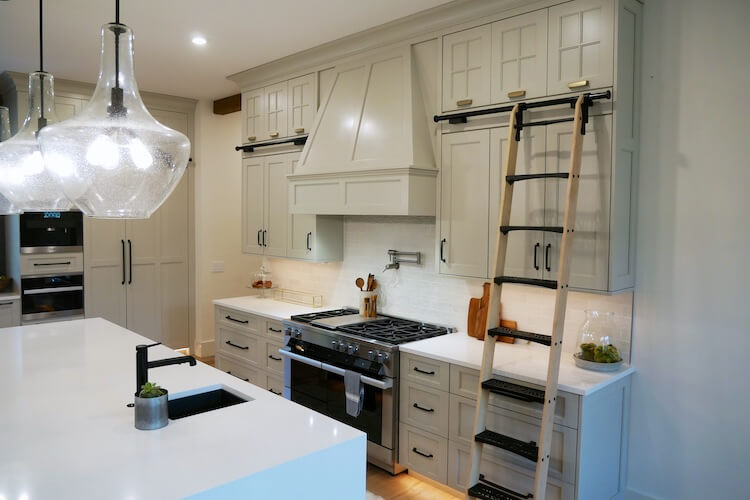 Island
The island is kind of the focal point of the kitchen with the massive quartz top and waterfall ends. It also houses another double pull out trash can, the prep sink, more large drawers, the mixer lift and the wine cooler.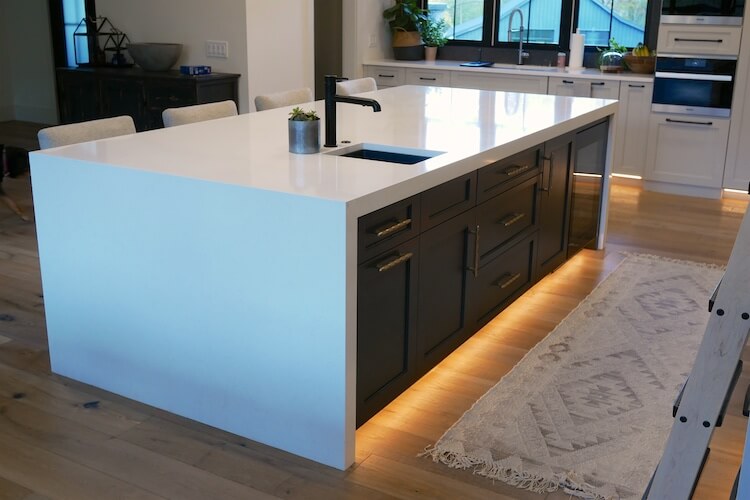 The counter height stools that we went with are the Hollas Counter Stools from One Kings Lane. While they weren't cheap we were able to get them on sale and far below retail price. Nevertheless, they are extremely comfortable and look amazing.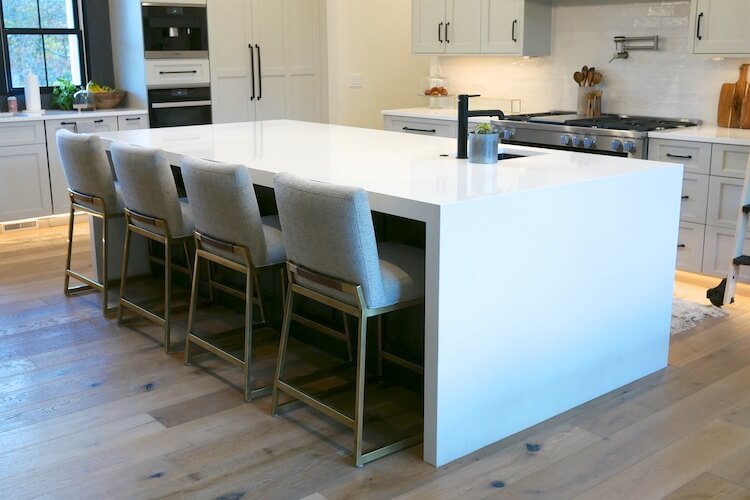 Pantry
The pantry is just to the left of the main sink wall and has a pocket door. Since this pocket door stays open the majority of the time we wanted it to look nice so we installed base cabinets (same color as the island), quartz countertops and tiled the back wall. Eventually we will install floating shelves in here.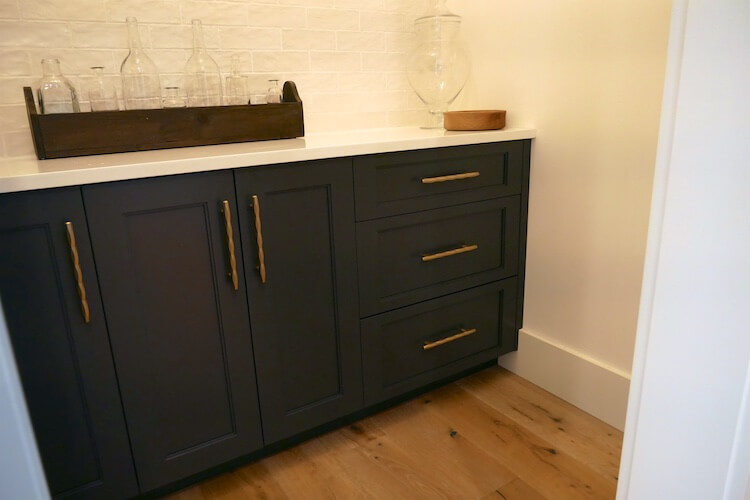 Conclusion
If you made it this far you can tell that a ton of thought when into creating our dream kitchen. We are in love with the design and I can't think of a thing we would have done different.