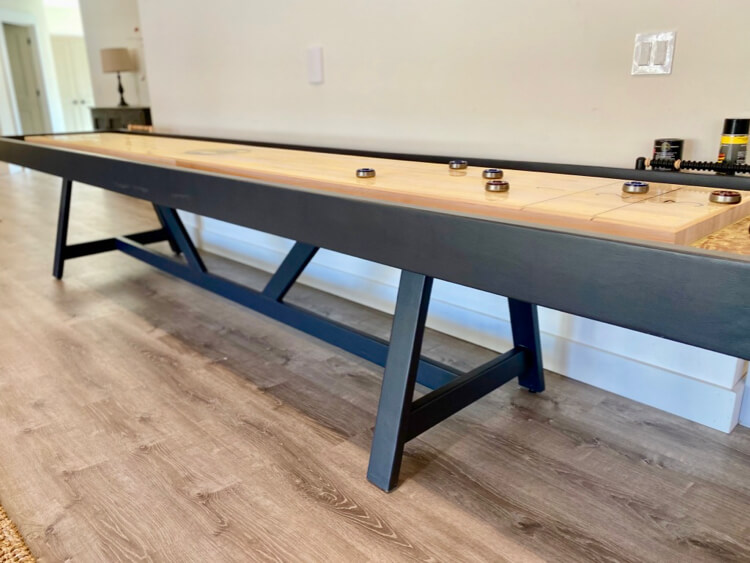 This project has been on my to-do list since we built our house. It's something I have played in bars and always wanted in my home. Shuffleboard is a great game because the skill level of most players is not that far a part. Meaning, at a gathering, a newcomer and someone that has played for a while can still compete against one another.
When it came to building a shuffleboard table I knew the hardest task would be building the top. I looked at just purchasing a top that was already made but those get really expensive. After coming across the butcher block countertops sold at Home Depot, I realized this was going to be my nicest and most affordable option. If you want an even more affordable option consider a few layers of plywood with oaking flooring laid on the top and sides. Read on to see all the details on how this came together.
If you love this stuff as much as we do, you might want to consider following us on Instagram where we post sneak peeks and behind the scenes stuff in our stories. Also, did you know you can get tons of projects plans from all around the web when you follow us on Facebook and Pinterest!
Full Project Video
Tools
Level (2' & 6')
Gloves
String
5g Buckets & Mixing Paddle for Epoxy (optional)
Materials
(2) 3/4" x 4' x 8' Plywood
(2) 2 x 6 x 16' Boards
2 x 6 x 8' Board
(6) 2 x 4 x 8' Boards
(3) 2 x 4 x 10' Boards
1/2" Wood Dowel (Optional for plugs)
2-1/2" Pocket Screws
1-1/4" Pocket Screws
2" Wood Screws
2" Lag Bolts
3" Wood Screws
Gutter Material

Rubber and Leather OR carpet

Wood Glue & Adhesive for Gutter Material
Paint & Numbers
(4) 3/8" x 3" Hanger Bolts, Nuts and Washers
2-4 gals of Countertop Epoxy (optional)
Disclosure: The links provided in the "materials" and "required tools" sections are affiliate links. If you would like to support our site and help keep our content free come find out more about how we can make money with no extra cost to you.
Dimensions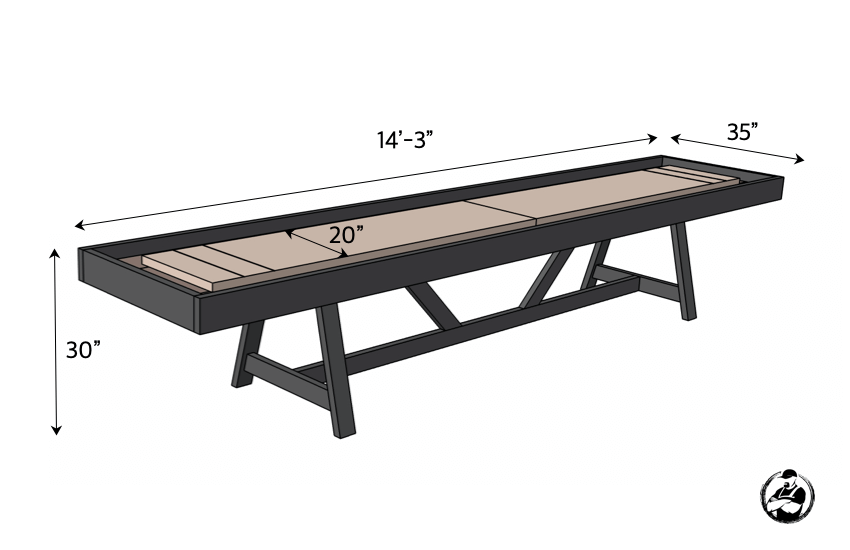 Time needed: 5 days.
These plans will walk you through the process of building a 14 foot shuffleboard table for under $1k and using materials found at your local Home Depot.
Cut List




Leg Assembly




Frame Assembly




Frame Assembly (Cont.)




Frame Assembly (Cont.)




The Gutter




Assembling the Top




Installing the Top and Climate Adjusters




Finishing the Top




Note: We poured our epoxy top from the center and let it flow out. This resulted in a slightly convex surface (opposite of what we want). While we corrected most of it with the adjusters, the sides of the board still fall off a little bit. If you choose epoxy, I would highly recommend only using 2 gallons and start by pouring or moving the epoxy to the sides and allowing to settle in the middle to help create that concave surface.