In this episode of the dream house build we go over all the exterior ground work. This includes the rough and final grading, a massive boulder wall, our driveway, landscaping and more!
If you love this stuff as much as we do, you might want to consider following us on Instagram where we post sneak peeks and behind the scenes stuff in our stories. Also, did you know you can get tons of projects plans from all around the web when you follow us on Facebook and Pinterest!
Disclosure: This episode was sponsored by Ryobi Outdoors however the opinions are 100% my own.
Episode 11
Check out the full web-episode below and don't forget to subscribe on YouTube so you won't miss future videos!
Boulder Walls
One of the first things we did to the ground, after the house was constructed, was build a few boulder walls to help retain the soil. The first one we needed was on the front right corner of the house. Jamie and I had to get this started on our own to retain this corner so that the compressor for the air conditioner could be set. With myself on the skid steer and Jamie's direction we were able to place a few boulders right where we needed them.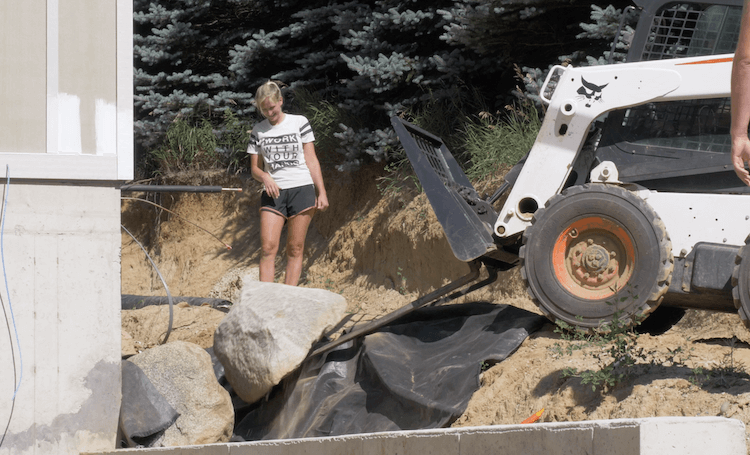 After that we decided that this was a job for the heavier equipment, so we enlisted CCI Excavating to complete the rest of the work. The kids loved watching, what they called, the "rock show"!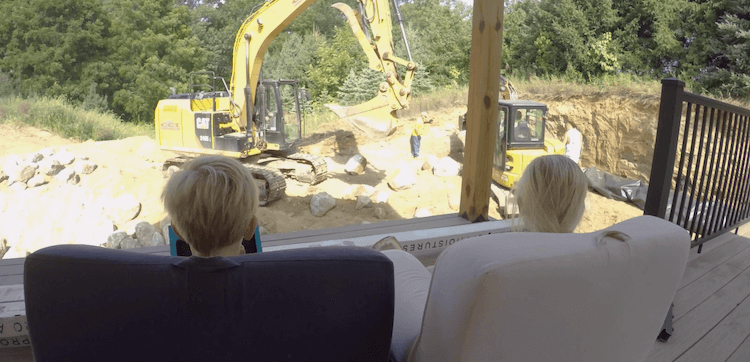 But before that, the excavators cut out the area from the hill that we wanted the wall to go in and leveled out a pad that they could work from.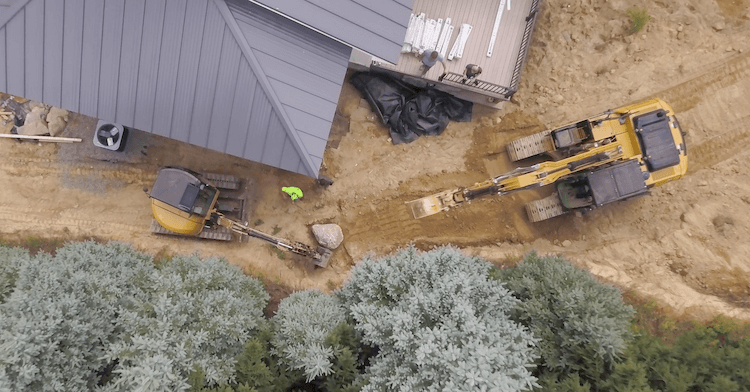 CCI brought in many loads of boulders for the walls and dropped them in the backyard which was pretty exciting for the kids to watch.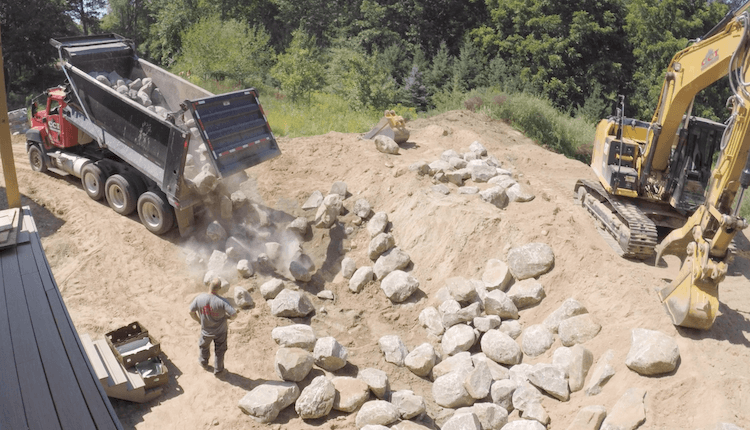 Each excavator had a "thumb" or "claw" that made moving and setting the boulders so much easier.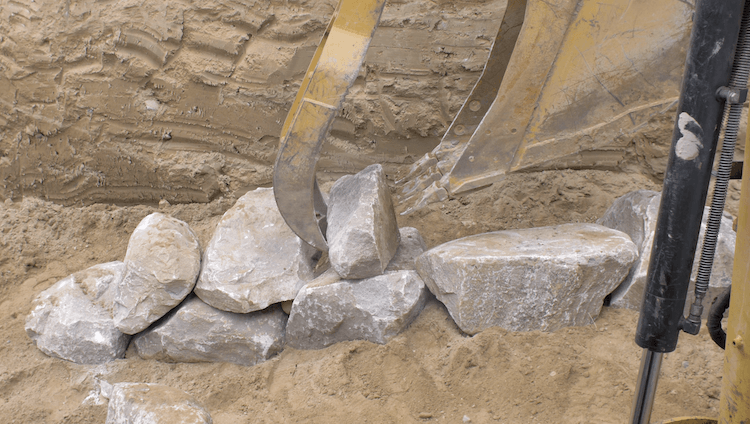 Then, they used a full-size excavator (left) and a mini-excavator (right) to move and set the rocks right were they wanted them.
The construction is rather simple. After the area is cut out, the stones are set as best as they can fit together with a slight lean into the hill. The back of the rocks gets lined with road grade fabric which allows water to pass through while retaining the soil. With a couple of rows of rocks in place the fabric goes against the back of them and dirt is placed behind them to backfill the area. The fabric and backfill can also be used to fill any voids in the wall and help stabilize the rocks when setting them into place.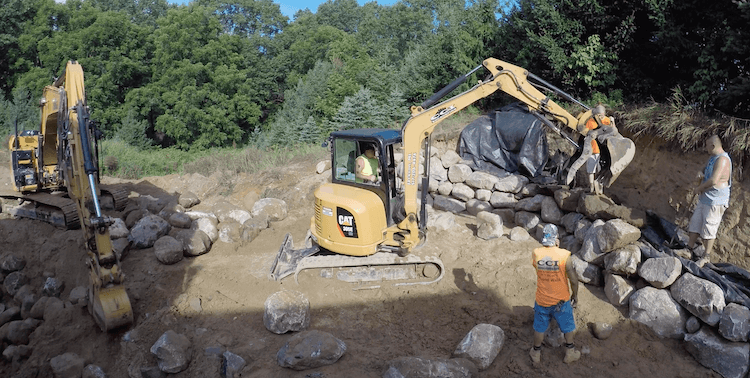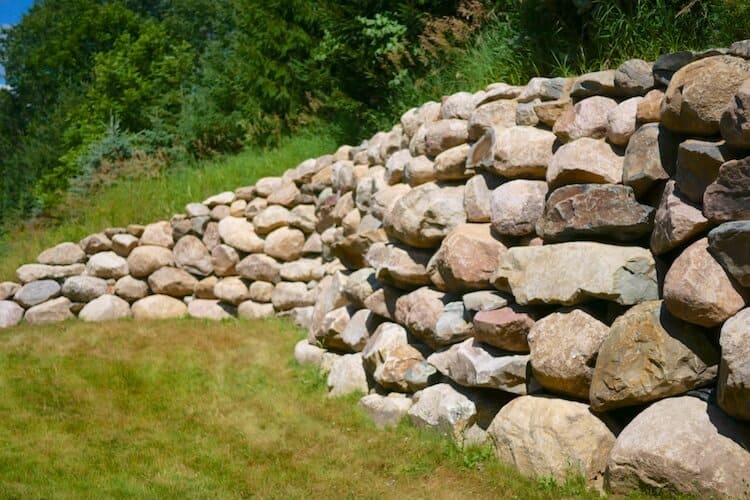 Rough/Final Grading
With the rock walls out of the way we could start on the rough grading process. The entailed finishing off that hillside and digging out and pitching the walkout basement so that any water would run off the back of the property.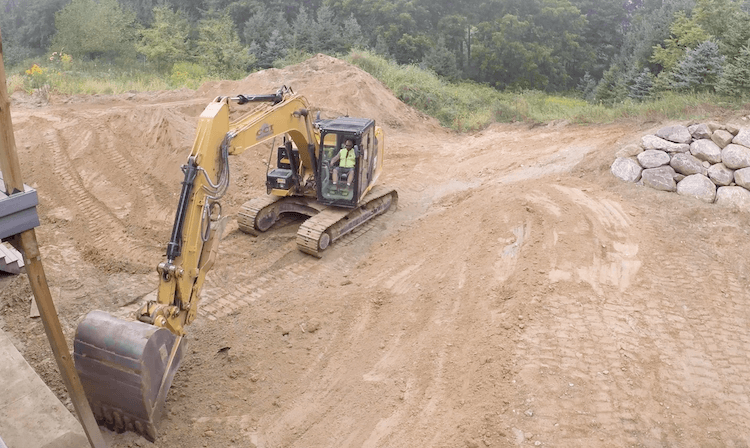 All of that dirt was hauled around to the front of the house to make the approach to our garage a little less steep.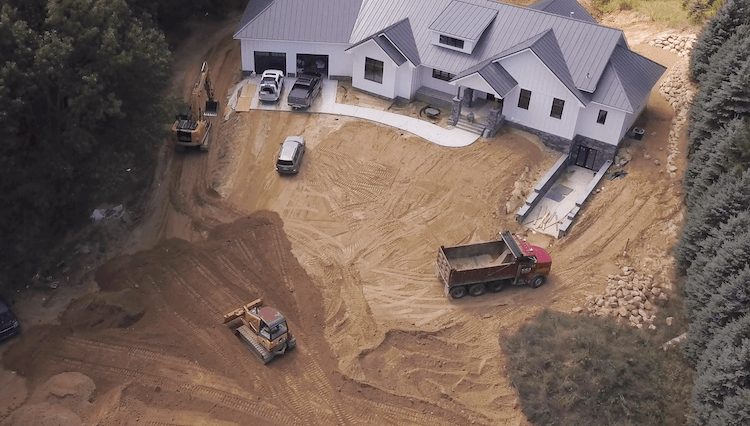 With most of the exterior concrete in place we could grade the driveway and surrounding areas as needed. There is definitely some thought that has to go into this. Obviously it all needs to be pitched away from the house and barn. The sand/dirt needs to be covered with 3-6″ of topsoil. Anywhere the sod needed to go next to concrete we needed to have the topsoil 1″ below the top of concrete. As for the driveway we needed to grade the sand 9″ below the top of concrete. This will give us a 6″ gravel base and 3″ of pavement. Finally, any grass seeded areas will have the topsoil level with the concrete.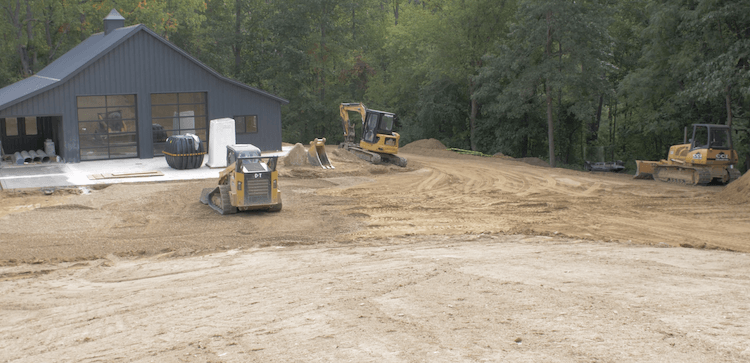 Grass Seeding
Before the winter came we wanted to get some grass growing on the hill sides and any areas that we could so the soil didn't erode. To do so we started by raking the rocks out of the topsoil, and loosening any hard ground. Then the seed and starter fertilizer are spread and lightly raked again to get the seed into the soil.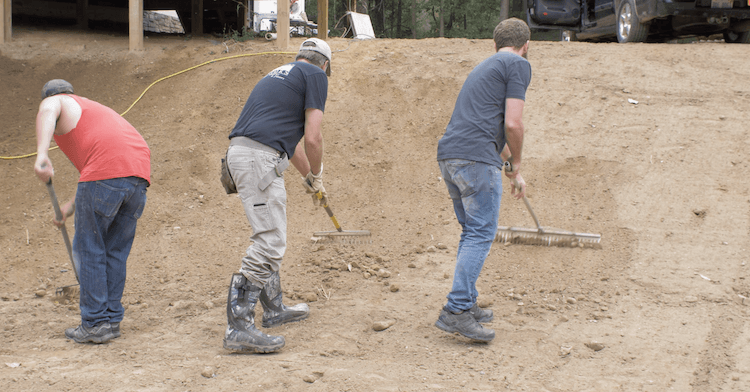 Now we laid straw over the ground for a couple of reasons. Straw will hold the moisture and help keep the seed from drying out. It is also needed to help keep the seed from being blown around or getting washed away. On the sloped areas we used rolls of straw mat which get staked to the ground so they don't move as easily.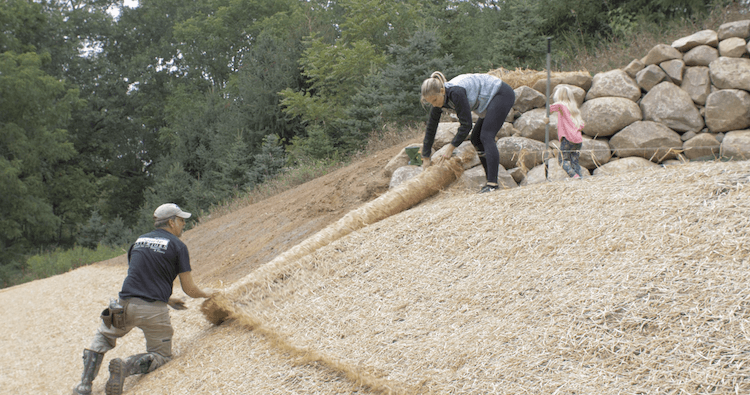 The flat ground the straw is shaken out evenly to cover the ground. We enlisted some help for this process ;).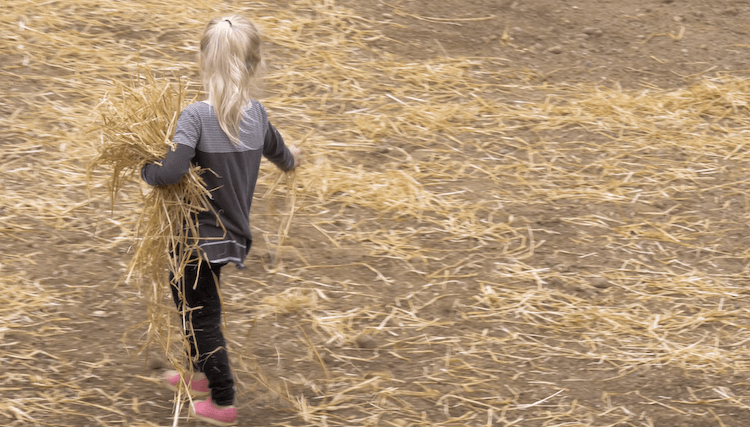 Drainage
We were able to get some grass growing before winter which helped a lot when it came to erosion. However, we did build an ice rink this winter which essentially created a dam and the combination of the downspouts dumping water between the house and rink and the frozen ground not allowing it to soak in was not a good thing. Without a good pump we would have surely flooded the basement in the spring.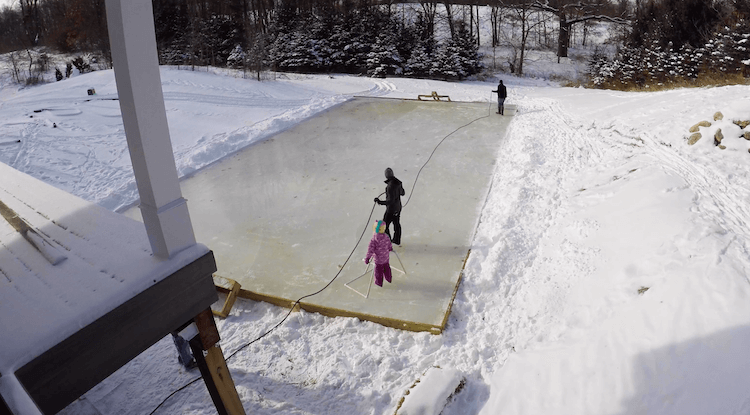 Knowing we didn't want to deal with that again, we made sure to install some drain lines underground as soon as spring came and the rink was gone. That started with renting a trencher.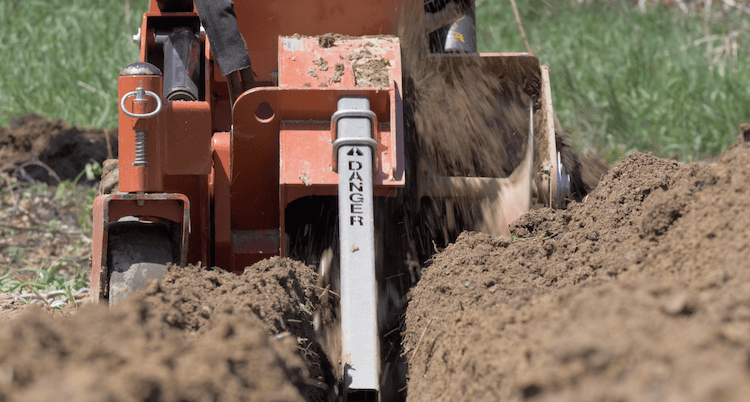 We cut trenches from each of the downspouts to the back of the lot, pitched downhill, so that all the water will be discharged away from the house and it works beautifully.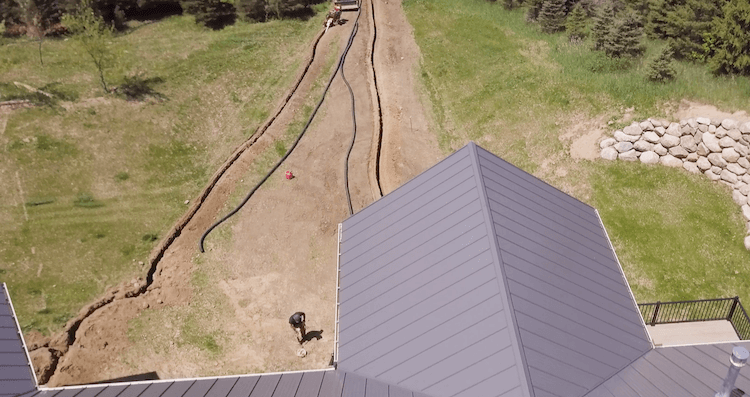 Paving the Driveway
With such a large driveway, and water constantly running down it, we really wanted to pave it with asphalt. This will not only keep the garages and cars a lot cleaner but it will help with drainage and give the kids a nice smooth surface to ride bikes and play basketball on.
After receiving 4 quotes we selected the contractor that we thought would do the best job for the best price. We wanted 3″ of asphalt which needed to be done in two layers. In my area the price to have asphalt installed is around $2 per square foot. This includes grading the driveway first and compacting the base which we already had in place.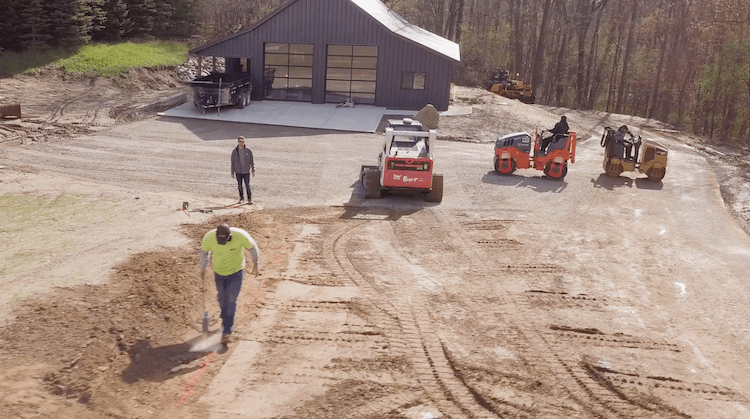 Then the guys came in and laid the first layer of asphalt which was about 2″ thick. Then they compacted it, with large ride-on rollers, down to about 1-1/2″.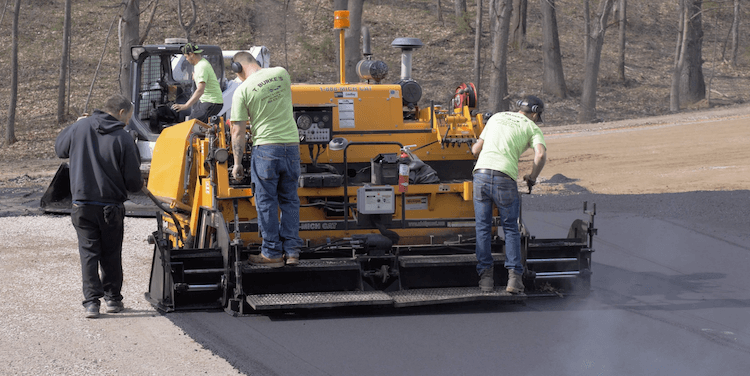 After completing the first course, they came back and did it all over again to get a total thickness of 3″.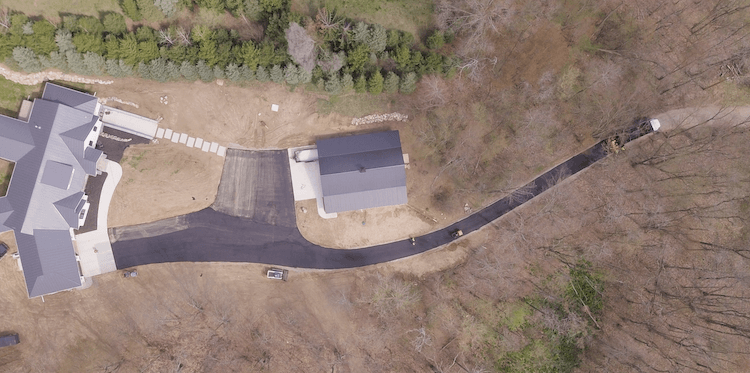 This was a big investment but now that it is done, I couldn't imagine not having it. We actually spend a lot of time in the driveway so having a clean, smooth surface to play and drive on has been a dream come true.
Laying Sod
Just lay sod, they said. It will be great. You'll have an instant lawn, they said. Well, I will let you in on something. Laying sod in large quantities sucks. It's back-breaking manual labor. The other thing about sod is that, ideally you want to lay it down, the same day you receive it. We ordered a lot of sod, 12 pallets in all, so my idea was to receive it on Friday and lay it all on Saturday. Unfortunately, we woke up Saturday morning to an unexpected down pour and the soil was just too wet to lay sod.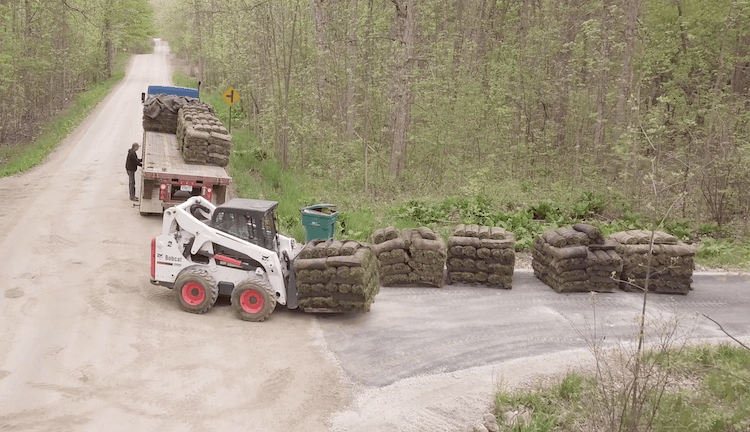 So Sunday morning it was. We gave the ground a day to dry out and then went after it. The process is fairly simple. One person hauls the sod rolls over to another person that unrolls and lays it where it needs to go. The rolled ends need to curled under and joints need to be tight so that there are no gaps. The joints should be staggered like subway tile and you should always lay across a hillside (not up and down). We didn't do this on one hillside and did end up with some gaps.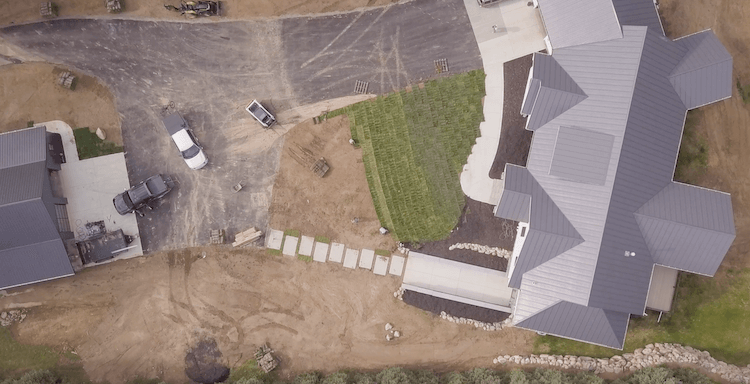 Using a machete or sod cutter all the edges get cut to fit sidewalks and such. The problem for us was that the sod sat on the pallets too long, got soaked by the rain and some of the sod towards the center of the pallet started the composting process which basically meant that it started to cook itself. This is referred to as "sod heating". These rolls of sod were hot, steaming and smelled terrible. That being said, after a week or so, we could see which rolls weren't going to make it so we ended up ordering another pallet and replacing them.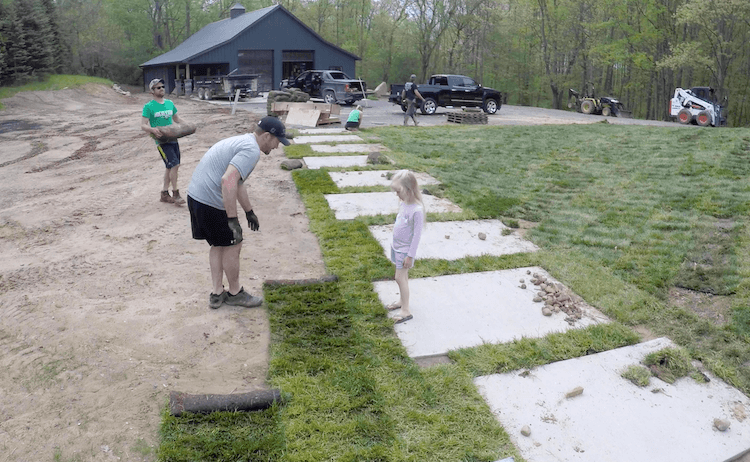 Overall, we did get that instant lawn but not without a lot of work and sore backs.
Maintaining with Ryobi Outdoors
Our sponsor for this episode is Ryobi Outdoors. They were kind enough to send us a few new products to help with our new outdoor landscapes.
One of which was this new all-electric 42″ zero turn mower. It has a 100Ah battery pack that will mow up to 3 acres on a single charge. I have to admit, this thing is pretty sweet. We used it to roll the sod after laying, which helps smooth out any bumps, and without the mower blades on the mower is almost completely silent. After a few weeks we needed to mow the lawn and even with the blades running there is no need for hearing protection.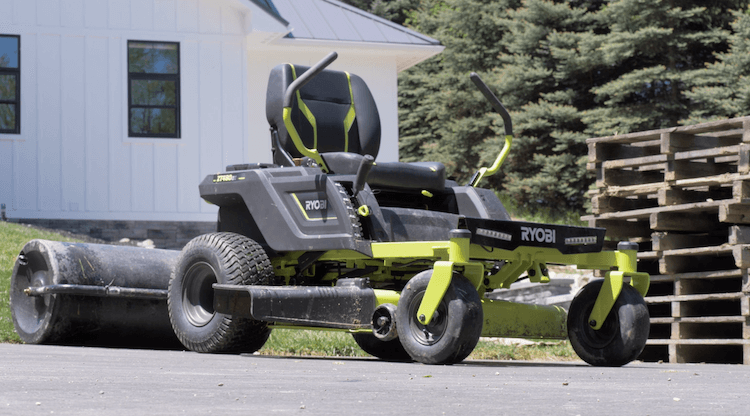 Being out in the country we have plenty of annoying insects. Ryobi recently came out with an 18V fogger which is simple to use and now we don't have to worry about having propane tanks on hand and not being able to get the fogger working. It's as easy as filling with fluid, plug the battery in and pull the trigger.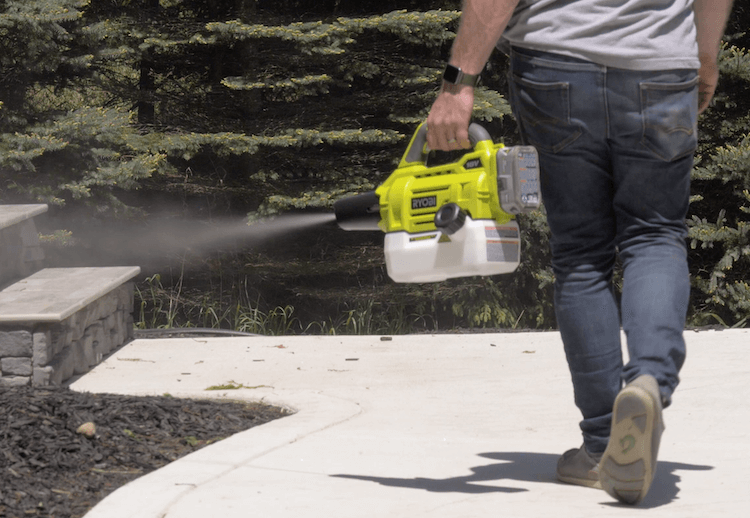 Having a softened, hot/cold, hose bib in the garage with drains in the floor was a great addition but one thing we wanted to go along with it was a small electric pressure washer. By small, I mean space-saving because despite its compact size, this pressure washer has more than enough power to wash cars and other small jobs. Plus, being electric will assure it works all the time and no harmful exhaust if we choose to power wash in the garage during the colder months.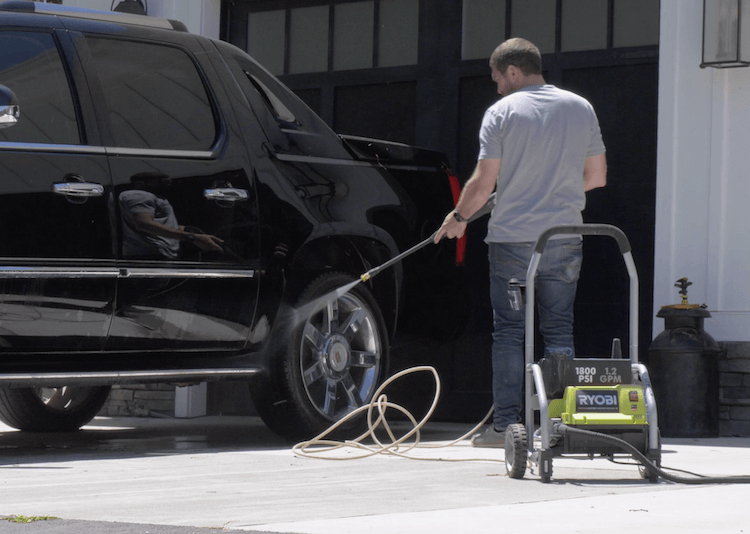 For bigger jobs they have the commercial grade 3600psi gas-powered pressure washer which is perfect for pressure washing the house, sidewalks and other large jobs that require more power and more water.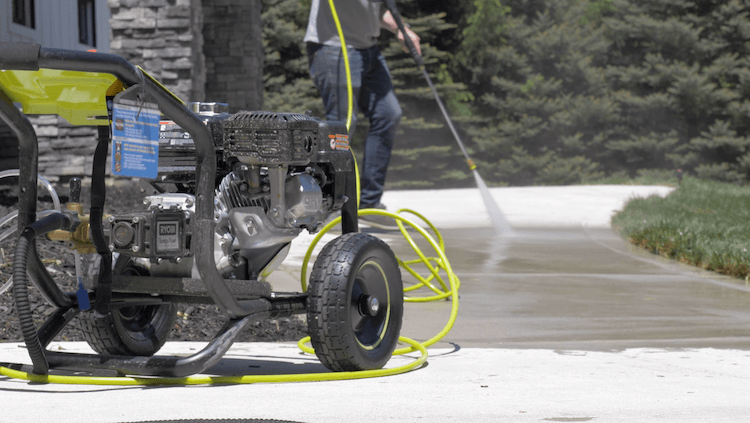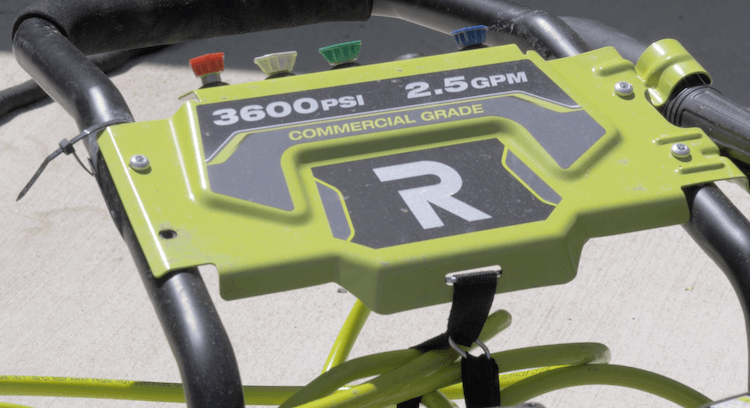 Back on the battery-powered theme, they have a 18V backpack chemical sprayer that makes spraying our small apple orchard way easier. No more pumping to maintain pressure, this sprayer can get even the tops of the trees with no problem, making sure our apples are bug free!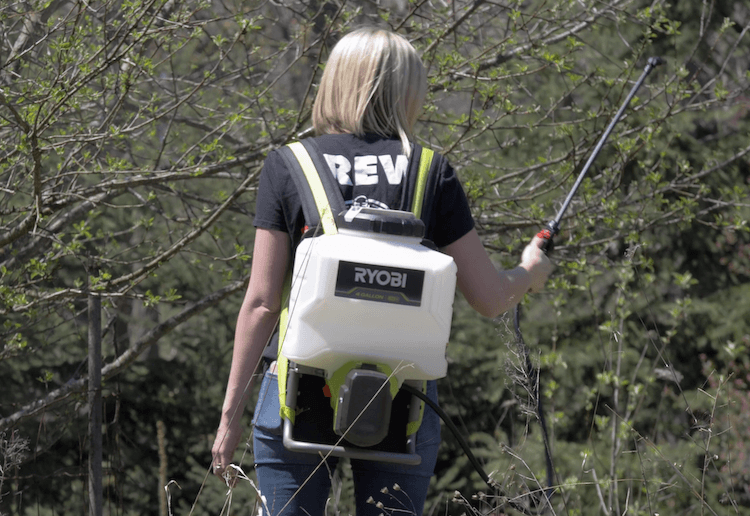 Last but certainly not least, the new 40V backpack blower from Ryobi has quite a bit of power, pushing up to 625 CFM, but is amazingly quiet. Being used to having a gas engine strapped on my back, the absence of that running engine tricks your brain into thinking this blower isn't doing much but watching the leaves and mulch fly lets me know it is.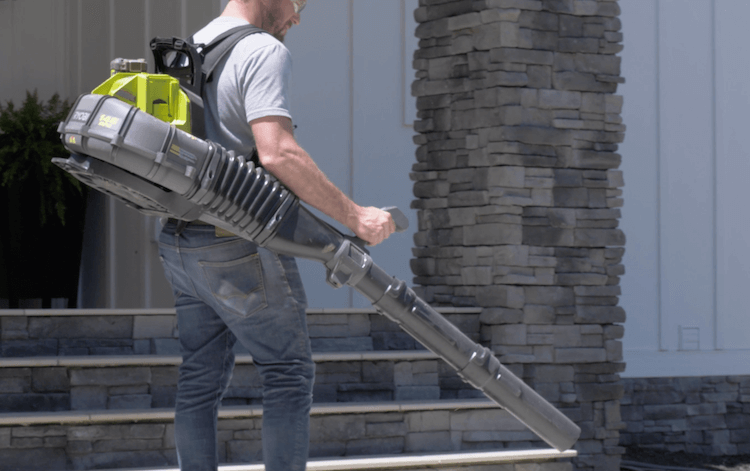 Traditional thinking is that gas is best when it comes to power. But anyone that has gas-powered lawn tools knows the headache that comes with that. Lately, I've been moving over to battery-powered tools and I don't think I'll ever go back. Combustion engines still have their place but it seems it is getting smaller and smaller with the advancement of batteries and electric motors.
The Hoop
With the driveway in I knew we had to have a basketball hoop. I had one when I was little and it got a ton of use. As a kid I always dreamed of having one of those big fancy Goalrilla hoops and now that I have kids and still play basketball with friends myself weekly, I figured it was time to pull the trigger.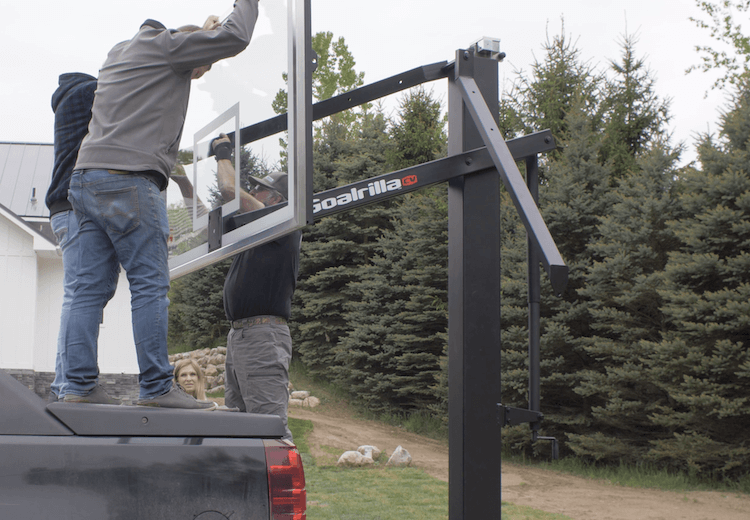 If you want to see the entire process of the hoop and light installation you can see that here.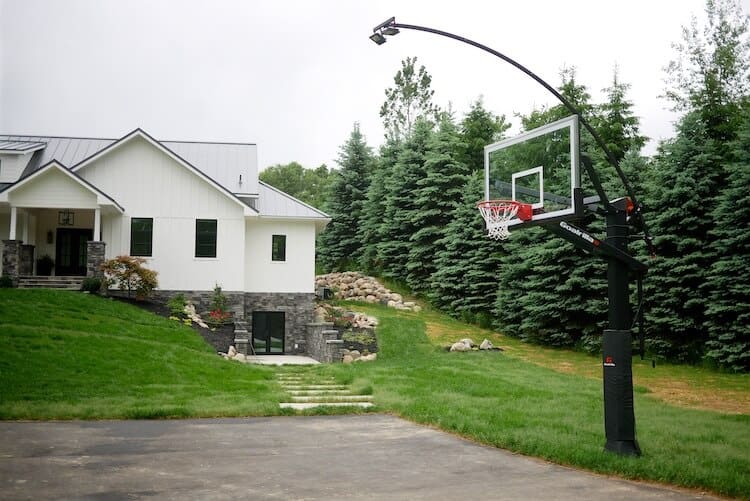 Planting
To finish off the front of the house, the last thing we needed to do was plant some trees and shrubs. So snapped some pictures of the beds, took down some dimensions and went to our local nursery where we spent about 8 hours picking out plants with a landscape designer. With the cost of planting being 50% of the plant cost, we decided to save some money and do it ourselves.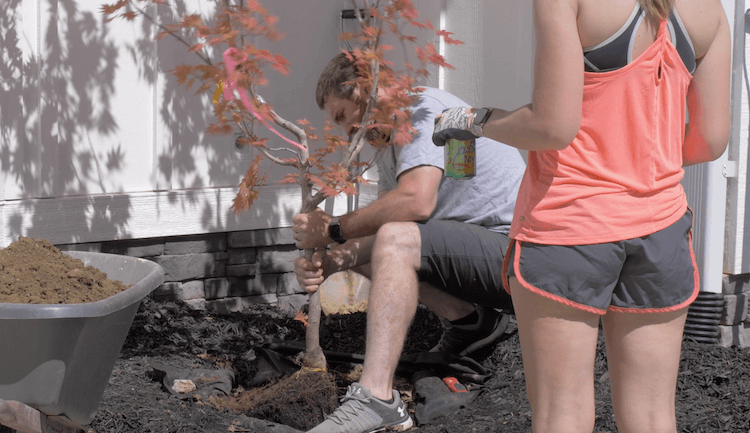 It was nice to get advice from someone who does it everyday. What we learned was to start with the foundational plants. These are the key plants that you want for cover or beauty. We had a couple of areas that we wanted to accent so we went with two amazing Japanese maples. Below Madison's window are dwarf Hydrangeas.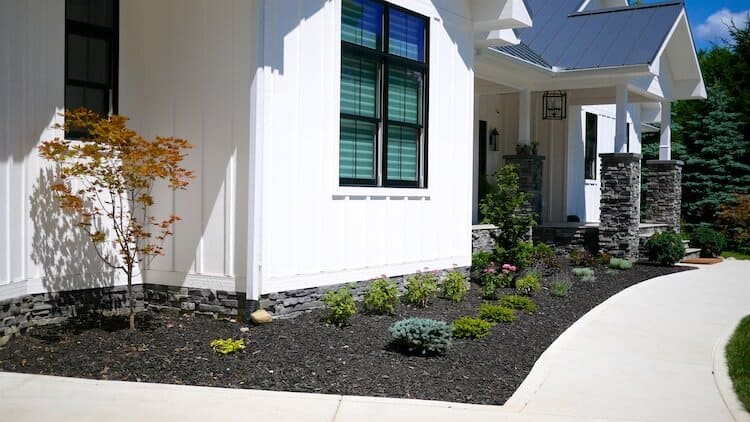 Flanking the front walk out retaining walls are lots of knock out roses and a dwarf Japanese White Pine.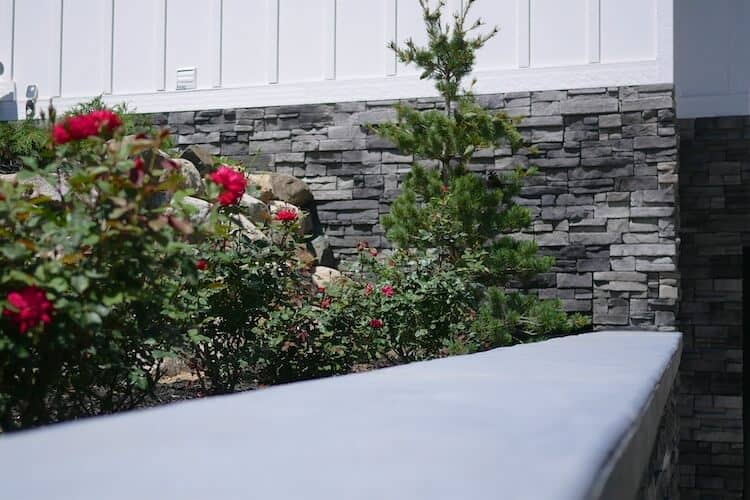 We absolutely love how the landscaping turned out and can't wait to see how it fills out over the years.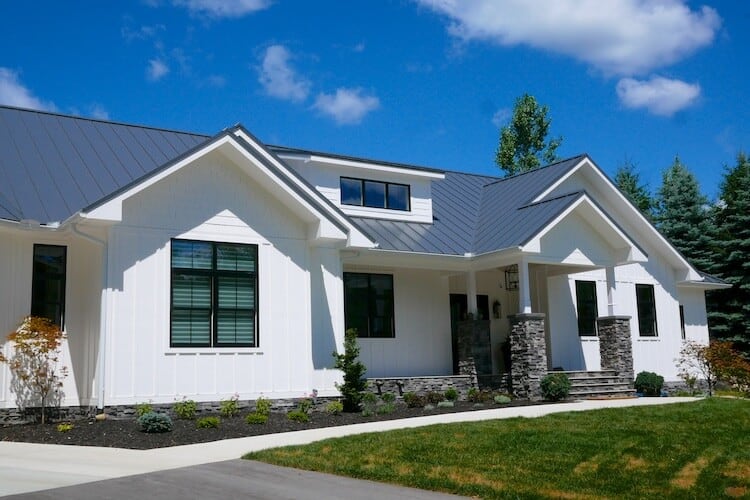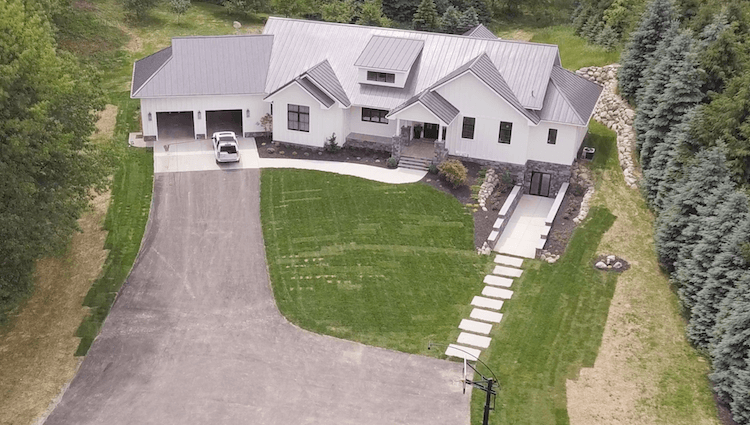 For the next episode we will be heading back inside to discuss the details of our kitchen. So stay tuned!